A rare Allosaurus dinosaur skeleton could be yours – for £500,000
The 9ft-long, near-complete juvenile Allosaurus is the first predatory dinosaur skeleton to be sold in Britain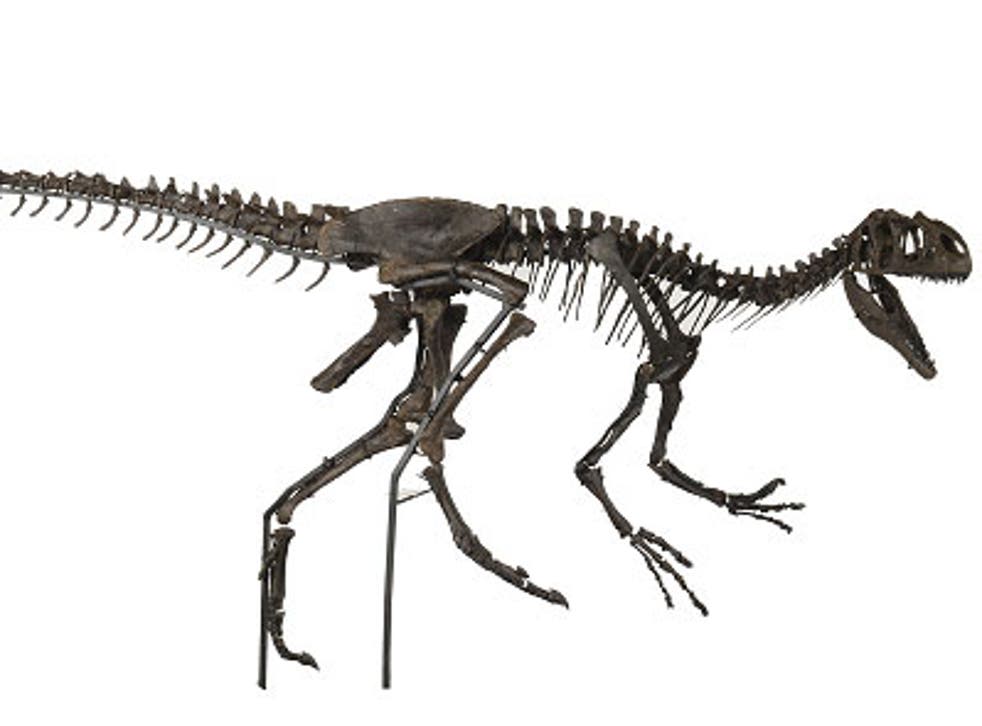 A rare skeleton of a dinosaur that last walked the Earth 155 million years ago could fetch up to £500,000 at auction.
The 9ft-long and near-complete juvenile Allosaurus is the first predatory dinosaur skeleton to be sold in Britain, auctioneers said.
The Allosaurus lived during the late Jurassic period and presided at the top of the food chain with a set of dagger-like teeth.
Fully grown, the reptile could reach 28ft in length. The only other dinosaur to exceed it in size was the Tyrannosaurus Rex that lived some 80 million years later.
The skeleton is expected to sell for between £300,000 and £500,000 in the Evolution sale at Summers Palace Auctions in Billingshurst, West Sussex, on 25 November.
Experts said that the juvenile skeleton has the "cute factor" and may attract buyers who are in the market wanting an unusual statement piece for their home.
Rupert van der Werff, director at Summers Palace, said: "The Allosaurus, together with the T-Rex, had become the quintessentially large, carnivorous dinosaur in western popular culture."
"Given the size of this Allosaurus it also adds the cute factor and may not just attract interest from museums but could also be the wow factor in a luxurious living room."
In November a long-necked Diplodocus longus skeleton was sold by Summers Palace to the Natural History Museum of Denmark for £400,000.
The skeleton was found in 2009 by the sons of renowned palaeontologist Raimund Albersdoerfer near a quarry in Wyoming the United States.
Mr Albersdoerfer found the Allosaurus at the same quarry, which began a long and costly process to identify the species.
Evolution curator Errol Fuller said: "Some of the bones are gigantic, some are tiny, but all must be approached with the same degree of caution to ensure that nothing of importance is overlooked."
"Once a bone, or series of bones, is located, the exact position is carefully mapped so that vital evidence is not lost when the specimens are finally removed from the ground."
Additional reporting by Press Association
Join our new commenting forum
Join thought-provoking conversations, follow other Independent readers and see their replies