Reborn – the giant tree felled as a result of a bar-room wager
Clone of a redwood as tall as 30-storey house will be planted on Cornish coast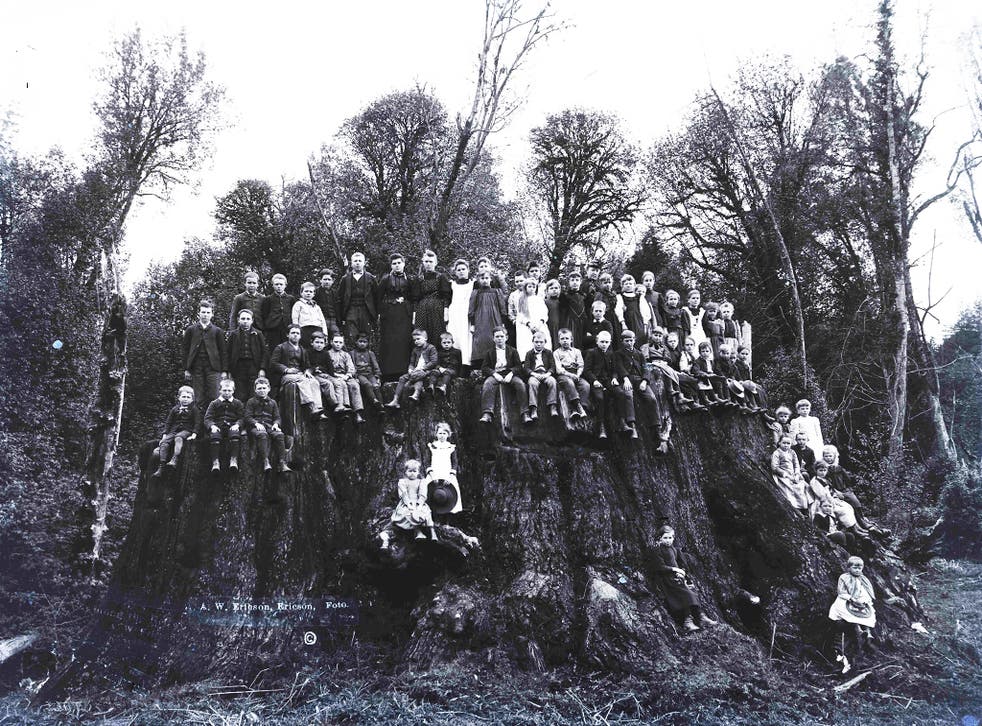 It would have been the biggest tree alive today had it not been so ignominiously felled in 1890 – reputedly to satisfy a drunken bet about making a table big enough to seat 40 guests from a single slice of tree-trunk.
But after a century of being left for dead, a giant redwood that grew as tall as a 30-storey building over the course of nearly 4,000 years in northern California is about to be reborn as a clone planted on the coast of Cornwall, possibly as early as this spring.
Scientists have managed to cultivate cuttings from the Fieldbrook Redwood Stump, which is 35ft (10.7m) in diameter, and 10 of its clones are now growing as knee-high saplings in the plant nursery at the Eden Project, near St Austell, as part of an ambitious plan to propagate and replant some of the oldest trees in America and Britain.
Sir Tim Smit, executive vice-chairman of the Eden Project, will reveal details of the tree-regeneration programme this week, including the planting of another 99 clones from 10 ancient American redwoods that were imported at the end of last year.
'Ancient Trees: Portraits of Time'

Show all 10
"The notion of putting back trees that have their own story has huge appeal," Sir Tim said. "There are lots of ancient trees in Britain that have a piece of history attached to them." The 100 cloned saplings are a mixture of redwood species.
The Fieldbrook stump is a Californian coast redwood, but others include the famous giant sequoia redwoods, which include the largest living tree, the 275ft General Sherman in California's Sequoia National Park. It is said that the Fieldbrook tree was felled under the orders of William Waldorf Astor, a wealthy American living in Britain, who became embroiled in a bar-room bet about making a table seating 40 from a single cross-section of a tree.
Lord Astor certainly had a giant tree slice imported to Cliveden, his stately home in Buckinghamshire, but when he was alive he vowed to sue anyone who repeated the story.
"He probably realised that killing something that was nearly 4,000 years old for a bet didn't really reflect very well on him," Sir Tim said. "There's not much dispute that the Fieldbrook stump and the redwood slice at Cliveden is the same tree, but it would be fun to carry out a DNA test to prove it."
The Fieldbrook stump and the other nine ancient redwoods were successfully cloned by US researchers at the Archangel Ancient Tree Archive, an organisation set up by a former biker-gang member, David Milarch, who is visiting the Eden Project this week to advise on a similar scheme to propagate Britain's ancient trees. "The climate in Cornwall and at Eden is perfect for redwoods, which helps fight climate change by storing fast amounts of carbon,"Mr Milarch said. "This new plantation will be a library of the tallest, oldest living things on Earth." The redwoods will be planted on high ground looking out over the Atlantic. Sir Tim said: "Planting saplings which could exceed the height of a 30-storey building and live for 4,000 years requires a different kind of planning. The grove of redwoods will be an amazing and lasting enhancement to our global garden here at Eden, and a totem of hope for generations to come."
Join our new commenting forum
Join thought-provoking conversations, follow other Independent readers and see their replies