Refugee crisis: Scores rescued from sea at RAF base in Cyprus 'will not be allowed to seek asylum in UK'
At least 110 people, many believed to be Syrian and including some children, arrived at RAF Akroti in two boat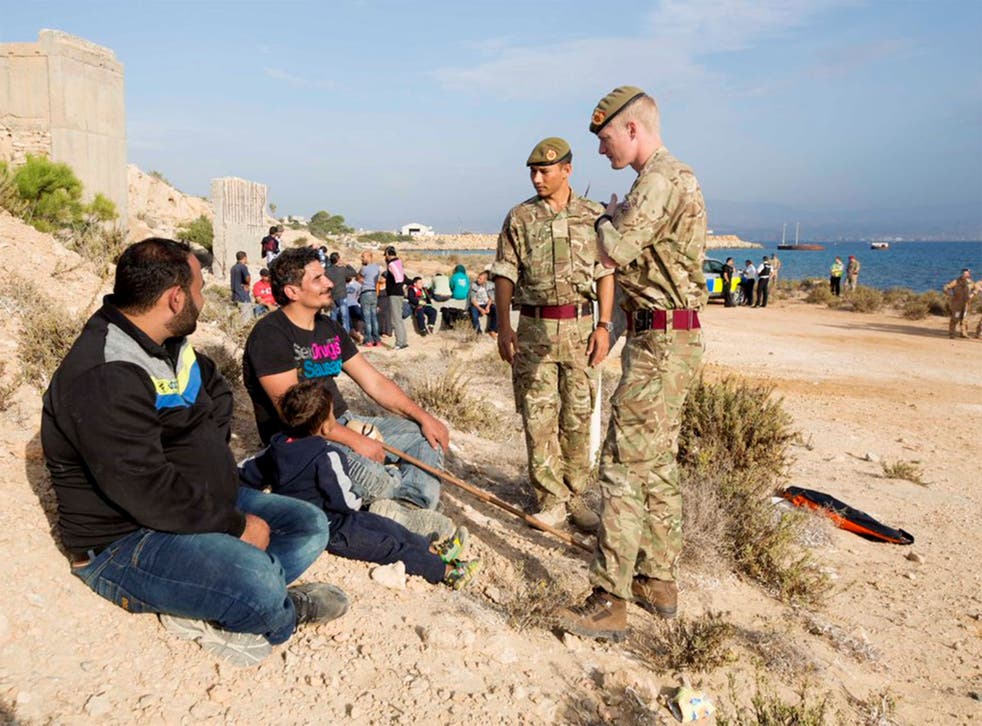 A group of more than 100 refugees who were rescued from the sea off the coast of a British military base on Cyprus will not be allowed to apply for asylum in the UK, officials have indicated.
RAF Akrotiri went into lockdown on Wednesday morning after guards spotted two refugee boats close to a beach in the secure part of the base.
The group of at least 110 refugees, believed to include children and made up mainly of Syrian nationals, was brought ashore and they are now reportedly being held in a hangar at the base.
A spokesperson for the Ministry of Defence told The Independent: "Our first priority is making sure everyone is safe and well."
But attention has already turned to what will happen next to the refugees.
It is believed to be the first time during the current refugee crisis that people fleeing conflict across the Mediterranean have made landfall on UK sovereign territory.
Refugee crisis - in pictures

Show all 27
The issue of what to do with refugees who land on Britain's bases in Cyprus has been hotly contested in the past, and a group of Iraqi Kurds who landed there in 1998 have never left.
http://www.theguardian.com/world/2014/oct/21/refugee-families-marooned-raf-base-cyprus
Britain has since reached a deal with Cyprus which states that anyone arriving at the bases should be treated as though they arrived on Cypriot soil.
The MoD spokesperson said: "We have had an agreement in place with the Republic of Cyprus since 2003 to ensure that the Cypriot authorities take responsibility in circumstances like this.
"Events like this underline why it is important for us to develop a comprehensive approach to the migration crisis working with our international partners to provide humanitarian assistance in Syria and neighbouring countries; to disrupt the trafficking gangs and to address the root causes of instability that cause people to seek a new life elsewhere."
Cyprus has largely been left untouched by the refugee crisis because of its geographical isolation from the rest of Europe. British and Cypriot officials have acted quickly to dispel any notion that travelling to the island could provide a shortcut towards asylum in the UK.
RAF Akrotiri is one of Britain's main military bases from which to launch sorties across the Middle East. Speaking to Sky News, sources on the island said the arrival of the refugees represented a serious security concern.
"What if the landing had been of a smaller scale and by members of IS, seeking to attack?" the source said.
"If the MoD can't detect and intercept refugees, there would appear to be a significant vulnerability as yet unaddressed at a time when security and defence are apparently at the fore of the Conservative government agenda."
Join our new commenting forum
Join thought-provoking conversations, follow other Independent readers and see their replies