Remembrance Day 2014: Queen applauded for braving terror threat as she leads commemoration service at the Cenotaph
The 'particularly poignant' 100th service falling on the 100th anniversary of the First World War took place amid fears of a heightened terror threat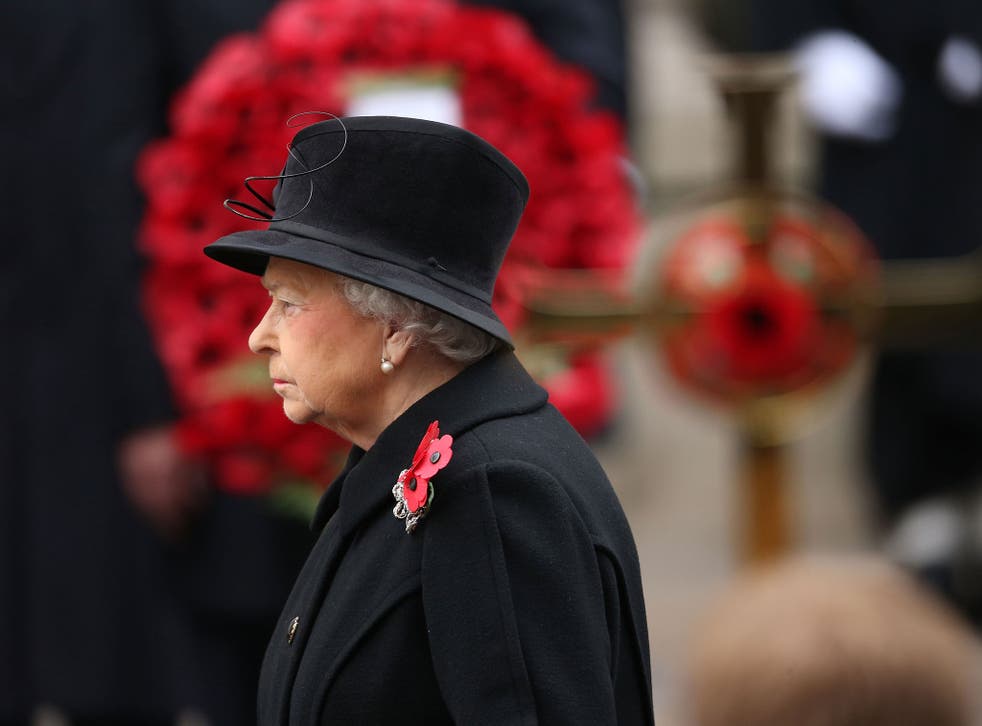 Britain honoured those who have died fighting for their country in armed conflict today, as the Queen led the nation in a Remembrance Sunday service at the Cenotaph in London.
Royals, political leaders and veterans assembled around the memorial in Whitehall to mark a two-minute silence at 11am, marked at its beginning and end by the firing of a 13-pounder First World War gun.
The silence was followed by the laying of wreaths around the memorial, starting with the Queen's on behalf of the British public, and the service as a whole ended in the national anthem.
The service was held under the shadow of a heightened terror threat in London and other major UK cities following four arrests on Thursday night, and watched over by a large police presence.
As she left the Cenotaph, the Queen received an unprecedented round of applause from those present – perhaps in recognition of her decision to attend despite the heightened terror threat.
Prime Minister David Cameron described this year's Remembrance Sunday as "particularly poignant" as 2014 marked the 100th anniversary of the start of the First World War, the 70th anniversary of the D-Day landings and the end of Britain's 13-year conflict in Afghanistan.
Millions around the country joined those in Whitehall in the silence, after which buglers of the Royal Marines sounded the last post.
In cool and overcast conditions, invited dignitaries then laid their wreaths at the Cenotaph.
Senior royals, including Second World War veteran the Duke of Edinburgh, the Prince of Wales and the Duke of Cambridge, followed the Queen in laying their wreaths.
Mr Cameron was first after the royals to do so, followed by Deputy Prime Minister Nick Clegg and Labour leader Ed Miliband.
Former prime ministers Sir John Major, Tony Blair and London mayor Boris Johnson also took part in the ceremony.
The Duchess of Cambridge and Duchess of Cornwall watched from the Foreign Office balcony.
The laying of the wreaths was followed by a brief Church of England service led by the Bishop of London.
Additional reporting by PA
Join our new commenting forum
Join thought-provoking conversations, follow other Independent readers and see their replies