Report prompts NHS to launch a review into maternity care across England
Investigation into 12 Furness deaths found 'failures at almost every level'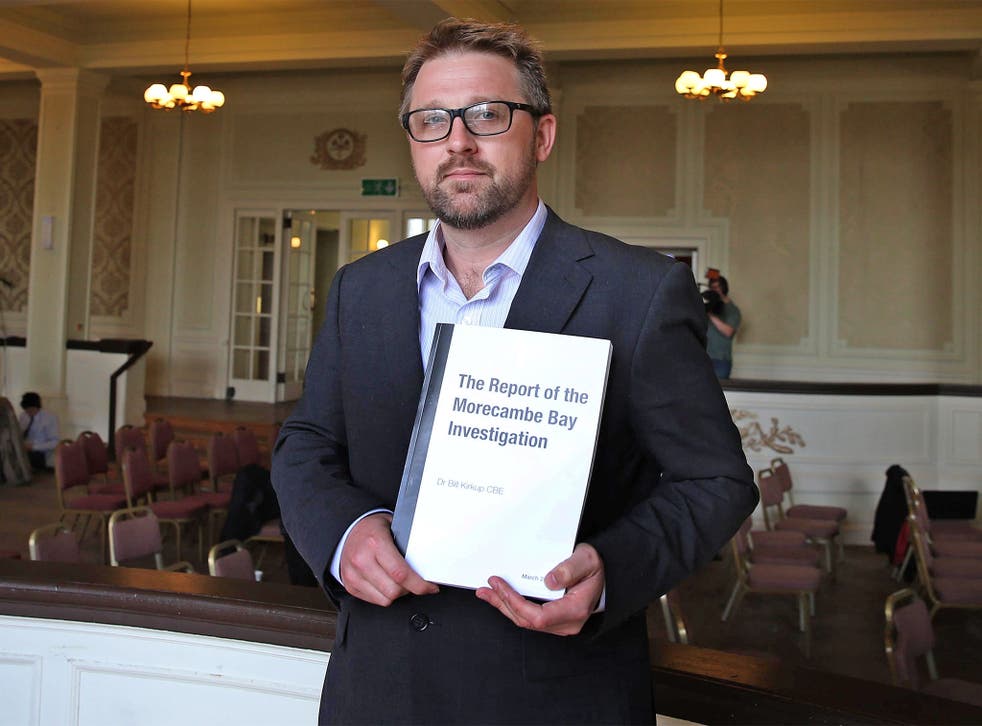 The NHS is to launch a review of maternity services in England in the wake of a damning report that said a "lethal mix" of incompetence and cover-up led to the preventable deaths of 11 babies and one mother at a rural hospital in Cumbria.
Midwives colluded to protect one another from blame for a series of incidents at Furness General Hospital and even referred to themselves as "the musketeers" because of their "one for all" approach, an inquiry said.
The investigation uncovered "failures at almost every level", from the maternity ward to national and regional NHS regulators and the Department of Health, which between them missed several opportunities to investigate concerns about the unit.
Examining cases between 2004 and 2013, the inquiry uncovered 20 instances of significant or major care failures at Furness General, part of the University Hospitals of Morecambe Bay (UHMB) NHS Foundation Trust.
Failures occurred in the run-up to the deaths of 16 babies and three mothers. Better care could have saved the lives of 11 of the babies and one mother, the report said.
Despite serious incidents as early as 2004, and a series of five separate events in 2008, it was not until 2011 that standards of care on the unit gained wider attention – largely thanks to the efforts of the families of patients.
The Health Secretary, Jeremy Hunt, said the care failings, along with the failure to be open and honest about mistakes, amounted to "a second Mid Staffs". NHS England chief executive Simon Stevens said the report was "truly shocking".
The report documents how staff on the unit in Barrow-in-Furness lacked essential "skills and knowledge". Working relationships between doctors and midwives were "extremely poor" with a "them and us" mentality. Midwives failed to keep up with the latest standards of care and were heavily influenced by a small group of "dominant" midwives who pursued an "overzealous" policy of normal childbirth "at any cost", the report said, leading to avoidable mortality rates that were four times higher than at a neighbouring hospital.
Faced with an external investigation in 2008, midwives developed a "one for all" approach. An email from former maternity risk manager Jeanette Parkinson even referred to the midwifery team as "the musketeers". In preparation for an inquest into one of the incidents, she also circulated "model answers" to difficult questions among her colleagues, the report said. Key clinical records went missing and the inquiry panel could not rule out the possibility this had been deliberate.
However, the Trust – as well as regional and national authorities – were slow to investigate and between them missed a number of opportunities to intervene in the three years from 2008.
Seven midwives have been referred to the Nursing and Midwifery Council and two have been dismissed, the Trust said. The Trust has undergone changes in management since 2012, and the report said there were now "welcome signs of significant recent improvement" including in maternity services.
Pearse Butler, chair of the Trust board, apologised to the families, admitting it had made "very serious mistakes in the way it cared for mothers and their babies".
"More than that, the same mistakes were repeated. And after making those mistakes, there was a lack of openness from the Trust in acknowledging to families what had happened. This report vindicates these families."
Damning story of missed opportunities
*The competence of staff fell "significantly below the standard required for a safe effective service". Essential knowledge was lacking, guidelines not followed and warning signs in pregnancy not recognised or acted upon.
*The unit was described as "isolated both geographically and professionally" and was unsupported by the local healthcare system.
*The Trust failed to make a link between the five incidents in 2008 and an internal review of maternity care in 2010 was subject to "an element of conscious suppression". At the time the trust was seeking to achieve foundation trust status.
*The North West Strategic Health Authority "accepted assurances there were no systemic problems" at the trust.
*Six of the avoidable deaths at the trust took place after 2008 and after several "missed opportunities" to investigate.
Case study: A father who lost his son
Rachael Pells
James Titcombe's son Joshua died nine days after he was born at Furness General Hospital in November 2008. He was transferred to two other hospitals before he died in Newcastle. Mr Titcombe and his wife, Hoa, argued for an inquest to take place.
After the birth, Joshua was said to be wheezing and not feeding properly. Medical staff repeatedly assured the family that he was fine and no doctor was called. Joshua later died from a serious infection. His progress chart also went missing and was never found, leading to suspicion that it may have been deliberately destroyed.
In 2011 it was confirmed that midwives had repeatedly missed chances to spot and treat the sepsis which led to Joshua's death.
Following the publication of the report yesterday, Mr Titcombe said it had "vindicated" families like his who have held the hospital to account.
"We talk about 'missed opportunities' in this report. That, for me, means not having a six-year-old boy," he said. "This report gives Joshua and other babies and mothers who died a legacy. That's got a huge amount of meaning.
"You can't turn back the clock but at least we can say we've done everything we could."
Speaking about the fact that midwives at Furness General Hospital are still being investigated over the case six years later, Mr Titcombe said: "How could this have happened? Notes going missing, this concealment of reports, the lack of regard for safety – how can that have happened and yet it's not criminal?"
Case study: Death of mother and her child
Nittaya Hendrickson and her newborn son Chester died at Furness General Hospital in Barrow, Cumbria in 2008. Ms Hendrickson, who was diabetic, was admitted to the hospital on 31 July 2008 and had her labour induced.
A few minutes after her waters broke, she had a fit. Doctors were called but she had a second fit and died soon after. An inquest ruled that Ms Hendrickson died of natural causes. Doctors later confirmed that Chester had suffered severe brain damage due to lack of oxygen during the birth. His father, Carl Hendrickson, was forced to make the decision not to continue Chester's treatment.
Further investigation into the deaths found that Ms Hendrickson was not cared for properly and that her child's heartbeat was not monitored properly.
Mr Hendrickson said in 2011 that he felt "vindicated" that a police investigation had been launched into the maternity unit. Ms Hendrickson, who was originally from Thailand, also left behind a son called Conrad.
Mr Hendrickson, from Ulverston, Cumbria, said at the time of the inquest: "Our family has been absolutely devastated by the death of Nittaya and Chester."
Join our new commenting forum
Join thought-provoking conversations, follow other Independent readers and see their replies