Rescue teams search for crew of overturned cargo ship Cemfjord off north coast of Scotland
Four lifeboats, two rescue helicopters and other vessels are taking part in the search for the crew which is believed to be largely made up of Polish seamen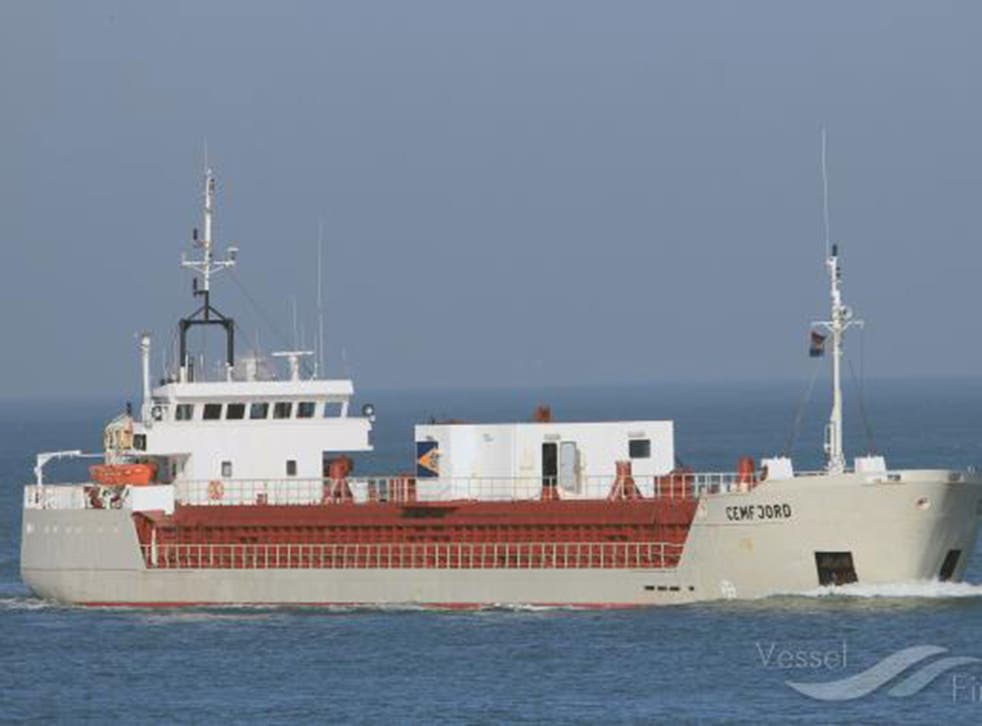 Fears are growing for the lives of eight crewmen after a cargo ship overturned off the north coast of Scotland.
A major search operation was launched after the upturned hull of Cypriot-registered Cemfjord, a 2,500 tonne cargo ship carrying cement, was spotted by a passing ferry in the Pentland Firth 15 miles north east of Wick.
Four lifeboats, two rescue helicopters and other vessels were taking part in the search for the crew which is believed to be largely made up of Polish seamen.
The search is being co-ordinated by Shetland Coastguard and local reports suggest a distress call had not been received from the ship, which was last tracked at 1pm on Friday on route from the port of Aalborg in Denmark to Runcorn in the north of England.
It is believed the ship has been drifting westwards and is currently off the island of Stroma and this evening four RNLI offshore lifeboats from Stromness, Scrabster, Longhope and Wick are searching a stretch of sea between the islands of South Ronaldsay in Orkney and out to sea north-east of Wick on the mainland. They are joined by a Shetland coastguard Sikorsky helicopter an RAF rescue helicopter.
The upturned hull of the vessel, which was built in 1984, was first spotted by a NorthLink ferry at 2.30pm this afternoon.
A gale warning had been issued by the Met Office in the early hours of this morning. It had warned of severe force 9 gales, though weather conditions had improved by late afternoon yesterday with force 5 to 7 winds.
The Cemfjord had previously run aground in July off the island of Laeso off the north coast of Denmark. According to police reports the 57-year-old Russian captain was drunk at the helm when they came aboard and had a blood alcohol count over twice the legal limit.
A spokesperson for German shipping firm Brise Schiffahrt in Hamburg, which operates the vessel, said the firm was setting up an emergency response team and that the Russian captain, who was fined by Danish authorites, had been "replaced by a respected Polish captain and master who has been with the firm for many years."
A spokesperson for the Maritime and Coastguard Agency said: "Shetland Coastguard was contacted by the ferry at 2.30 pm to report that the hull of the cargo vessel had been found, although there were no survivors in the immediate vicinity. The 83m cargo vessel was last seen at 1.00 pm yesterday. Eight crew were on board."
Join our new commenting forum
Join thought-provoking conversations, follow other Independent readers and see their replies