Road safety: Heavier fines to be introduced in clampdown on drivers using mobile phones at the wheel
Penalties and fines will rise, but campaigners say more policing is needed to cut road deaths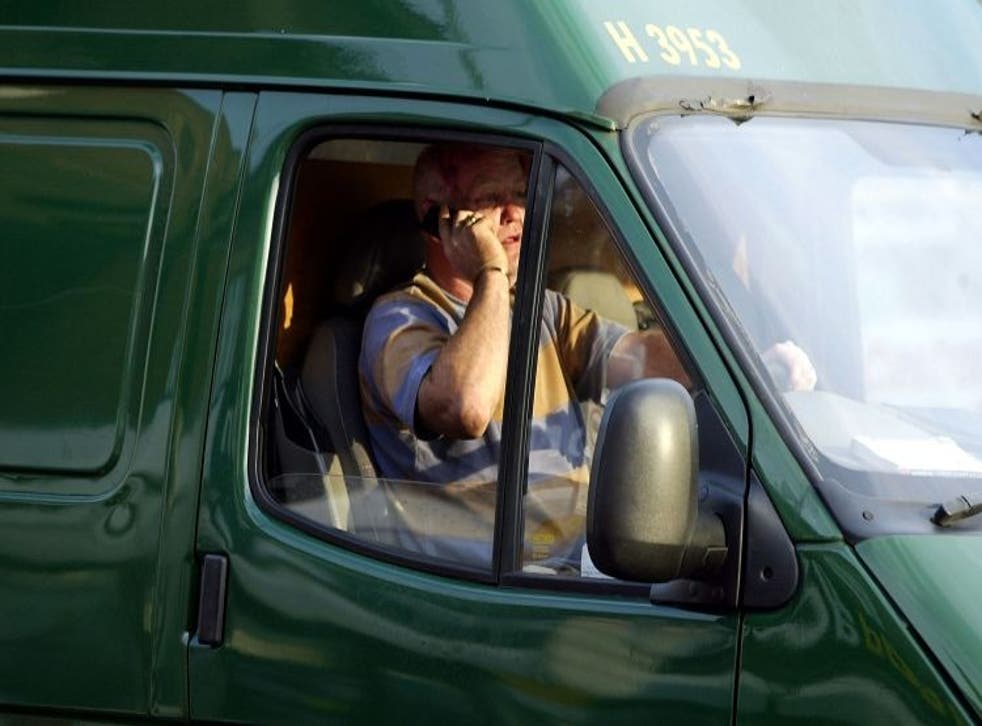 Heavier fines and increased penalties are to be introduced as part of a clampdown on reckless drivers using their mobile phones at the wheel.
A spate of cyclist road deaths has prompted ministers to approve a doubling of the number of penalty points for lorry drivers caught using their phones. The maximum penalty for truck drivers will double from three points to six and the penalty for drivers of cars and vans will increase from three points to four.
Fines for all drivers will rise from £100 to £150. The measures are the centrepiece of the Government's new road safety plan.
However, cycling groups said the plan needs to be accompanied by more police on the roads. The number of drivers caught using mobile phones behind the wheel has dropped by 47 per cent over the past five years, according to figures seen by the RAC. Meanwhile, research from the Department of Transport suggests drivers are using phones more than ever. In 2014, 492 accidents were a result of a driver using a phone, up 40 per cent on 2010.
David Murray, head of communications and campaigns at CTC, the national cycling charity, said: "While CTC welcomes this move as one way to discourage texting while driving, the biggest deterrent would be a greater police presence on our roads. Sadly, cuts to policing have had a disproportionately high impact on police numbers on our roads. All road users would benefit from more roads policing, but it would be the most vulnerable – cyclists and pedestrians – who would benefit the most."
Amy Summers, campaigns co-ordinator for the London Cycling Campaign, said: "Any measure that encourages safer driving is welcome, but unless that is supported by people on the ground, we're not going to see enough change in driver behaviour.
"We hope that any measure is accompanied by stronger enforcement with people receiving the fines. Dangerous driving and lack of attention are major dangers to people cycling on the roads."
Under the Government's proposals, first-time offenders will still be offered special courses in an effort to change their behaviour. However, those who repeatedly offend face harsher fines.
Ministers have decided to ramp up the punishments for lorry drivers because the consequences of an accident involving a heavy vehicle can be much more severe. Last year alone, 21 fatal car crashes and 84 "serious accidents" were wholly or partly blamed on a driver using a mobile phone at the wheel. Polls have also regularly found that drivers rate mobile phone use alongside tailgating as one of the most dangerous practices on the road.
Transport Secretary Patrick McLoughlin said: "Using a mobile phone at the wheel is reckless and costs lives. I want to see it become a social taboo like not wearing a seatbelt.
"We will take action to tackle this persistent problem, with an emphasis on the most serious offenders. The message is clear: keep your hands on the wheel, not your phone. If you keep taking calls while at the wheel, you could end up being banned from the road."
Edmund King, president of the AA, said there was an "epidemic of hand-held mobile phone use while driving" and backed the Government's clampdown: "Three-quarters of drivers see others using mobile phones on some or most journeys, with one-quarter seeing it on every journey, according to our polls."
Suzette Davenport of the National Police Chiefs' Council said: "We fully support this crackdown on dangerous drivers. Drivers must continue to be aware not only of the risks posed by being distracted by mobile phones, but also the serious penalties which they will face if they are caught."
Join our new commenting forum
Join thought-provoking conversations, follow other Independent readers and see their replies