Rob Lawrie: Ex-soldier who smuggled Afghan girl out of Calais refugee camp spared jail
Adam Lusher reports from Boulogne on an act of charity that was misconstrued as people smuggling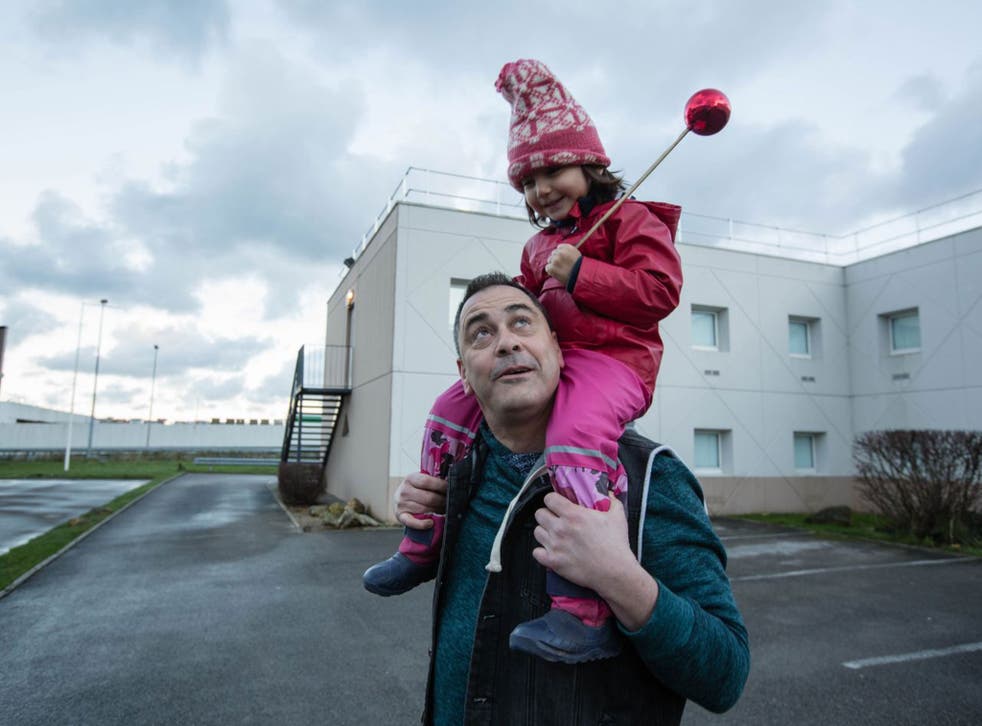 A former soldier has been spared jail for what he called the "crime of compassion" of trying to smuggle a four-year-old Afghan girl into Britain from the squalid Calais Jungle refugee camp.
Rob Lawrie, 49, of Guiseley, near Leeds, appeared close to tears as – to loud applause in the courtroom – a French judge said he would only have to pay a fine of €1,000 (£755). The fine will be waived completely if after five years he had committed no further offences.
His illegal attempt to get four-year-old Bahar Ahmadi into Britain, where she would have lived with relatives already in the country, had carried a maximum sentence of five years in jail.
Fearing what awaited him at Boulogne's Tribunal de Grande Instance, Lawrie had not slept for four days.
A fortnight after his October arrest, facing the break-up of his marriage because of what he had done without consulting his wife, the father-of-four had attempted to take his own life.
After the presiding judge Louis Betermiez gave him only a suspended fine, Lawrie declared himself "absolutely elated".
"Thank you France," he added. "The French justice system has sent out a message today. Compassion was in the dock, and compassion won."
Lawrie, who first revealed to The Independent in November how he sought to assist "an innocent little girl who had lost the birth lottery", has always accepted he made a stupid mistake.
Yesterday he told the three judges: "It was completely irrational and stupid. Without the emotion attached to me at the time, I would not have done it."
Twitching as the stress of the trial aggravated his Tourette's syndrome and at times struggling to contain his emotions, he told a packed courtroom why, on the freezing cold night of 24 October, he finally gave in to Reza Ahmadi's pleas to smuggle his daughter out of the camp.
"I saw his desperation for a better life for his child. The little girl fell asleep on my knee and I couldn't leave her there. I am sorry."
The volunteer aid worker hid Bahar in a compartment above the driver's seat of his van. Unbeknown to him, however, two Eritrean men had also hidden themselves in the back of the van, and border control sniffer dogs detected the pair. Lawrie was arrested and had to tell police about Bahar, who was asleep in her hiding place.
At the request of the French authorities, Bahar and her father accompanied Lawrie to the tribunal.As he left court, Lawrie drew attention to their differing fates. He was returning to Leeds. Bahar was going back to the Jungle.
"How sick is that?" he said. "She is an intelligent, articulate four-year-old girl. If we get these kids into our [the UK] education system now, they will become doctors, lawyers, teachers. Or, we can leave them in the Jungle to rot and die of cold."
Refugee crisis - in pictures

Show all 27
On the eve of his trial, Lawrie had told The Independent of the toll the case had taken on him.
He now has just 48p to his name. In his determination to help the refugees of the Calais Jungle, he had spent his savings and sold the machines from his carpet cleaning business. He is behind with his rent and, despite an "extremely understanding" landlord, fears eviction from his home.
Calling his wife "the most beautiful human being", he admitted she had left him. "I did all this without consultation. The last straw was my stupidity in trying to smuggle Bahar."
He also worried about how his children would cope if he were jailed.
In early November, he admitted, he had tried to take his own life and was discovered at the last minute by a friend. "I woke up in intensive care with the most amazing pain in my torso. They told me that was from the paddles of the defibrillator the paramedics used in my front room."
"On a selfish level, I have regrets," he added.
"This has ruined my life." But, his regret was offset by the fact that his case was generating worldwide attention and support.
"The global attention has been turned from young black men trying to board trucks, to the children of the refugee camps. Look at the light it has shone on the human side of the refugee crisis."
In court his lawyer, Lucile Abassade, had argued Lawrie should be spared punishment because what he did was "an illegal act of solidarity". French law, she said, allowed otherwise illegal acts if they were unpaid and done to protect the "physical integrity" of the immigrant.
Boulogne state prosecutor Jean-Pierre Valensi countered that there were other, legal ways to help Bahar.
Mr Valensi said that Lawrie had in fact put her in danger by putting her in a "tiny little hiding place" that was screwed shut. He was loudly booed.
Mr Betermiez listened, apparently sympathetically, as Lawrie told of growing up in a children's home, his struggles with bipolar disorder and his suicide attempt.
He said the suspended fine was because the conditions in which Lawrie had hidden Bahar had exposed her to risk, in particular of "injury or mutilation" in the event of a traffic accident.
Leaving court, Lawrie vowed: "I will return to the Jungle, raise awareness, kick up a storm somehow."
On behalf of Bahar, he issued a plea "to the British people".
"Let's trial this, by bringing just one child into Britain. I reckon I could get enough donations to accommodate her and put her through university without it costing the taxpayer a penny.
"Let's see what would happen if we gave just this one child the opportunity."
Register for free to continue reading
Registration is a free and easy way to support our truly independent journalism
By registering, you will also enjoy limited access to Premium articles, exclusive newsletters, commenting, and virtual events with our leading journalists
Already have an account? sign in