Royal hospital condemns prank call in letter to radio station
Saturday 08 December 2012 19:55
comments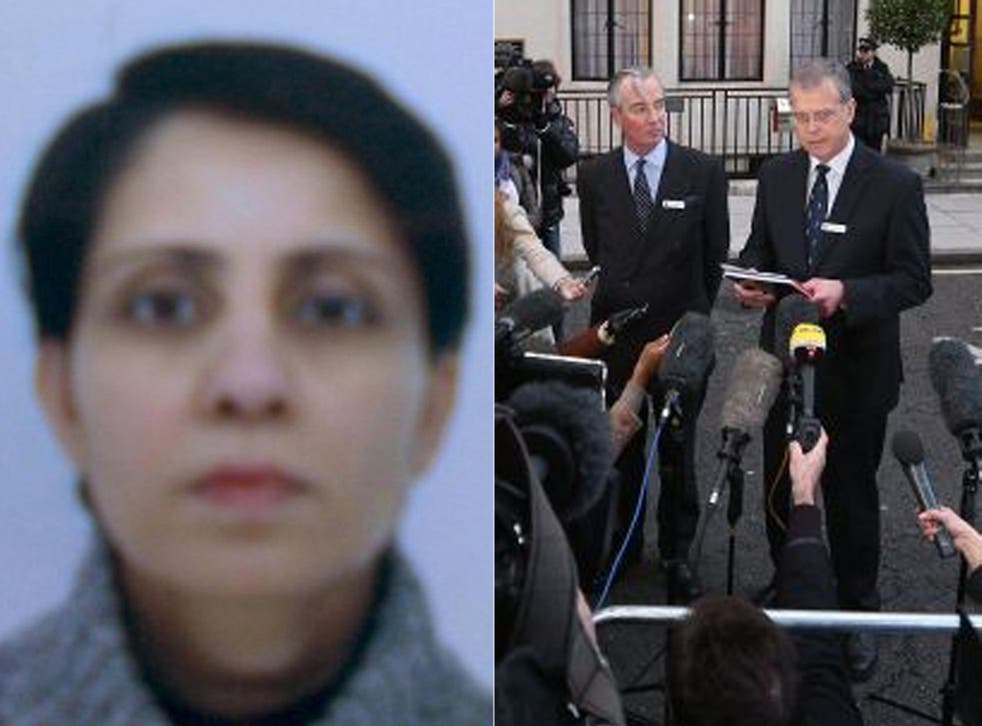 King Edward VII's Hospital in London today condemned a prank phone call by a radio station that preceded the death of nurse, as her family struggled to come to terms with the tragedy.
In a letter to the Australian radio station 2day FM's parent company, the hospital's chairman Lord Glenarthur said he wanted to "protest" against the "extremely foolish" gag which he branded "truly appalling".
His comments follow the apparent suicide on Friday of nurse Jacintha Saldanha, 46, who was on duty at the hospital when she was duped by DJs Mel Greig and Michael Christian into helping reveal details about the Duchess of Cambridge's health.
Lord Glenarthur said her death was "tragic beyond words".
His letter to Southern Cross Austereo said the immediate consequence of the station's "premeditated and ill-considered actions" led to the "humiliation" of Ms Saldanha and another nurse.
"I appreciate that you cannot undo the damage which has been done but I would urge you to take steps to ensure that such an incident could never be repeated," it added.
A spokesman for the private London hospital, where the pregnant Duchess had been treated for a severe form of morning sickness, said the letter was sent earlier today.
Ms Saldanha was pronounced dead at staff accommodation close to the hospital.
She answered the presenters' call and, believing they were members of the Royal Family, put them through to another nurse who described Kate's condition in detail.
The nurse's devastated family were being comforted by relatives and friends at their terrace home at Greystoke Avenue, Southmead, Bristol.
A friend at the address said Ms Saldanha's partner Benedict Barboza, 49, and their teenage son and daughter, aged 14 and 16, were "very, very shocked and unhappy at the tragedy".
Neighbours in Bristol appeared torn by anger at the DJs combined with shock and sadness for the family.
Some questioned whether there may have been more pressing concerns, unknown as yet, on the mind of the nurse.
"She was a lovely, lovely person who always spoke to you when you saw her in the street," said neighbour Mary Atwell, 56.
"The kids were always polite and well-behaved. The boy often played football on the green outside with his friends. I saw him go off to school yesterday.
"God knows how they must be feeling now. There is a lot of family going in there today."
News of her death led to a huge backlash against the two presenters, Greig and Christian, who broadcast the prank on their Hot30 Countdown show on 2day FM.
They have now been taken off the air while the Sydney-based station has been inundated with complaints.
But Southern Cross Austereo chief executive Rhys Holleran stood by the two DJs and said they were shocked and devastated by news of Ms Saldanha's death.
At a news conference in Melbourne, he said: "This is a tragic event that could not have been reasonably foreseen and we're deeply saddened by it.
"I spoke to both presenters early this morning and it's fair to say they're completely shattered."
Mr Holleran said the pair had been offered counselling, adding: "These people aren't machines, they're human beings. We're all affected by this."
He would not say who came up with the idea for the call, only that "these things are often done collaboratively".
He said he was confident the station had not broken any laws, noting that prank calls in radio have been happening "for decades".
"They're not just part of one radio station or one network or one country - they're done worldwide," he said.
The company said that, by mutual consent, the hosts would not be returning to their show until further notice.
Greig and Christian, who put on fake English accents and pretended to be the Queen and Prince of Wales, made an initial apology but continued to boast about the stunt, describing it as the "easiest prank call ever made".
A flood of complaints have been made to the Australian Communications and Media Authority, which regulates radio broadcasting. It said it is currently in discussions with the station over the matter.
In a statement last night, Ms Saldanha's family said they were "deeply saddened" by the death and asked for privacy.
They said: "We as a family are deeply saddened by the loss of our beloved Jacintha. We would ask that the media respect our privacy at this difficult time."
The Duke and Duchess of Cambridge have sent their condolences to Ms Saldanha's family.
In a statement on Friday night, St James's Palace said: "The Duke and Duchess of Cambridge are deeply saddened to learn of the death of Jacintha Saldanha.
"Their Royal Highnesses were looked after so wonderfully well at all times by everybody at King Edward VII's Hospital, and their thoughts and prayers are with Jacintha Saldanha's family, friends and colleagues at this very sad time."
The spokesman stressed that they had not complained to the hospital about the hoax call, saying: "On the contrary, we offered our full and heartfelt support to the nurses involved and hospital staff at all times."
A post-mortem examination will take place next week and the death is not being treated as suspicious, Scotland Yard said.
PA
Join our new commenting forum
Join thought-provoking conversations, follow other Independent readers and see their replies