SAS sniper Danny Nightingale faces retrial for illegally possession of pistol and ammunition
He loses last-minute claim that prosecutors acted improperly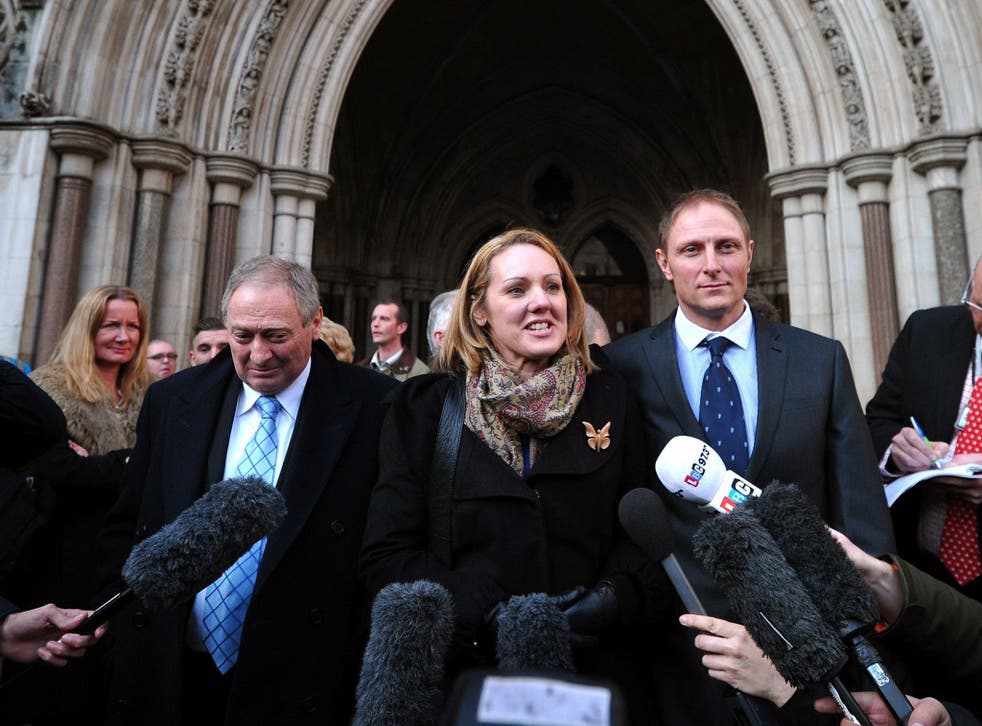 The wife of an SAS sniper, who has battled for six months to clear his name, said the family were bitterly disappointed today when a judge ruled that he must face a retrial for illegal possession of a pistol.
Sergeant Danny Nightingale's 18-month sentence in a military detention facility last November caused a furore in parliament and led to a petition signed by 107,000 people. His sentence was reduced and his conviction quashed by the Court of Appeal.
But today he was told that he would face a retrial before Bulford Military Court after Judge Advocate Jeff Blackett ruled against his legal team, who had argued that leaked emails proved prosecutors had acted improperly in the case.
"I wouldn't wish it on anyone's family - it's horrible. That's not just for Sally, myself and the kids, it's on the wider family. It's hard," Sgt Nightingale said after the hearing in Wiltshire.
The 38-year-old thanked the public and the media for their support as well as his family, in particular his wife: "Without her, without Sal and the family, I wouldn't be here now. They've been amazing, strong, very robust. I think a lot of people would have crumbled."
"Our lives are on hold completely. Every day is consumed by this case, all our conversations with our friends and family are consumed by this case," Mrs Nightingale added. "We've all struggled through it."
"We're obviously bitterly disappointed today that we are going ahead with a re-trial now. But in some respects there are still a lot of unanswered questions for us," she continued.
When Sgt Nightingale, a sniper and a medic, flew home with the bodies of two colleagues in 2007, a 9mm Glock pistol he had been given by an Iraqi soldier was packed up and shipped back amongst his kit. It was left in storage before being transferred to his quarters, forgotten by Sgt Nightingale who suffered brain damage and memory loss after collapsing during an endurance run. It remained undiscovered until police searched his quarters over an unrelated matter.
He later pleaded guilty to possessing the pistol as well as more than 300 rounds of ammunition. But his family insist that he was "bullied" into an admission after being told that he could face a five year sentence if convicted but would be treated leniently if he admitted the charge.
Yesterday, in anticipation of a re-trial in July, Sgt Nightingale pleaded not guilty to both charges.
At a preparatory hearing to discuss the future of the case yesterday Sgt Nightingale's counsel, Simon McKay, told the court the emails - leaked, he said, by an MoD "whistle-blower" - appeared to show the director of service prosecutions consulting the military "chain of command", the Adjutant General's office, on whether or not to pursue the case.
Mr McKay said: " In theory the effect of this meeting is rather like the Director of Public Prosecutions saying to the head of the Metropolitan Police: 'I'm thinking of charging one of your officers, I'd be interested in your views, thank you very much'."
However, prosecutors said there was nothing "improper" with the conduct alleged in the email and no evidence to suggest a breach of regulations.
Judge Advocate Blackett ruled against the defence application, saying: "Provided I am satisfied that there has been no bad faith or dishonesty and that the exercise of a prosecutorial discretion has been conscientiously undertaken, I should direct that the matter proceeds to trial.
"I am so satisfied. There is no abuse of process and I dismiss the defendant's application to stay these proceedings."
Join our new commenting forum
Join thought-provoking conversations, follow other Independent readers and see their replies