Screens used to stop motorists peering into crash sites deployed just 77 times in recent years - despite £2.2m being spent on them
The 'incident screens' have only been used 18 times to deter rubberneckers on some of the country's busiest motorways since April 2013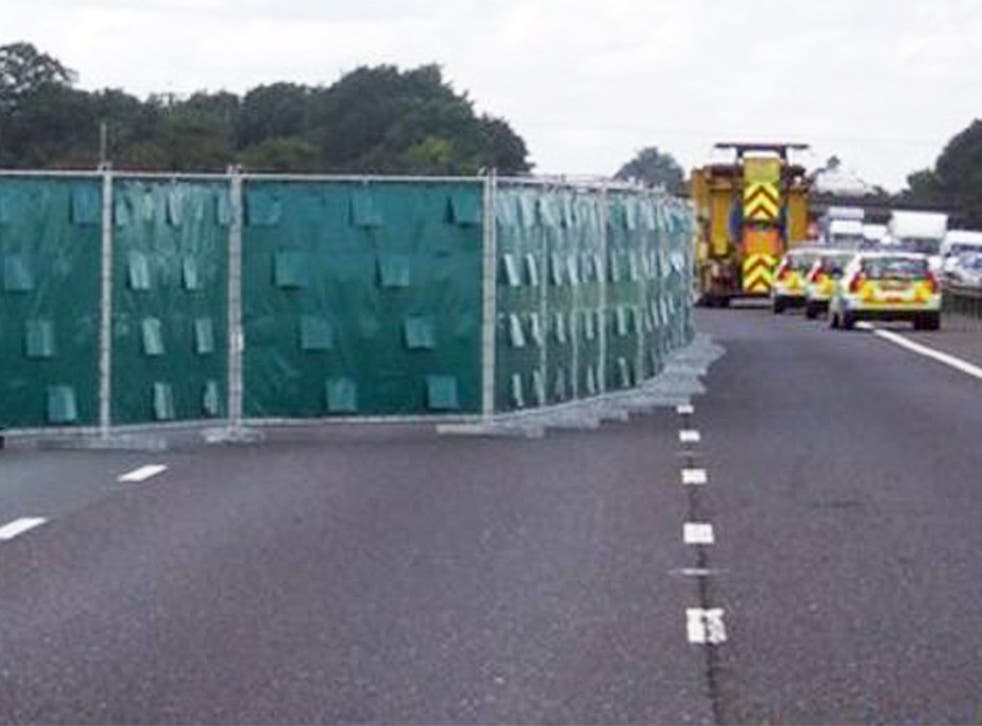 Screens used to stop motorists peering into crash sites have been deployed just 77 times on busy roads in recent years - despite Highways England spending £2.2m on thousands of the fences.
The "incident screens" have only been used 18 times to deter rubberneckers on some of the country's busiest motorways – the M1, M25 and M6 – since April 2013, according to Freedom of Information data.
Despite the limited use of the screens to date, more than a quarter of motorists (27 per cent) think the police should always put up screens to block an accident from view, according to polling by insurance company Confused.com.
Their survey showed nearly half of Britons think it is only human to be curious when witnessing a road traffic accident, despite the risk of secondary accidents, while one in seven (15 per cent) of drivers have seen another motorist take photos at the scene of a crash.
Gloucestershire police said earlier this month it was looking for a dozen drivers who recorded footage of a pile up on the M5 earlier this month that left 18 people were injured, including two people who were airlifted to hospital after a Peugeot was hit from behind and shunted underneath a tanker on the M5. The force said those found to have been rubbernecking could face a variety of charges.
In another recent case 20 drivers were stopped by the police in May for filming the scene of a serious accident on the A14 in Cambridgeshire. Those involved could face charges of careless driving which carries a maximum £5,000 fine and up to nine penalty points.
Highways England bought 3,000 screens in 2009 in a bid to reduce the £750m it estimated accidents due to rubbernecking cause the economy through secondary low-speed crashes. The screens measure 2 metres by 2.1 metres.
It said the average economic benefit of using incident screens is estimated to be around £194,000 per incident.
A spokesperson said: "The screens play a crucial role in reducing congestion and associated collisions, provide extra sensitivity and discretion for people involved in incidents and can also be used to cordon off parts of the incident scene so recovery and repair work can happen in parallel."
However, the Freedom of Information data revealed the screens have been used 70 times on English roads and seven times in Scotland – including just once on the M8 in Glasgow.
Jonathan Isaby, Chief Executive of The Taxpayers' Alliance, said: "Highways England are right to address this perpetual problem but splashing out this much taxpayers' money on new equipment and then not using it is simply unacceptable."
Join our new commenting forum
Join thought-provoking conversations, follow other Independent readers and see their replies