Scuffles near Buckingham Palace as protesters join Million Mask March
Event mirrored by similar gatherings in more than 400 cities worldwide including Dublin, Washington and Melbourne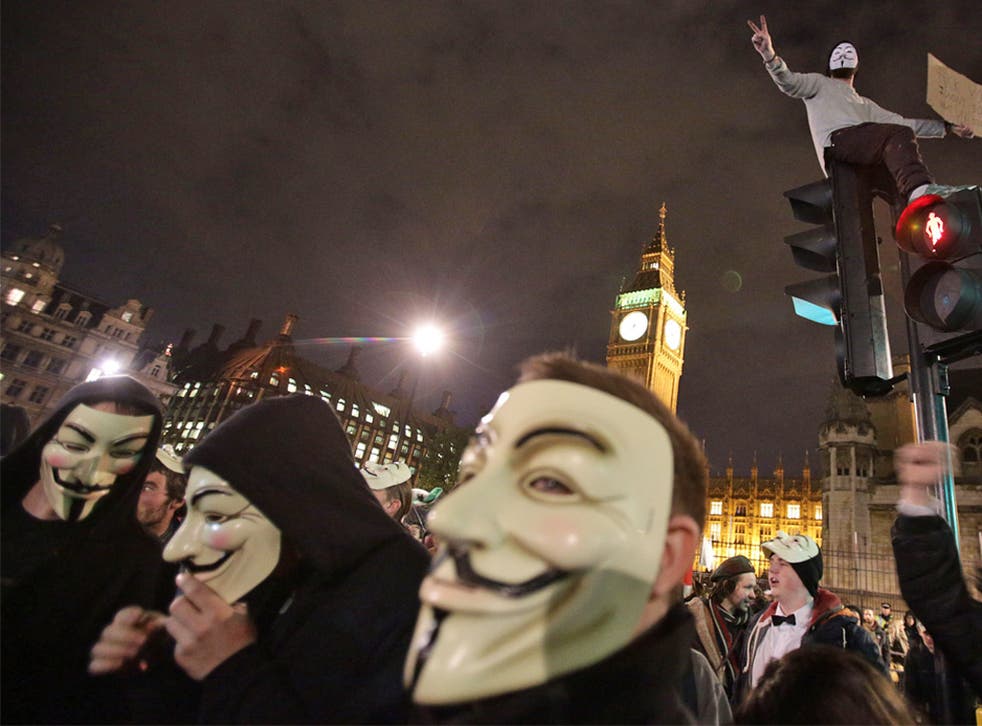 Masked protesters have clashed with police outside Buckingham Palace as part of a global protest against austerity cuts, corruption and an increase in state surveillance.
The Million Mask March, a global movement purporting to be fighting corruption and social injustice, was mirrored by similar gatherings reported in more than 400 cities worldwide including Dublin, Washington and Melbourne.
Wearing Guy Fawkes masks, crowds gathered in Trafalgar Square from early on Tuesday afternoon later moved to the Queen Victoria Memorial. While the march was mainly peaceful, there were sporadic outbreaks of violence when police tried to move protesters. A firework was reportedly fired at Buckingham.
Hacktivist group Anonymous claimed the march was designed to "unite its activists" and "spark the movement back into action against the persecution of internet freedom".
One of the protesters, Ceylan Hassan, 24, told the Press Association: "They started shouting move back, move back, but we had nowhere to go. The police started pushing us, screaming 'move back, move back'. There was a fire on the right-hand side of the monument and people started throwing things."
A Facebook page promoting the protest called for groups including Anonymous, WikiLeaks, the Pirate Party, and Occupy to "defend humanity". It said: "Remember who your enemies are: billionaires who own banks and corporations who corrupt politicians who enslave the people in injustice."
Earlier in the evening, the Green Party MP Caroline Lucas met protesters on the march. She tweeted: "Just been outside Parliament to join Protest against Austerity - some great drumming - all seems peaceful - hope it stays that way #MMM"
The comedian Russell Brand was pictured in the crowd earlier in the evening. He tweeted: "Whatever party they claim to represent in the day, at night they show their true colours and all go to the same party."
Join our new commenting forum
Join thought-provoking conversations, follow other Independent readers and see their replies