Shaker Aamer released: Last UK resident held in Guantanamo Bay pays tribute to supporters who kept his hope alive
The father-of-four arrived back in Britain by private jet in 'terrible shape', according to his lawyers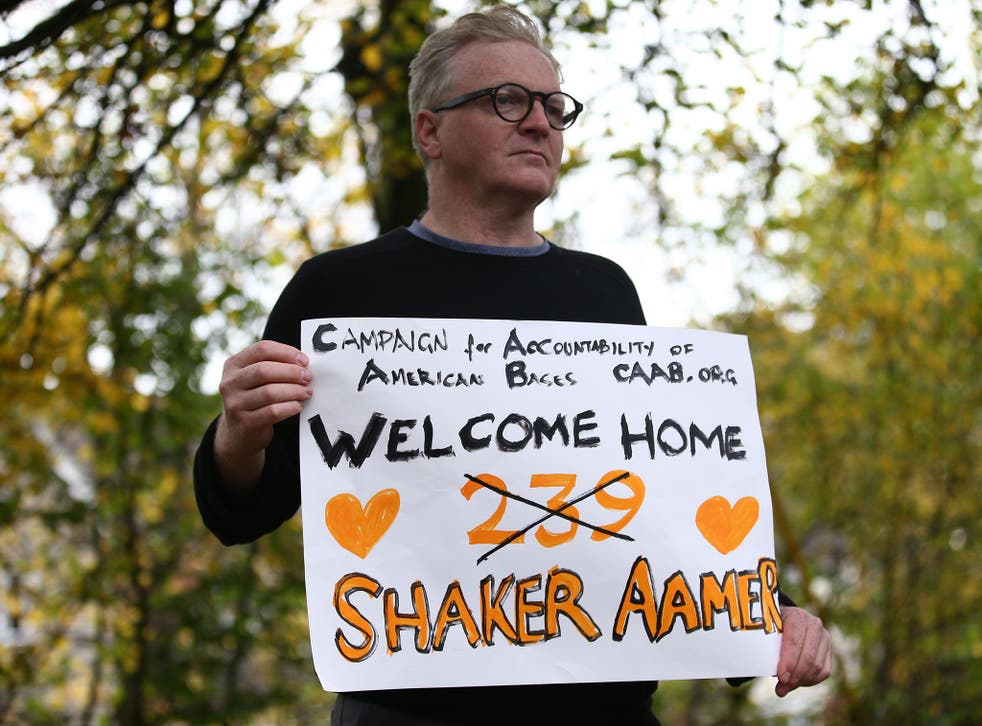 Shaker Aamer, the last British resident held at Guantanamo Bay, paid tribute to the campaign that had kept alive his hopes of release during 13 years captivity.
Mr Aamer, 46, a father-of-four, arrived back in Britain by private jet from the Cuban detention centre in "terrible shape", according to his lawyers. He has problems with his kidneys and arthritis, and was due to have medical treatment before being reunited with his family.
He was subjected to beatings, long-term solitary confinement, forced feeding and extreme cold but was never put on trial.
The British resident was cleared for release eight years ago but was not returned until 30 October despite a personal appeal by David Cameron for Barack Obama to intervene. His return is likely to trigger a large compensation payout.
Mr Aamer has never seen his youngest child who was born on the day he was sent, shackled and hooded, to the prison camp, according to rights group Reprieve that has campaigned for his release.
"My thanks go to Allah first, second to my wife, my family, to my kids and then to my lawyers who did everything they could to carry the word to the world," said Mr Aamer in a statement released by his lawyers.
"I feel obliged to every individual who fought for justice not just for me but to bring an end to Guantanamo.
"Without knowing of their fight I might have given up more than once; I am overwhelmed by what people have done by their actions, their thoughts and their prayers and without their devotion to justice I would not be here in Britain now."
Leaked US military files had suggested that Mr Aamer, a Saudi national and long-term British resident, was a close associate of Osama bin Laden and fought in the battle of Tora Bora. He always maintained that he was innocent and was picked up by bounty hunters from Afghanistan where he went to work for an Islamic charity after the 11 September 2001 attacks. He was passed to US authorities and taken to Guantanamo in 2002.
The Prime Minister welcomed his release and his spokeswoman confirmed that there were no plans to detain him on his return. What restrictions, if any, Mr Aamer will be forced to live under in the UK were unclear last night. Lord Carlile, the former independent reviewer of terrorism legislation, said that the state could not arbitrarily place restrictions on him.
In 2013, Mr Aamer was interviewed while at Guantanamo Bay by two Scotland Yard detectives investigating claims that MI5 and MI6 were complicit in his torture.
The Metropolitan Police and the Crown Prosecution Service were last night unable to give an update on the current state of those investigations, and whether they would wish to speak to him again.
It was disclosed in 2010 that the Government had agreed to settle a civil damages claim brought by British former Guantanamo detainees that was thought to run into millions of pounds. One former Guantanamo prisoner, Moazzam Begg, previously said that Mr Aamer can only accept the terms of the deal once he was released from prison.
Shaker Aamer: Guantanamo's last British detainee

Show all 10
Mr Begg said: "Shaker's greatest tests are yet to come – that is the heartbreaking part – and anyone who has been imprisoned away from their family can attest to this. A stranger becoming a father – not of children, but of young adults – is an unimaginable task."
After Guantanamo: The effects
Shaker Aamer was the last of 18 people with connections to the UK, nine Britons and nine long-term British residents, to be released from Guantanamo Bay. One of them, Jamal al-Harith, who was freed from the detention centre in 2004, has since joined Islamic State in Syria.
Some of the others have spoken about their troubles in getting work or benefits, health issues and an inability to communicate with other people who had not experienced the same thing. In a 2009 interview, Tarek Dergoul said that he relaxed only when he met up with fellow detainees. "I feel more comfortable with the guys that were there with me – I feel at ease and I'm OK. If I'm with other people I feel they don't understand me."
Since his release, Moazzam Begg has been a key figure with the Cage, a group that campaigns against abuses in the name of counter-terrorism. The group came under fire in February after a senior figure described Mohammed Emwazi, the British killer of Isis hostages, as a "beautiful young man".
Rachel Connolly