Shami Chakrabarti: Civil liberties campaigner to step down as head of human rights group Liberty
'The organisation is ready to have a different human logo,' says activist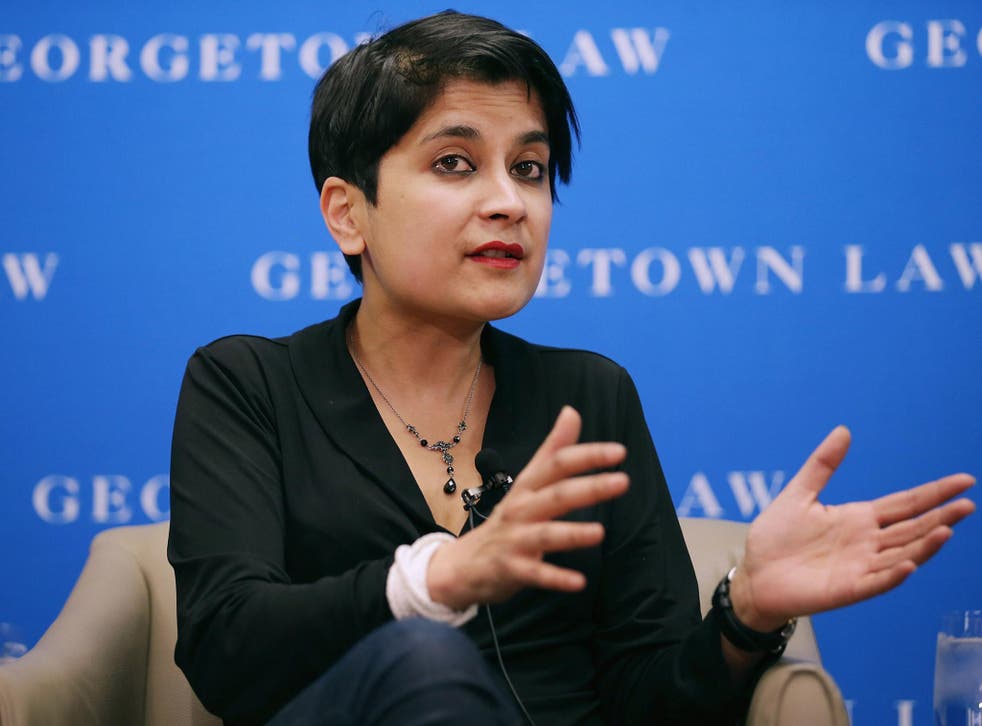 Shami Chakrabarti is to step down as head of the campaign organisation Liberty after more than a decade at the forefront of the battle to defend human rights.
She said her successor would face a huge challenge in resisting the "twin threats" of the Government's plans to scrap the Human Rights Act and to extend the surveillance powers of the police and security services.
But in an interview with The Independent, she said there was a "real chance" that Tory critics could kill off plans to repeal the Act and warned ministers that there was broad opposition to the "snooper's charter" proposals.
Ms Chakrabarti has become a public figure during her 12 years as Liberty's director, regularly appearing on television. She was also among the people chosen to carry the Olympic flag at the opening ceremony of the London games.
She has campaigned against compulsory identity cards, dramatic extensions to pre-charge detention, the internment of foreign nationals and stop-and-search powers. The Sun columnist Jon Gaunt was so enraged over her stance on "the human rights of terror suspects" that he described her as Britain's most dangerous woman.
Ms Chakrabarti said the time was right for her to move on, explaining that she had "stood back and said: 'let's not be too vainglorious'". She will not disclose her future career plans until her successor has taken over.
"When I took the job... I believed no one should do this thing for too long, no organisation should become too synonymous with one person, but then the challenges and opportunities kept coming.
"If … you've actually done your job, then the organisation is ready to have a different human logo, a different spokesperson, a different person across the table."
UK news in pictures

Show all 50
She disclosed that she had contemplated stepping down earlier, but had stayed because of the "visceral" threat to the Human Rights Act in the Conservative manifesto.
The party has promised to replace the 18-year-old act with a British Bill of Rights and Responsibilities, but the Justice Secretary, Michael Gove, is yet to produce firm proposals for implementing the plan.
Ms Chakrabarti said she had been "really heartened" by the extent of opposition to the move in Parliament, as well in Scotland, Wales and Northern Ireland.
"I spent a year pre-election getting to know a lot of Conservative backbench MPs, so I know it's not going to be easy for the Government to do what it says in its manifesto.
"I think there's a real chance it could fall in the Commons. And that's probably why we haven't seen the Bill yet."
She added that the new Labour leader, Jeremy Corbyn, had a "good record" on human rights and his party was united in the act's defence.
Ms Chakrabarti accused the security services and ministers of an "incredibly expert spin operation" over the draft Investigatory Powers Bill, which she described as an attack on the internet privacy of every Briton.
"The opposition to it is quite broad. You've got communications companies and internet providers who are worried about undermining trust in their business as well as human rights activists, journalists who are worried about confidentiality [and] MPs who are worried about privilege," she said.
Join our new commenting forum
Join thought-provoking conversations, follow other Independent readers and see their replies