Sir Richard Branson furious at 'insane' choice for West Coast line
Virgin has lost control of its flagship line. But will rival FirstGroup be able to do any better?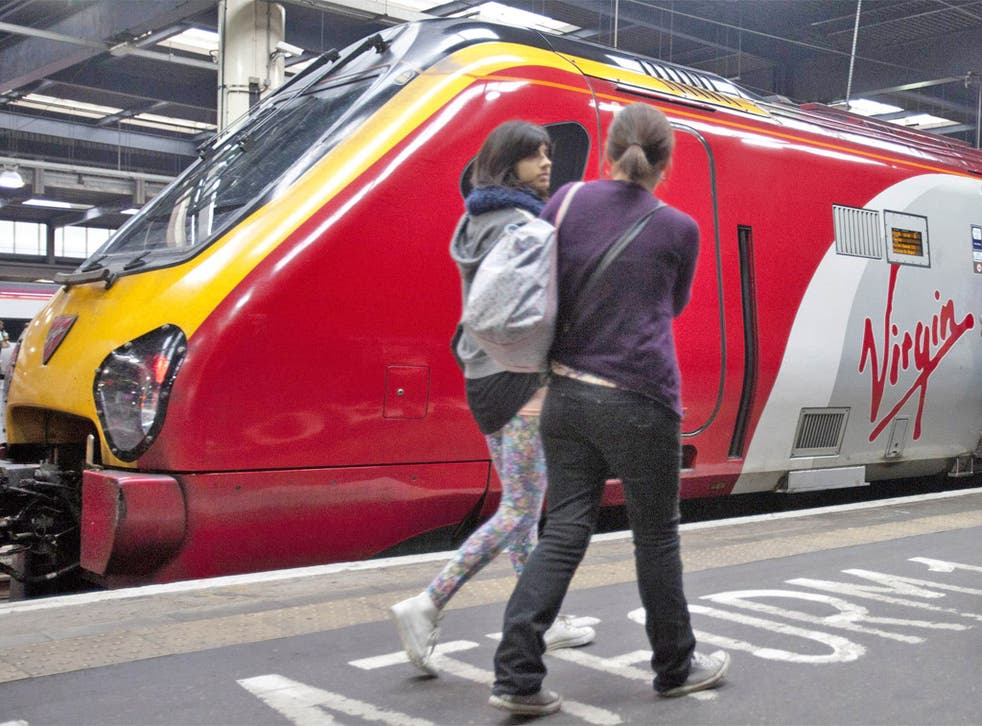 The new age of the train is due to begin on Platform 3 of Wolverhampton station at 8.05am on Sunday 9 December. At that moment, a First West Coast service will set off for London Euston for the first time on Britain's flagship rail route. At the same time a second train will depart from Manchester Piccadilly. The journeys will mark the end of the 15-year rail revolution launched by Sir Richard Branson.
Yesterday the rail minister, Theresa Villiers, appointed First West Coast as the new operator from London Euston to the West Midlands, the North West and Scotland. The firm will take over from Virgin at the annual timetable changeover in December. The franchise runs for at least 13 years.
Ms Villiers promised "big improvements" for passengers. Within three years new rolling stock will boost capacity, and the network will be extended beyond its core routes joining London to Birmingham, Liverpool and Manchester. Trains from Blackpool will run from next year, with direct services from more towns to follow.
But Sir Richard reacted furiously to losing the right to run the West Coast main line. The music-business mogul turned transport magnate described the DfT's decision to award the first long-term franchise to FirstGroup as "insanity", and threatened to quit the rail industry.
Virgin, which is part-owned by the Stagecoach Group, has run the service since 1997. It faced competition from three transport giants for the new franchise: SNCF of France, Dutch Railways and FirstGroup. The foreign contenders were ruled out earlier, leaving Virgin and First battling over how much they would return to the Treasury over the course of the franchise.
FirstGroup bid £5.5bn, more than doubling Virgin's existing payments. It represents an average payment of more than £1m a day, or £13 per second, between now and 2026.
Yet the new operator has pledged to reduce the most expensive "walk-up" fares for standard class by 15 per cent within two years, cutting £22 from the £148 London-Manchester fare and trimming the Birmingham-Edinburgh price from £116 to £99.
FirstGroup's chief executive, Tim O'Toole, said the ambitious targets for passenger numbers and revenue were realistic: "We have created growth at these levels." The company believes it can earn more from available seats on off-peak trains than Virgin currently achieves, and claimed its plans would encourage travellers to switch from cars and planes, benefiting the environment.
FirstGroup's share price fell by 6 per cent during the day.
The Rail Minister said: "We believe that the bid is deliverable and robust." It is thought that if FirstGroup were to walk away from the deal at any stage, the firm would also lose its existing franchises, which include ScotRail and First Capital Connect commuter services in London.
Sir Richard Branson described the Coalition's decision as "extremely disappointing". He said: "To have bid more would have involved dramatic cuts to customer quality and considerable fare rises, which we were unwilling to entertain".
His company bid unsuccessfully for the East Coast franchise when GNER, and later National Express, were successful. Both operators handed back the keys part way through their franchise, and the line from London King's Cross to Edinburgh is currently operated by a government company, East Coast Trains. "Insanity is doing the same thing over and over again and expecting different results," said Sir Richard.
Since Virgin Trains won the West Coast franchise, passenger numbers on the line have overtaken those on the East Coast – more than doubling to 30 million annually. But the Virgin founder said it was unlikely he would bid for any more franchises: "We have made realistic offers for the East Coast twice before which were rejected by the Department for Transport for completely unrealistic ones and therefore we will have to think hard before embarking on another bid".
What you'll notice... and what you won't
Travellers on the 8.05 from Wolverhampton on 9 December will see little immediate difference to their usual train service, as the same staff and rolling stock will be employed. But FirstGroup promises rapid improvements, with an initial £350m investment over five years. Existing Pendolino and Voyager trains will be refurbished, with new seats and more luggage space. Some journeys will be accelerated, with the London-Glasgow time cut by 15 minutes, potentially breaking the four-hour barrier.
The new operator has also pledged to introduce 11 new six-car electric trains, adding 12,000 seats a day to existing capacity plans. Passengers travelling to and from Preston, Nuneaton and Milton Keynes will get more trains, while Telford, Shrewsbury and Bolton will be reconnected with Euston by 2016. Stations will benefit from a £22m improvement programme.
Smart-card technology, similar to Oyster cards on the London network, will be deployed to reduce the need for paper tickets. On board, travellers should notice enhanced on-train catering and "a greater emphasis on customer-facing staff". FirstGroup has also promised free, high-speed Wi-Fi.
Branson's reaction: When will the Department for Transport learn?
An extract from Sir Richard Branson's statement...
"Insanity is doing the same thing over and over again and expecting different results. When will the Department for Transport learn? Interestingly before Virgin took over the West Coast there were more passengers using the East Coast than the West Coast. Now there are 12 million fewer. Under our stewardship, the West Coast Mainline has been transformed from a public liability into a valuable asset for the UK, worth many billions of pounds. The service is a British success story and one to put up against rail companies around the world".
"It is a great shame that such a strong track record has been discounted in the evaluation process for one of the UK's most important infrastructure assets."
"Based on the current flawed system, it is extremely unlikely that we would bid again for a franchise."
"The process is too costly and uncertain, with our latest bid costing £14m. We have made realistic offers for the East Coast twice before which were rejected by the Department for Transport for completely unrealistic ones and therefore will have to think hard before embarking on another bid."
West Coasters views on Virgin
Justin Hodnett, 34, managing director of restaurant promotions company from Preston
"I use the West Coast Mainline more or less every week to visit work clients. I'm a Londoner born and bred so I also make the trip down to see family regularly. When Virgin took over the line in 1997 the journey times could be as long as four hours – now you can get from Preston to London Euston in about 2 hours and 15 minutes – you hardly have time to get settled in with a brew and cake! Some rail operators promise the world, but Richard Branson delivered. Virgin is a global brand with global reputation, but who has heard of the FirstGroup? When I use their trains to Manchester they're often late and the on-board service is poor. I'll try and avoid the West Coast Mainline when they take over the franchise".
Clive Peaple, 63, retired headteacher from Dalton-in-Furness, Cumbria
"I and my family are not commuters but we use the West Coast Mainline very often, catching it at Oxenholme in Cumbria, down to Lancaster or London, so fairly long-haul. We feel a certain loyalty to Virgin trains because what came before was so bad. It felt like quite a posh service for us country cousins in the Lake District. There are still problems with the line. It isn't true that you always get a seat and occasionally a carriage experiences problems with sewage disposal, making it a toxic experience shared by all passengers. We'll wait and see what the FirstGroup can do, but I am concerned that fares will rise. At £180 for a peak-time ticket they are already awful".
Join our new commenting forum
Join thought-provoking conversations, follow other Independent readers and see their replies