Sisters forced to cancel fundraising event to send terminally ill mum to Dignitas after police warn they'd face prosecution
Jackie Baker from Swansea was diagnosed with motor neurone disease in February and wants to 'die with dignity'
Caroline Mortimer
Friday 17 July 2015 18:29 Comments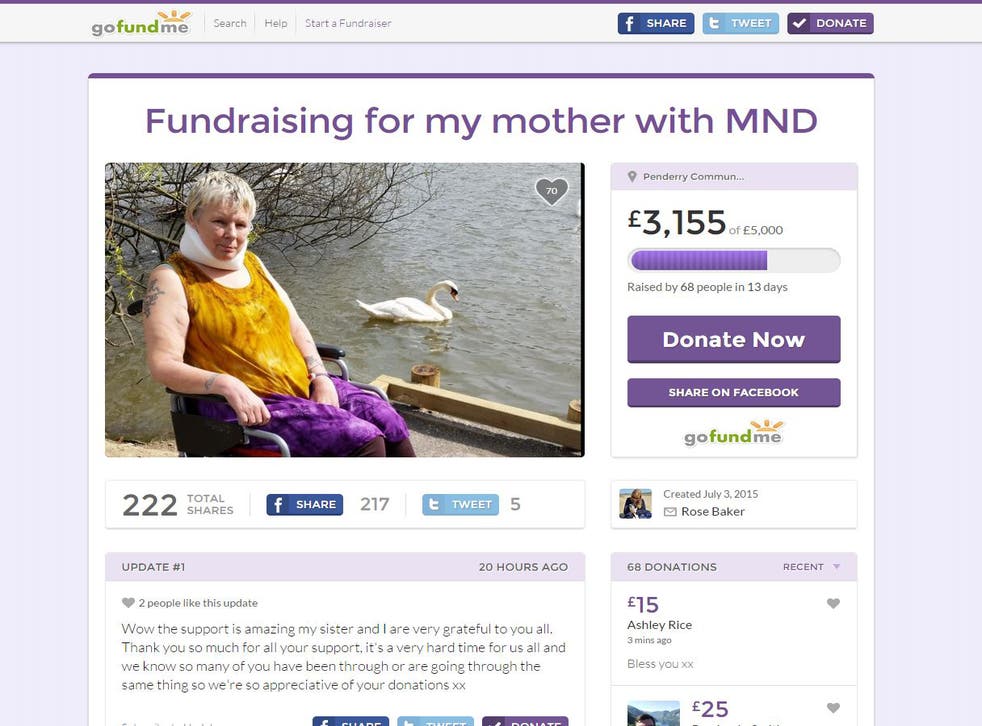 Two daughters have been forced to cancel a fundraising evening to send their terminally ill mother to the Swiss assisted dying clinic Dignitas after police told them they could be prosecuted.
Jackie Baker, 59, from Swansea was diagnosed with motor neurone disease in February and her condition has progressed so quickly she is unable to use her arms or legs and her speech is fading.
She asked her daughters Tara O'Reilly,40 and Rose Baker, 29, to organise a £15-a-head charity fundraiser to pay the £8,000 she needs to go to the clinic in Switzerland so she could "die with dignity".
But after a complaint by anti-suicide Care Not Killing, two police officers visited Mrs O'Reilly at her salon and explained that if they were to go through with the event, they could be arrested for abetting suicide.
She told the Mail Online: "I was in the salon when two officers called. They were really nice about it but basically warned me off having the party for mum.
"Two officers explained to me that an anti-suicide charity had complained about the party because of the coverage it has had in the paper.
"I haven't been cautioned or anything official. I was just given a friendly warning and an overview of where I stand legally.
"I'm just gutted because I was at my wits end when I organised the fundraiser - desperate to do something.'
She said they were still determined to help their mum but they would just have to come up with an alternative solution.
"The law needs to change. It is inhumane that people should have to suffer in the way that my mother may have to now." she added "I'm so upset - the thought of seeing my mum die without her dignity makes me feel sick."
Ms Baker, 29, added that it was "heartbreaking" to watch her mum "who is such a creative, free spirit" be confined to wheelchair and struggling with speech.
The sisters launched a GoFundMe page to crowd fund £5,000 towards the trip with one anonymous donor giving £2,000, according Mrs O'Reilly's facebook page.
Suicide has been legal in all parts of the UK since 1966 but assisted suicide remains a criminal offence that can carry a maximum sentence of 14 years in jail.
Assisted suicide became legal in Switzerland in 1998 but British families who help their loved ones travel to the clinic are under threat of prosecution when they get back to the UK.
Alistair Thompson, a spokesman for Care Not Killing, defended the charity's decision to report the party: "I expect the police to investigate and report their findings to the CPS for them to make a decision whether to prosecute.
"It is against the law to encourage or assist someone to commit suicide including raising money to send someone to Dignitas.
"With modern drugs people should not be suffering and if they are we should be challenging the care package- what is being offered and what can we do better?"
Register for free to continue reading
Registration is a free and easy way to support our truly independent journalism
By registering, you will also enjoy limited access to Premium articles, exclusive newsletters, commenting, and virtual events with our leading journalists
Already have an account? sign in
Join our new commenting forum
Join thought-provoking conversations, follow other Independent readers and see their replies