Sold down the river? Boaters to be moved on during Olympics
The arrival of the Olympics will see hundreds of boaters forced to move home this summer. Nina Lakhani discovers their feelings on the temporary eviction and the reasons behind it
Sold down the river? Boaters to be moved on during Olympics

Show all 2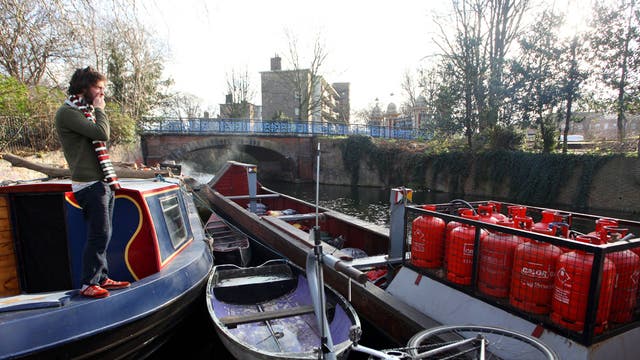 With less than 200 days to go until the opening ceremony, the Olympics countdown is on. Organisers hope the opening shebang will kickstart a thrilling two months in the capital, but not everyone is feeling the spirit of the Games.
Hundreds of nomadic boaters who call the waterways close to the main Olympic sites home are effectively being evicted for nearly 10 weeks over the summer. Under new rules, they will be barred from mooring their boats in Olympic control zones on 15 miles of the River Lea and Regent's Canal unless they are willing to pay hundreds, if not thousands, of pounds to British Waterways to secure a spot for the 10 weeks – something most boaters are simply unable to do.
Click here to see the graphic of the canal.
This has led to fresh tensions between the boating communities and British Waterways (BW), whisking-up a bubbling cauldron of animosity that frankly did not need much more than a stir. Angry boaters, who feel the Olympics are being used as another rouse to make their lives as difficult as possible, have made accusations of social cleansing, money grabbing and dire management – accusations that BW vehemently deny.
BW say the police and Locog (the London 2012 Organising Committee) want details of every boat and boat owner who will be in the Olympic zone for security reasons, which means itinerants are temporarily out.
Joanne Dunphy, 34, a boom operator from Dublin, has been living on a boat, Driftwood, around east and north London for two-and-a-half years – close to her GP, her friends and work. Ms Dunphy gave-up a permanent mooring spot because, as a freelancer, the monthly payments were not always affordable, but is expecting plenty of work opportunities to arise from the Games.
"I've no idea where I'll go, but it can't be too far as I'll need to be close enough for work. I am not really sure what the thinking is with British Waterways, is it security, is it to make more space for other boaters, is it because we're unsightly, who knows? I think it's all part of making life more difficult for us and making money from the Olympics."
Stephen Haigh, a 42-year-old carpenter who lives with his partner and 17-month-old daughter, said: "I'll have to plan my work around it and my partner will have to get to college some how, but this is definitely a money making thing. I think it might backfire though as I don't think there'll be much demand when it's so expensive."
BW are charging between £50 and £360 per week for mooring spots within the controlled zone, which they say will give boaters from all over the country the opportunity to park-up for the Games. The extra money will no doubt be welcome as the body will soon lose its public status and morph into a charity. So far they have sold 304 weeks of moorings, equivalent to around 30 full-time boats, and Fran Read from BW insists they will only break even.
There are around 35,000 licensed boats along 2,200 miles of Britain's rivers and canals, of which 10 per cent are itinerant boaters or continuous cruisers – boats without a permanent mooring spot. In London, this probably includes 300 or so boats likely to be affected by the Olympic rules.
Resident mooring spots, especially in popular areas such as London and the South-west, are few and far between, and can go for thousands of pounds in closed auctions – too much for boaters who chose a canal life after being priced out of the housing market. There are also many who do not want to be tied down and enjoy moving around, even if it is only a mile here and there, including families with ties to nurseries, GPs, and jobs. The laws governing itinerant boaters are laid down in the 1995 British Waterways Act, which states they must move on every 14 days as part of a bona fide journey, but otherwise is pretty vague. For their £800 annual licence fee they can expect little more than clean water and waste disposal facilities every few miles.
Last summer, BW was forced to back down after proposals to impose stricter conditions, making it much harder for itinerant boaters to basically stay put or move only a few hundred metres, were met with strong opposition.
Pamela Smith, 54, an itinerant currently moored on the Kennet and Avon canal and member of the National Bargee Travellers Association, said: "Intentionally or unintentionally British Waterways is taking advantage of the Olympics to put pressure on boaters in London to either buy a permanent mooring spot or leave all together."
Mike Wells, 52, a freelance journalist and photographer, said: "We present an image problem for the Olympics as we are not part of the unauthentic image organisers want to portray of London... this is another excuse for British Waterways to try to socially cleanse the rivers and canals of people like me."
Not everyone is bothered about the changes. Rick Beaudray, 52, a crane driver, took to the waters four months ago and is pretty satisfied with life. "I'm happy to move on and be away from the crowds, there are plenty more canals."
Ms Read said: "We are working hard to accommodate those who do not wish to pay for a permanent mooring spot and do not want to kick people out of their homes."
Join our new commenting forum
Join thought-provoking conversations, follow other Independent readers and see their replies