Video shows British soldiers using Jeremy Corbyn picture as target
British soldiers shown shooting Jeremy Corbyn target prompts army investigation
Army says behaviour is 'totally unacceptable' amid outrage following plots to kill Labour MPs
Footage has emerged showing members of the British army using a photo of Jeremy Corbyn for target practice, in what a senior officer called a "serious error of judgment".
A 25-second clip showed at least four servicemen firing handguns towards a large image of the Labour leader, standing at a podium displaying the party's logo.
The soldiers drew their weapons and fired rapidly before stopping to reload as the camera zoomed in on bullet holes on Mr Corbyn's face.
The footage was shared on Snapchat with the caption "happy with that".
An army spokesperson said: "We are aware of a video circulating on social media. This behaviour is totally unacceptable and falls well below the high standards the army expects, and a full investigation has been launched."
The most ridiculous claims made about Jeremy Corbyn

Show all 11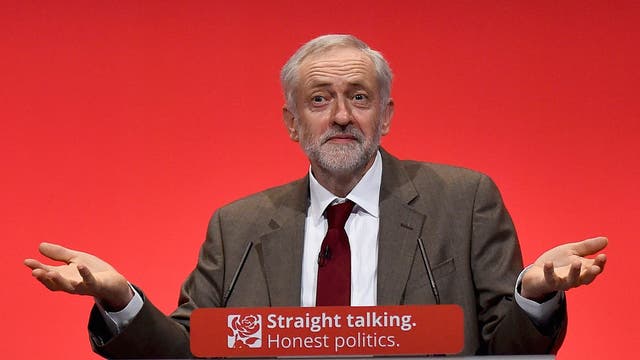 The Independent understands the footage was filmed recently and features members of the elite 3rd Battalion, Parachute Regiment.
It shows soldiers using simulation munition for target practice at a base in Kabul, Afghanistan.
The range is used to practise what is called the "guardian angel drill" – a force protection tactic.
Brigadier Nick Perry, commander of 16 Air Assault Brigade, said the soldiers involved had "engaged in inappropriate behaviour following a serious error of judgment".
"I think at this time it would be helpful to remind ourselves of the importance, as soldiers, of remaining non-political and focusing on the mission at hand, and success in that mission," he added.
"We have 400 soldiers from the Brigade conducting force protection in Afghanistan, and working closely with both Nato and Afghan partners. These soldiers are doing an outstanding job out there."
Nia Griffith, the shadow defence secretary, wrote to Gavin Williamson calling for him to ensure the investigation "is thorough and carried out in a timely manner".
"This appalling footage comes at a time when Members of Parliament face an unprecedented level of threat to their personal safety," she added. "I would ask that you condemn this footage immediately and commit to ensuring that the investigation."
Hours after it emerged, Mr Williamson wrote on Twitter: "I commend the prompt and clear leadership shown by the army in investigating this troubling video."
Tom Tugendhat, a former army officer and Conservative MP, called the footage "disgraceful".
Labour MP Stella Creasy said the "awful" video "damages the well-deserved professional standing" of the army.
"Appalling," she tweeted. "Completely unacceptable and frightening to threaten violence to any politician."
Former soldier and Tory MP Johnny Mercer wrote that "every organisation has good people who make serious misjudgements".
He added: "It's how it polices itself that matters and an inability to do that correctly has caused so many problems of late (IHAT). I look forward to a robust response."
Labour MP Dan Jarvis, who is himself a former paratrooper, called the incident "shameful and utterly unacceptable".
"This goes against the values and standards of the British army. I welcome the Ministry of Defence investigation into this video and trust it will be resolved quickly," he added.
Labour MP Paul Sweeney, who served as an Army reserve soldier for 12 years, said the footage demonstrated a "worrying trend in our society".
"Whether you like him or not, Jeremy Corbyn is the leader of her majesty's official opposition in parliament, and parliament is the supreme democratic body in this country," he added.
Others called the video "chilling" following the murder of Jo Cox, a neo-Nazi plot to kill another Labour MP and the Finsbury Park terrorist's admission that he originally wanted to kill Mr Corbyn.
A Labour Party spokesperson said: "This behaviour is alarming and unacceptable. We have confidence in the Ministry of Defence to investigate and act on this incident."
It comes after the English Defence League founder Tommy Robinson posted a photograph of himself surrounded by grinning soldiers, prompting another army probe.
The anti-Muslim activist shared a video featuring army personnel who cheered and shouted his name after a chance meeting at a motorway service station in October.
The army said it was "investigating the circumstances" at the time, adding that "far-right ideology is completely at odds with the values and ethos of the armed forces".
Mr Corbyn is unpopular in parts of the military because of his past policies on Northern Ireland, Trident and opposition to the Iraq War and other foreign interventions.
In 2015, a serving general claimed Mr Corbyn would face "a mutiny" and mass resignations in the defence establishment if he became prime minister and attempted "any plans to emasculate and shrink the size of the armed forces".
The general, who served in Northern Ireland during the Troubles, said he and many soldiers were sickened by Mr Corbyn's past comments on the IRA, which killed hundreds of British troops and injured thousands.
Join our new commenting forum
Join thought-provoking conversations, follow other Independent readers and see their replies