Solidarity with refugees march: Tens of thousands take to the streets along with new Labour leader Jeremy Corbyn
The Solidarity with Refugees march is thought to be the biggest national show of support for refugees in living memory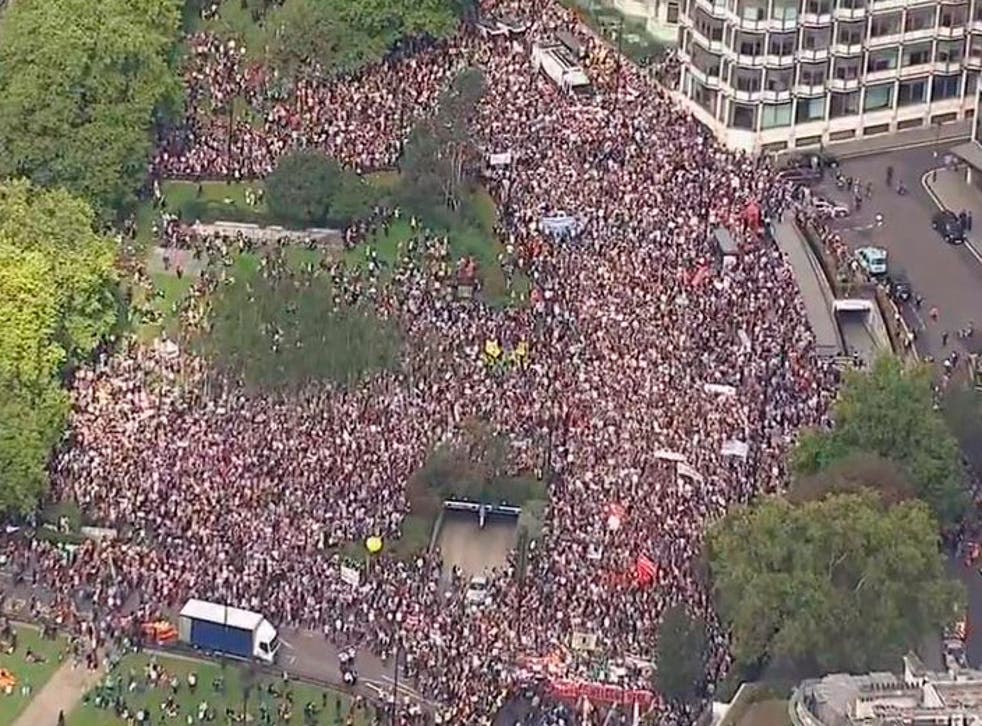 Thousands of people have begun marching through the streets of central London today in support of refugees, calling on the British government to take a stronger stance in their handling of the crisis.
The Solidarity with Refugees march is thought to be the biggest national show of support for refugees in living memory, with a number of refugees leading the march to Parliament Square.
Almost 90,000 people have registered online to say they are attending in London and thousands more are expected in similar events across the country.
Bronze commander Chief Inspector Graham Price of Met Police said a "conservative" for numbers attending the demonstration as it arrived at Trafalgar Square was 50,000 but that number could rise.
He said: "So far the march has gone off smoothly. There have been no arrests and the atmosphere has been cheerful."
Since the photograph of the drowned Syrian toddler Aylan al-Kurdi was shared around the world last week, support for refugees has reached new prominence, while many feel David Cameron's pledge to resettle 20,000 refugees by 2020 falls short of the appropriate action needed.
The Independent has encouraged readers to sign our Change.org petition urging the Government to accept Britain's fair share of refugees seeking safety in Europe. To date, more than 380,000 people have signed up in support.
The new Labour Party leader Jeremy Corbyn joined the march in the wake of his landslide victory in the Labour leadership election.
Speaking at the march, Mr Corbyn said that there is a "popular uprising" across Europe "in favour of decency and humanity".
He said that the nation must "spend our resources on helping and not hindering people and to bring about that world of human rights and justice."
"We are all human beings on the same planet," he added.
The speech ended to huge cheers from the teaming crowd, with Mr Corbyn joining musician Billy Bragg to sing The Red Flag - a socialist song and the semi-official anthem of the Labour party.
Mr Farron said David Cameron should be "ashamed" and that Britain's response had "not been good enough".
Ms Bennett said the refugee crisis was "yet another example of the Prime Minister acting along" and "ignoring a possible European solution".
Marching from Hyde Park Corner on to Parliament the chant from the crowd was "say it clear, say it proud, refugees are welcome here".
Leading the chant on Piccadilly was nine-year-old Maya, the daughter of a Chilean refugee. She led the call and response as her mother Isabelle Cortes, 43, looked on proudly, wrapped in Chilean flag.
"I came here in 1978 as a child," said Ms Cortes. "My daughter is a daughter of a refugee. Britain opened its doors to my mother. She studied English and worked hard to raise me."
"Cameron's 20,000 is a joke. We must do more. I hope Corbyn is the start of that."
The rally comes two days ahead of a summit of European leaders in Brussels to deal with the crisis, which is escalating across Europe.
The number of refugees and migrants that have crossed the Mediterranean so far has already doubled the total for last year, with around 432,761 estimated to have made the journey.
The protest is backed by organisations including Amnesty International, the Syria Solidarity Movement, Stand Up To Racism and Refugee Action.
Stephen Hale, Chief Executive of Refugee Action said: "Today's message could not be clearer. Britain welcomes refugees. In a hundred ways in a hundred towns and cities, people are stepping up to help. Today they are asking all our political leaders to do the same."
"David Cameron has made a clear initial commitment to welcome Syrian refugees. But this is not just about Syria. The government must work with many other countries to deliver support and fair treatment to all those caught up in the global refugee crisis."
The Solidarity with Refugees Facebook page states: "This event has been called in response to various reports of refugees fleeing war, persecution, torture and poverty losing their lives or struggling to find a safe haven."
"The government response to this has been disgraceful. Unlike Germany, Italy and Greece, Britain has not offered a safe haven for these people."
Kate Allen, director of Amnesty International, said: "This is a critical moment ahead of the EU leaders meeting on Monday to make our voices heard loud and clear."
"We should remember the proud moments in the UK's history when we have opened our doors to people when they are most in need, and we should not be turning our backs now on those caught up in what has become the biggest refugee crisis since the Second World War."
Join our new commenting forum
Join thought-provoking conversations, follow other Independent readers and see their replies