Storm Eva: Flooded Cumbrian families face prospect of Christmas Day washout
Met Office forecasters have issued a severe weather warning for Cumbria lasting until the end of Boxing Day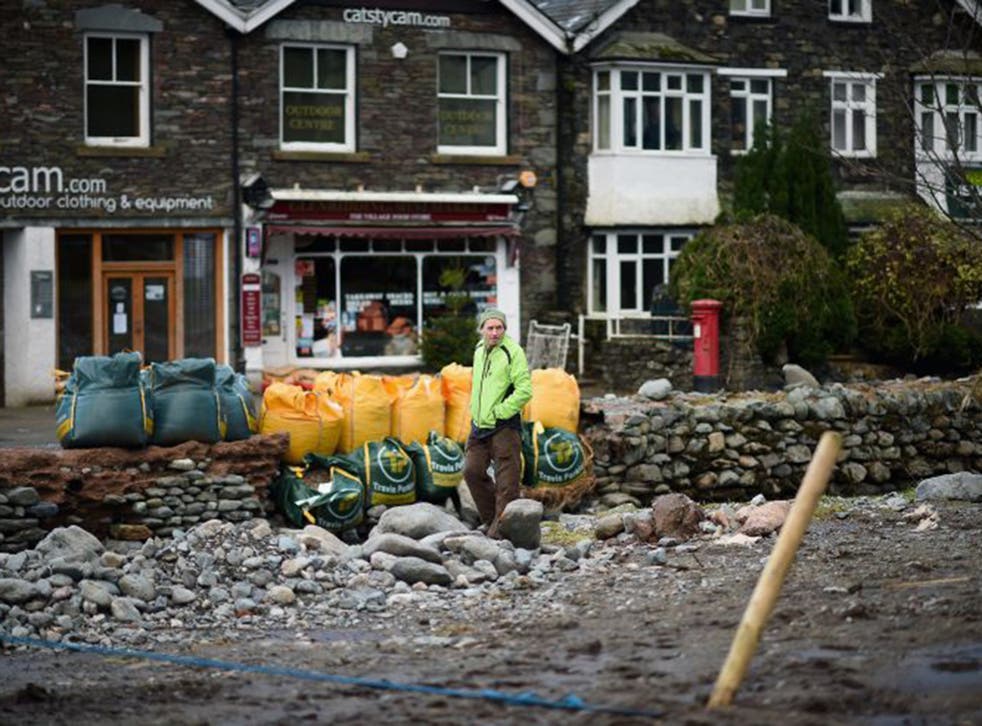 Thousands of families already enduring a miserable winter after being hit by continual heavy rain and flooding face the prospect of being washed out on Christmas Day as Storm Eva brings yet another deluge.
Met Office forecasters have issued a severe weather warning for Cumbria lasting until the end of Boxing Day and a number of flood warnings remain in place.
Soldiers will be deployed in the county on Christmas Eve to bolster defences alongside hundreds of Environment Agency staff as part of emergency measures put in place at Wednesday's Cobra meeting.
The warnings come as hundreds of families are already struggling to make the best of Christmas after being forced out of their homes by floods following record rainfall caused by Storm Desmond earlier this month.
The village of Glenridding was flooded for the third time in three weeks and Appleby-in-Westmorland for a second time when rivers burst their banks after another heavy downpour on Tuesday.
Up to 50mm of rain is expected to fall on already saturated ground in Cumbria's mountains tonight as Storm Eva weaved across the UK. And the region faces the prospect of a further 80mm of rain from 3pm to midnight on Christmas Day – with a risk of 150mm in the worst-affected areas. Two flood warnings and seven flood alerts were in place across the North-west this afternoon before Storm Eva was expected to arrive.
The Environment Agency has now moved 2km of temporary flood defences and 20 extra water pumps to the north of England as a precaution.
Cumbria start flood clean up
Paul Mustow, deputy director in flood and coastal risk management at the Environment Agency, said: "Our thoughts are with all those who have had their homes and businesses flooded throughout the run-up to Christmas.
"Staff are now on the ground taking action to support communities affected, as well as checking the condition of flood defences and the position of pumps and barriers.
"The Environment Agency is also preparing for the possibility of further unsettled weather from Christmas Day into Boxing Day."
Firefighters were called to eight flooding incidents in Cumbria on Tuesday and rescued residents including a woman of 70.
The owners of the Glenridding Hotel, which has been forced to close until the new year, said they were "feeling defeated" after their third flooding in three weeks.
In Appleby, the River Eden burst its banks for the second time in a month. A flood warning siren prompted local people to rush to help those at risk before the stone bridge over the river was closed as the waters rose.
Martin Stephenson, a local councillor for Appleby, said: "Residents and businesses get used to the fact that flooding is a risk nearly all the time. Over the years, they have built resilience to that. Even more resilience may be needed going forward."
Patrick Leach, whose carpet shop in Appleby was flooded again on Tuesday, said locals have been heartened by the response of neighbours who have come to their aid.
Storm Eva in pictures

Show all 7
He said: "You might get maybe 100 people turn up. They fill sandbags. They move things. Generally, we can get through. It's just about trying to think one step ahead."
The Venerable Richard Pratt, the Archdeacon of West Cumberland, said: "Some people have already been flooded three times this month and have lost their treasured possessions. It's been very hard. People have a sense of belonging in Cumbria and they express that by looking after each other at all times, but especially when things go so badly wrong."
Bookmakers have slashed the odds of this being the warmest Christmas on record and the only likelihood of a white Christmas is in the mountains of Scotland.
Met Office spokeswoman Lindsay Mears said: "Some heavy rain is expected in Cumbria, which will fall on already saturated ground. People should be aware of the possibility of heavy rainfall and should take care."
The Environment Agency said parts of Herefordshire, Worcestershire and Shropshire could also see flooding from the River Wye and River Severn.
Join our new commenting forum
Join thought-provoking conversations, follow other Independent readers and see their replies