Stressed? You bet I was. Shark wrestler Paul Marshallsea, hailed as a hero, is sacked because he was on sick leave
62-year-old apparently risked his life grabbing a six foot shark's tail as it approached the children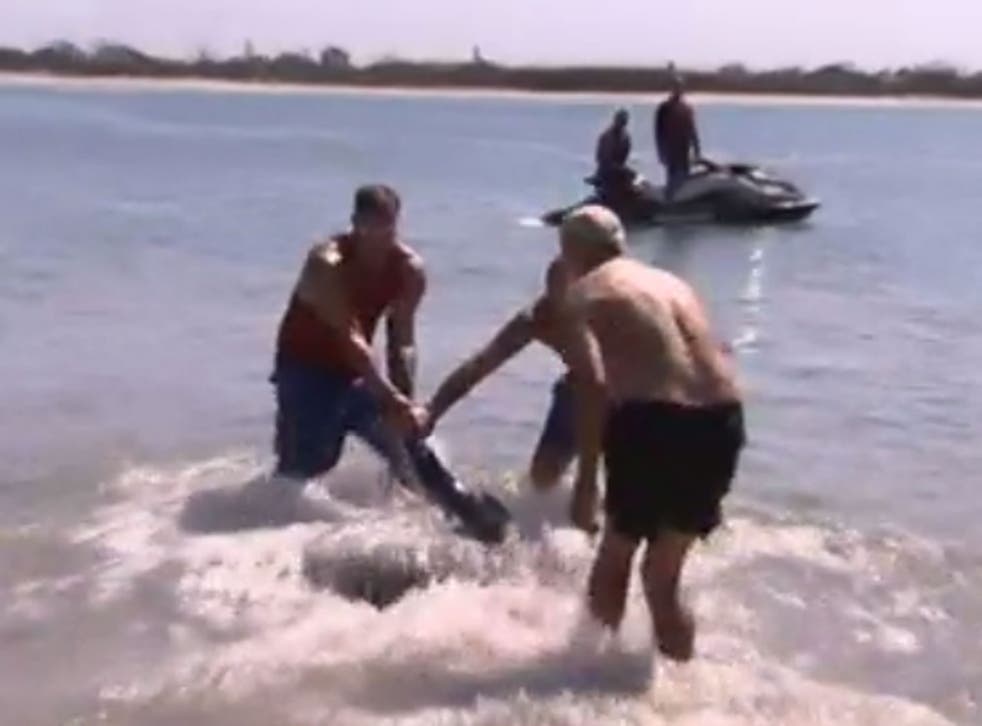 When a British man was filmed wrestling with a shark in Australia as it threatened children playing on a beach, the online footage went around the world and he was hailed as a hero.
Unfortunately for Paul Marshallsea, on sick leave from work with stress at the time, his bosses at the children's charity that employed him saw the video – and he has been sacked for breach of trust.
Mr Marshallsea, 62, from Merthyr Tydfil in South Wales, had been away from his role as a project coordinator at the Pant and Dowlais Boys and Girls Club since last April. He claims he and his wife, Wendy, 56, went on holiday on the advice of his GP, having become so heavily involved in the club that he was sometimes working seven days a week. They had been enjoying a barbecue on the beach outside Brisbane in January when they heard cries of "Help, shark!". The charity worker argues that he risked his life when he waded in to the surf and grabbed the 6ft shark by the tail, amid fears it would attack paddling children – leading to the film by a local news crew going viral online and being aired by television channels.
But when they arrived back in Britain, Mr Marshallsea and his wife – who worked for the same charity and was also off ill at the time – found letters informing them that they had been sacked.
Mr Marshallsea says he is "disgusted" by the way he has been treated and that instead he should have been congratulated for his feat of bravery. "If I hadn't gone in to save the kids on that beach that day, my wife and I would still have a job," he told the WalesOnline website. "Where do I now get a job? There's not much call for shark wrestlers in Merthyr Tydfil." Mr Marshallsea worked at Dowlais Engine House, where the charity has a base, and his wife was a senior youth worker.
The letter he received read: "Whilst unfit to work, you were well enough to travel to Australia and, according to recent news footage of yourself in Queensland, you allegedly grabbed a shark by the tail and narrowly missed being bitten by quickly jumping out of the way; the photographs and footage appearing in newspapers and television broadcasts."
Another of the letters said: "The breakdown of the trustees' confidence and trust in you and your ability to perform the role is so great that we find that dismissal is the only course of action we can recommend."
The charity has been advised by its solicitors not to comment on the matter.
Click HERE to view the video
Join our new commenting forum
Join thought-provoking conversations, follow other Independent readers and see their replies