Students spark anger with 'I love rape' and Nazi swastika tabards, before claiming it was 'banter'
University of Exeter pupils also allegedly wore messages mocking victims of Las Vegas mass shooting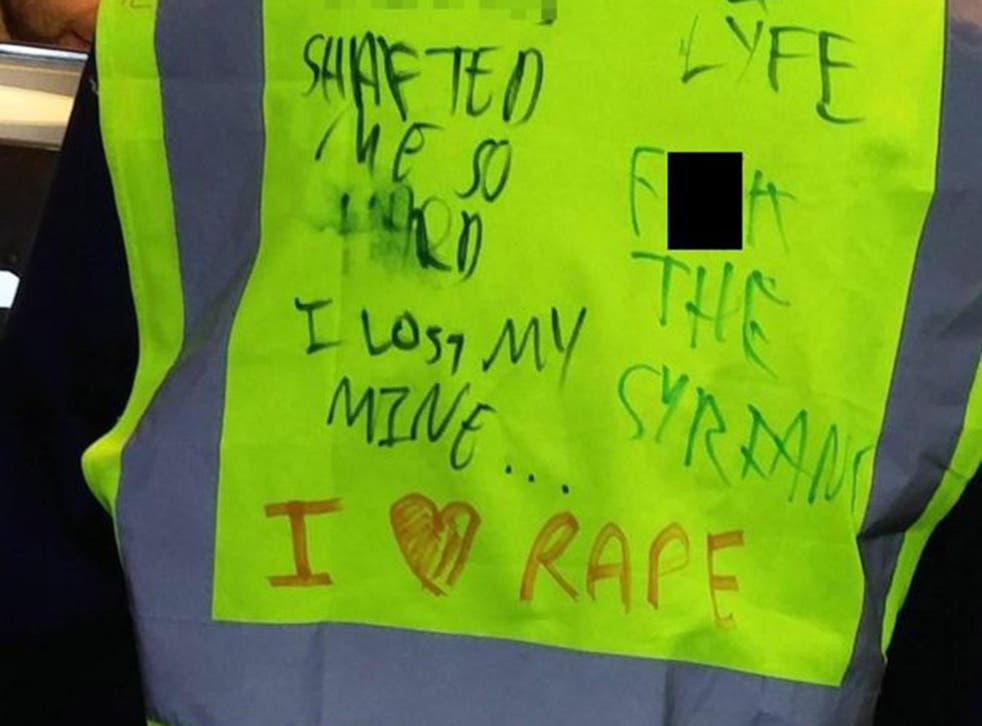 University students on a night out in Falmouth have sparked outrage after wearing hi-vis tabards with "I love rape", "F*** the Syrians" and Nazi swastikas scrawled across them.
They also reportedly wore messages saying "I love Vegas concerts" on their garments, allegedly mocking the victims of the mass shooting last Sunday, which saw 58 people killed and hundreds more injured at a Las Vegas concert.
The group from University of Exeter's Camborne School of Mines (CSM), based in Penryn, Cornwall, had gathered for a pub crawl event called "PPE night", student news website The Tab reported.
At least some of the group's members were wearing the tabards that students are given for courses such as geology and mining and had written the offensive messages on them.
After reportedly facing a backlash in the streets of Falmouth, the students were later seen with their tabards turned inside out, the Tab reports.
Organisers of the pub crawl event apparently sought to avoid further publicity of the group's offensive behaviour, urging those who attended to scrub their social media accounts and devices of any photographs of the offensive messages.
"Whatever you do, do not wear your hi-vis from last night to your practical," one of the organisers reportedly said in a group chat message.
"I hope you enjoyed the evening but to stay safe do not wear anything from last night again."
A second message from another society member said: "Right guys. Last night was great fun but it's definitely going to receive some consequences. Please destroy any hi-vis tops you have (you can make new ones next year).
"If you have any photos or videos, delete them NOW. This is for your best interest and us as a committee."
At least one student tried to defend the group's actions as "banter", writing on Facebook: "Any falmouth (sic) students that can't handle a bit of csm banter need to grow up.
"We've been here for over 125 years and aren't going any time soon snowflakes."
But other members of the University of Exeter student body spoke out against the group, condemning its behaviour.
"I am a CSM student studying engineering geology. I have lived in Cornwall all my life. Like the rest of you, I am utterly dismayed with the actions of last night's social," one student wrote.
"There is a small cohort of students who are ruining it for us all. It's an embarrassment for me to tell people I'm CSM."
UK news in pictures

Show all 50
The poster continued: "Having grown up in Cornwall, knowing a lot about CSM traditions, old Cornish miners, and their associated mining towns' history. 'I love rape' is not 'banter' or part of 'Cornish cult...ure'."
The student insisted that the majority of CSM students did not attend the event and urged students to "not tarnish us all with the same brush".
Another commenter urged for the university to take action, writing: "They have damaged the whole uni reputation. They all need kicking out."
It is unclear what punishment students and organisers of the pub crawl event might face.
A University of Exeter spokesman told The Independent the school had launched an investigation into the incident.
"The University of Exeter and the Falmouth and Exeter Students Union (FXU) have a zero-tolerance policy towards racist, misogynist or similarly highly offensive behaviour of any form," the spokesman said.
"As soon as we were made aware of this incident we sought immediately to identify the students and organisers involved and demanded that all offensive material be removed.
"An investigation was launched immediately and the consequences for anyone found to have breached our code of conduct will be determined by our disciplinary processes."
The spokesman added that the university is "extremely disappointed by these unacceptable actions displayed by a small number of students and we apologise unreservedly for the offence caused".
Join our new commenting forum
Join thought-provoking conversations, follow other Independent readers and see their replies