The Supreme Cat Show: Is it possible to train a moggie?
Never mind the cat's whiskers, it's his coat you should be worried about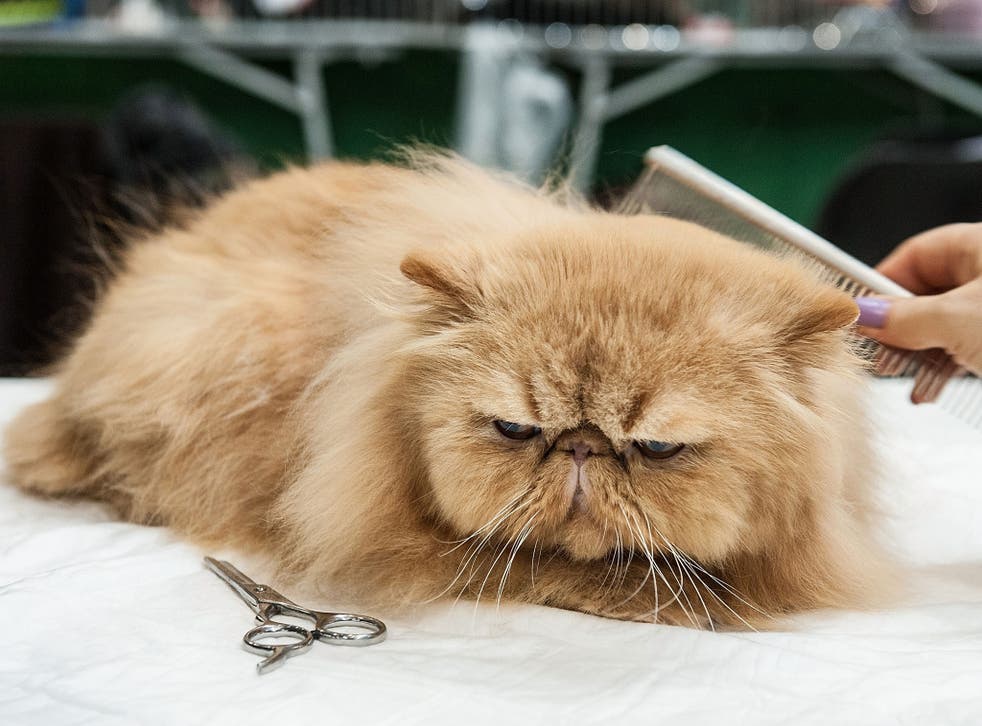 There's one big difference between cat shows and dog shows, which makes life rather difficult for breeders: "You can't train a cat."
So explains Celia Leighton, manager of The Supreme Cat Show, which gets under way in Birmingham on Saturday. Billed as the feline version of Crufts, the 38-year-old show is the largest one-day cat-fancying competition in Europe. This year, 894 cats are taking part in the Winter Wonderland-themed show.
Ms Leighton, who breeds British Shorthairs in Maidenhead and also enters her dogs into shows, is in no doubt about which are the harder animals to prepare. While getting her dog ready for a show takes her seven hours, "it takes a whole day to get a cat looking pristine".
Tania Murray, a Buckinghamshire breeder with a day job in marketing, agrees. "Unlike a dog, a cat pleases itself. If a cat doesn't want to be groomed, you don't show it. You can never take a cat to a show without grooming it. It'd be equivalent to having Miss World on stage with greasy hair."
Supreme Cat Show

Show all 10
A show veteran, Ms Murray, who breeds Maine Coons and Persians, is presenting two of her best cats and hopes they stand out in their Frozen-themed sled and bed, on which she has glued more than 5,000 Swarovski crystals.
When not at work or with her seven cats, she gives talks at shows to educate the public on the intricacies of cat grooming – a daily routine includes brushing the coat through with a comb, making sure the underarms and the "bikini area" are combed through, and washing the cat's face.
"If you're campaigning [showing] the cat, you'll need to bathe it every 10 days, and again two days before if he is on show before rinsing, conditioning, drying and moisturising. But I wouldn't suggest readers go out and bathe a cat," Ms Murray explains
"Kittens in the shows are used to the process. If you have a kitten that looks like he would be perfect for a show but hates bathing, you just don't put him through shows. The cat is the boss."
In 2011, the process paid off and her moggie Mr Bojangles (whose show name is "Imperial Grand Premier & Supreme Kitten Isadoryou Mr Bojangles") won the kitten category.
"A Persian in full coat and groomed properly should look like a floating cloud when you touch the coat," Mrs Murray continues. "It's the Vidal Sassoon of the cat world. If you don't put the work in you let yourself and your cat down."
But do cats know how well they perform? "They love it. If my cat is show-groomed and is looking the part, he knows he looks good. The ultimate show cat is the one who knows he looks really good."
Sandra Woodley, a Reading-based software freelancer who sits on the Supreme Cat Show's judging panel, said the excitement surrounding the competition can't be over-stated. "When you're into cats, you have two goals: the first is to have bred a Supreme winner, and second is becoming a judge at the Supreme show."
Owners receive no money at the shows. It's all for the pleasure and the prestige.
The show is self-financed by the exhibitors' entries: registering two cats for the competition costs the owner the full fee of £40 each, with any extra cats costing £38. Breeders pay £32 for each cat exhibited. Any shortfall can be paid by the grandly named Governing Council of the Cat Fancy.
Despite receiving only "a rosette and that's it", Ms Murray said her entire earnings are spent on her cats' beauty regimes.
"I am the product junkie of the year," she jokes, acknowledging her penchant for importing grooming products from Hong Kong, the US and Sweden is costing her hundreds of pounds a month.
"I spend every spare second that I'm not working with my cats. I am not married and don't have any children but my cats are my children. They live in my house, they are my pets [and] they are my life. It's like being a working mum."
While she understands why people might call her a "crazy cat lady", Ms Murray said she would prefer people referred to her as "an independent and very successful businesswoman who happens to have a crazy cat habit".
Ms Woodley, a breeder who has been a cat judge for 16 years, said that enthusiasts were trying to move away from the "crazy cat lady" image and "portray a more modern image of cat breeding and grooming based around the health and welfare of the cat".
"There is no such thing as people stigmatised for being mad dog persons, yet we tend to be portrayed as mad cat ladies," she said.
Join our new commenting forum
Join thought-provoking conversations, follow other Independent readers and see their replies