Sussex Police pulls sexual assault prevention poster amid accusations of victim blaming
The poster suggested women and their friends could prevent attacks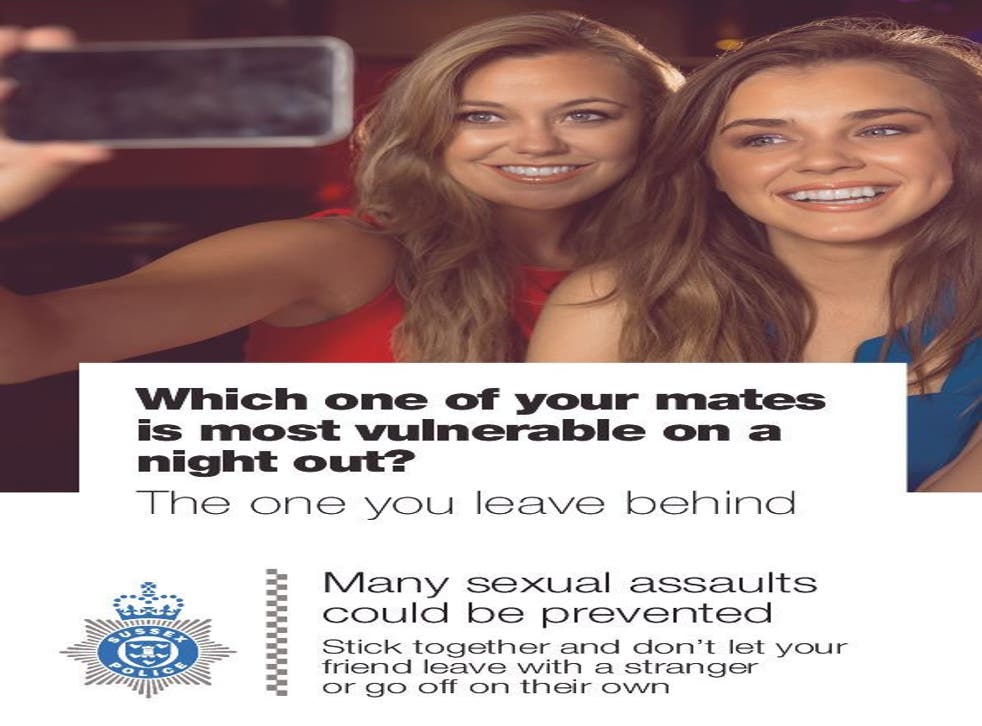 A police force has withdrawn a summer safety campaign, after campaigners complained a poster blamed the victims of sexual assault for attacks rather than the perpetrators.
Sussex Police was criticised for releasing a poster earlier this week which showed two young women taking a selfie on a night out, with a caption reading: "Which one of your mates is most vulnerable on a night out?"
Charities complained that advice below the photo reading: "Many sexual assaults could be prevented. Stick together and don't let your friend leave with a stranger or go off on their own," blamed victims for being attacked, rather than the attackers themselves.
Katie Russell, the spokeswoman for Rape Crisis, told The Independent that while it is sensible for young people to stay together on a night out and not leave anyone behind, "it's not unreasonable for the police to advise this".
"Those with the real power to prevent sexual assaults in significant numbers are not friends and bystanders but those who have sole responsibility for these terrible crimes – that is, the perpetrators," she said.
But Sussex Police defended the poster, and said that the force would have been "failing" in its response to attacks if it "did not recognise that there are victims and urge them to take steps to minimise risks and help safeguard others from becoming victims."
But the public were not convinced, and over 800 people signed a Change.org petition calling on Sussex Police to withdraw the posters.
Detective Superintendent Paul Furnell, Head of Public Protection, said in a statement seen by the West Sussex County Times: "The way we have gone about this campaign has caused some concern.
"This was not the intention of our message and for that I apologise."
He added that the force has decided to "foreshorten this particular part of the campaign."
He added: "The posters were not intended in any way to blame victims. I understand the concerns that have been raised about the poster and they will be withdrawn.
"I would like to stress that the posters were well intentioned with the sole aim of preventing people becoming victims of crime.
"Together we are committed to tackling all violence against women, girls, men and boys and will continue a campaign that will focus on rape and sexual offences that will deal with consent, perpetrators, prevention, awareness, education and vulnerability."
Join our new commenting forum
Join thought-provoking conversations, follow other Independent readers and see their replies