Syria girls: At least 60 British women and girls as young as 15 have joined Isis in Syria, police say
Around 22 of those were 'young' and left the UK in the last year alone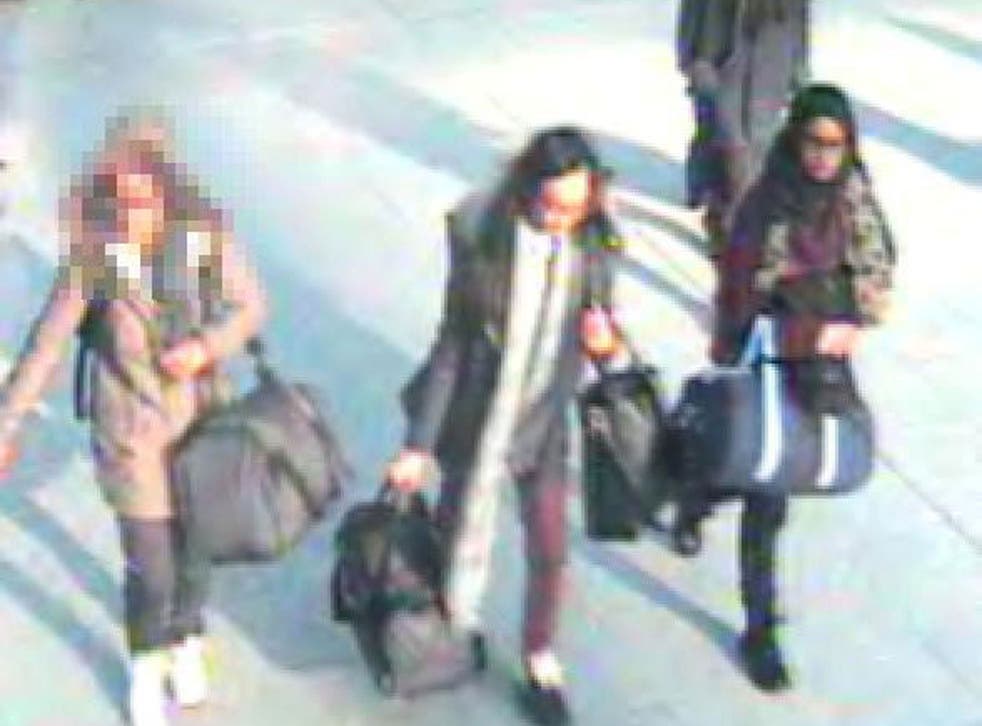 At least 22 young women and girls as young as 15 have travelled to join Isis in Syria in the last year alone, police have said.
Helen Ball, the senior national co-ordinator for counter-terrorism, said that the recent case of London trio Shamima Begum, 15, Kadiza Sultana, 16, and 15-year-old Amira Abase highlighted the difficulty in preventing them.
"In the last year about 22 young women have travelled to Syria and when I say young, all but four of those 22 were aged 20 or younger. The last five who travelled were aged 15 and 16," she said on the Andrew Marr Show.
"This is a growing problem and it's one of real concern.
"The more everyone involved in travel understands this problem and can be alerted, be vigilant and look out for people, the better."
Ms Ball, who is also the Metropolitan Police's Deputy Assistant Commissioner, said around 60 women and girls had travelled to join the so-called Islamic State in total and families informing police were "distraught".
Although police are making use of new powers to remove passports to stop suspected extremists travelling, she said all agencies involved in travel must remain vigilant.
She added: "Some of these women and girls are very carefully prepared so they don't stand out. They take unusual routes and it is very hard to spot them."
The numbers of British men travelling out to join the group's bloody campaign to establish a hardline Muslim caliphate are believed to be much higher.
In 2013, 25 arrests were made for Syria-related offences and last year that number rocketed to 165.
Kalsoom Bashir, the co-director of counter-extremism group Inspire, said the amount of women joining Isis was "shocking but not surprising".
Also speaking on the Andrew Marr Show, she said the group's "very specific campaign" was targeting vulnerable young Muslim women and capitalising on their sense of injustice, isolation, alienation and the struggle between cultural expectations and the demands of a liberal society.
She said Inspire's latest campaign was aiming to combat "religious illiteracy" and provoke discussion in communities about Islam to contradict propaganda.
Timeline: The emergence of Isis

Show all 40
"The girls have been sold into an alternative narrative and what better propaganda for Isis than having young women going to join them willingly," Ms Bashir added.
"It's ideological grooming and it's sexual grooming as well because they're being prepared by a very specific role."
Her comments come after Mohammed Emwazi was alleged to be masked Isis executioner Jihadi John.
MI5 and the security services have come under fire for allegedly failing to prevent him and other extremists fleeing Britain to join the group.
Join our new commenting forum
Join thought-provoking conversations, follow other Independent readers and see their replies