'Taking Belfast's peace walls down solves nothing. They should be higher': Protestants and Catholics agree time is not right to dismantle barriers
Protestants and Catholics agree that the peace lines give both sides a sense of security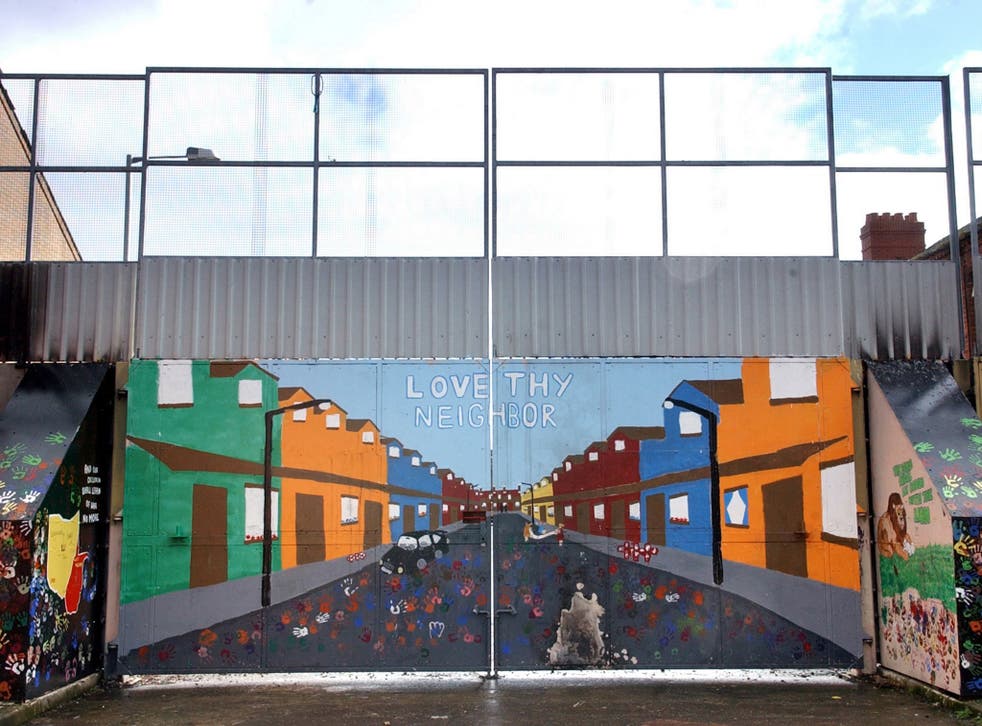 They are symbols of division and hatred – relics from the darkest times of the Troubles.
Fifteen years after the Good Friday Agreement, the imposing peace lines, erected to keep Protestant and Catholic communities apart, continue to loom large over Belfast.
Only now are discussions beginning about whether to bring the walls down – and both sides agree that the time is not yet right.
At a public debate on the future of the walls last week, two ex-prisoners – one republican, one loyalist – were so courteous towards each other that they seemed more like former comrades than former deadly enemies.
Sean "Spike" Murray, a one-time IRA prisoner and now a senior Sinn Fein activist, thought along similar lines to William "Plum" Smith, formerly of the Red Hand Commando and now a loyalist political activist. Belfast had seen huge advances, they agreed, but a lot more confidence-building was needed before the walls could be dismantled. Nationalists "are seriously concerned about keeping some form of peace line", said Murray.
Smith said: "Just to go in and take walls down is not going to solve anything – it will make it worse. You'd have waste ground, nothing there. At the minute people are still afraid."
Those sentiments were echoed by those living next to Belfast's tallest and most imposing wall at Bombay Street. Known as the mother of all peace lines, it separates the Shankill from the Falls.
David Baker happily raises his children in Protestant Cupar Way, almost literally in the shadow of the wall. "There's no real conflict here," he said, "but there would still be a lot of opposition to taking it down.
"The two sides are not ready for anything like that, there's still too much tension around to make a change like that. There's no real trouble, but we'd be afraid that the slightest wee thing could start it off again."
On the other side of the wall Patsy Canavan, a care worker, has lived in Catholic Bombay Street all her life; the Canavan family has such a commitment to the street that her three sisters also live there.
"It's grand as long as the peace line stays up, but I wouldn't like to see it coming down – it's far too early," she said. "I wouldn't feel safe. In fact, I would like to see it higher up instead of taken down. A golf ball came over it about a month ago, and in the summer you can get stones and bottles thrown over – not as much as before but they still come over. You have to be a wee bit careful when kids are out playing.
"We just want peace lines kept up because we can feel safer, and I'm sure the other people on the other side wouldn't want to see them down either."
The appearance of Murray and Smith on the same platform, and the fact that the debate took place in the brand-new premises of Belfast Metropolitan College, little more than a stone's throw from a peace line, can be seen as indicators of how far the city has come.
Most of the 80-strong invited audience accepted that much progress had been made. More than one described peace lines as a symptom of division, not the cause, but there were also many calls for more action from politicians. Another refrain was: "We can't afford to pass this on to the next generation."
Murray said: "There have been a number of attacks in this area – orchestrated by both sides, I have to say, not just one side. It's mostly young people, and when you look at their background, they're from broken families, broken homes. A lot of it is antisocial, it's not political."
According to Smith: "We need a strategic long-term plan to regenerate these areas. Reinvigorating the communities is the best way to build confidence. We're saying: do it as quick as possible, but you can't put a timeline on it."
Join our new commenting forum
Join thought-provoking conversations, follow other Independent readers and see their replies