Teenage Aldi worker Christian Trouesdale becomes internet sensation after woman shares photo of him walking an old man home
'My parents raised me to treat others like you want to be treated'
Adam Withnall
Monday 27 April 2015 11:56 Comments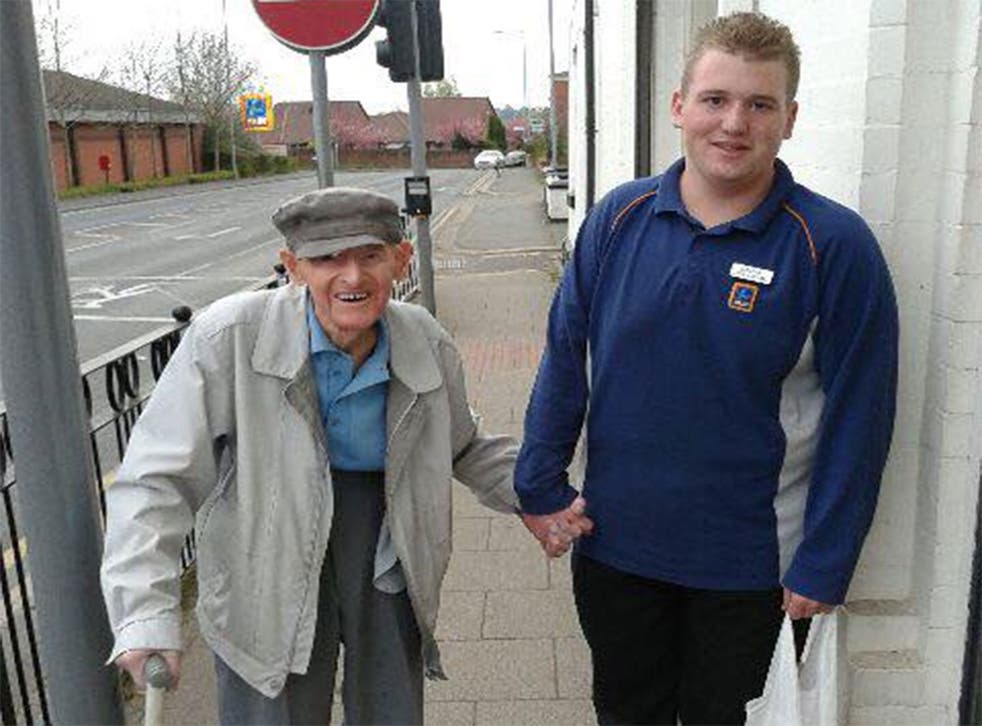 A young man from Horwich in Greater Manchester has become an unexpected internet sensation after he was photographed walking a frail old man home from the supermarket.
Aldi worker Christian Trouesdale, 18, said he had received a "crazy reaction" with messages of support flooding in from as far afield as Dubai, Canada, the US, Australia and New Zealand.
The image of Mr Trouesdale hand-in-hand with a 96-year-old customer on the street outside the shop was first shared by nearby worker and Horwich resident Samantha-Jayne Brady, 23, who said it was "a lovely thing to witness".
Posting the image to Facebook, she wrote: "I desperately want this lad to get some kind of recognition from his workplace so if this gave you a little more faith in mankind PLEASE share."
Hundreds of thousands have obliged – and Mr Trouesdale has joked about his newfound fame on Facebook.
Speaking to The Bolton News, he revealed that the day he was photographed was actually the second time he had walked the old man home. After offering to help him a week earlier, the man came back and asked for him by name.
He said: "I asked my manager if it was ok to walk him home and he said that was the right thing to do, so I did.
Heartwarming news stories from around the world

Show all 30
We had a good chat about everything from the General Election to the history of Horwich - he knew lots about everything
Mr Trouesdale said he was a bit surprised by the reaction he had received online given that helping the man was "just something I would normally do", adding: "My parents have raised me to treat other people like you want to be treated yourself."
Register for free to continue reading
Registration is a free and easy way to support our truly independent journalism
By registering, you will also enjoy limited access to Premium articles, exclusive newsletters, commenting, and virtual events with our leading journalists
Already have an account? sign in
Join our new commenting forum
Join thought-provoking conversations, follow other Independent readers and see their replies