'Terror owl' awaits relocation after wreaking havoc on Dutch town of Purmerend with silent aerial attacks
Residents take umbrellas out at night for protection after stealthy attacks on runners and home for disabled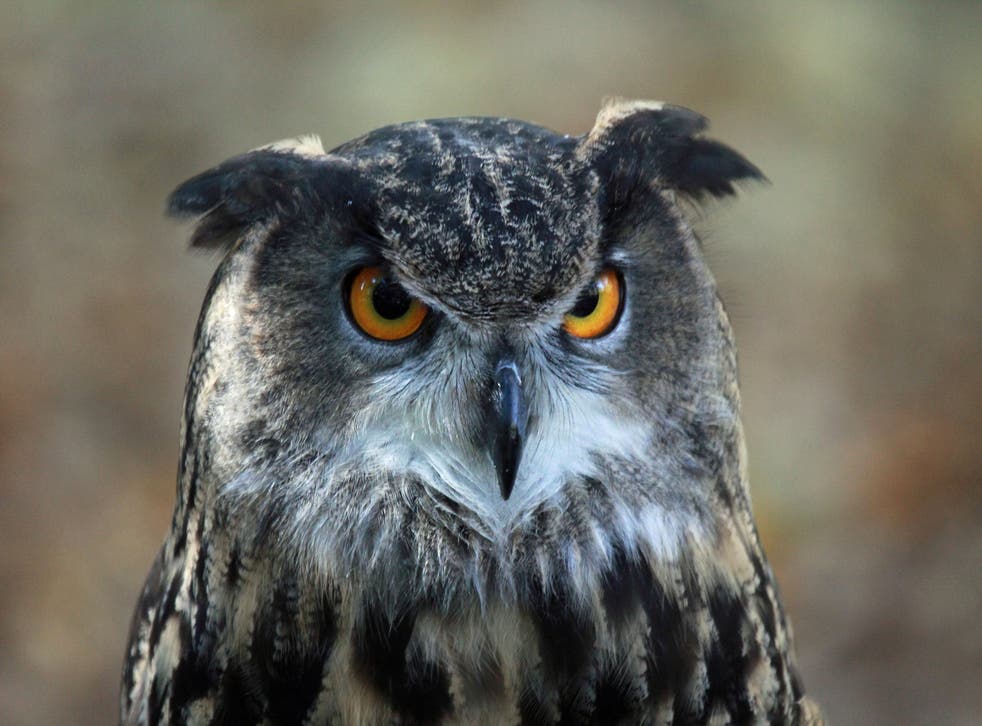 A falconer has finally caught the aggressive Eagle Owl that's terrorised a small Dutch town, attacking more than 50 people in the last year.
The local council is now looking for a suitable place to release the bird after needing special permission to catch the protected species because its unusual behaviour posed such a danger to residents.
Some of the attacks left victims needing hospital treatment, with two runners needing stitches for head wounds inflicted in a swooping aerial assault on Tuesday. One of the runners required six stitches for gashes caused by the bird's talons.
The bird has been swooping from the sky without warning and gouging the flesh of the townsfolk for months.
"It was like having a brick laced with nails thrown at your head," one victim, Niels Verkooijen, told the Dutch news programme Hart van Nederland.
It's also responsible for at least 15 attacks, under the cover of darkness, on residents and staff at a home for the disabled, according to their spokeswoman Liselotte de Brujin.
She told AFP: "During the day there's no problem, but at night we now only venture outside armed with umbrellas, helmets and hats, anything really, to protect ourselves.
"The problem is that you don't hear the owl before it strikes. Its claws are razor-sharp."
But her prayers that the owl – the largest of all owl species – would be caught have now been answered by a Dutch falconer.
The city council announced it had finally been caught on Friday night, although one council member had mixed feelings about the capture.
Mario Hegger said: "On the one hand, you would of course rather leave such a magnificent beast alone," reports The Guardian.
"But on the other hand, the situation could not continue. We had to do something."
In an official statement, the council said: "It's in good health and is currently being kept in a temporary facility awaiting a transfer once a proper permanent home has been found."
The bird is one of the most common species of owl in the world, as well as being the largest, with wingspans of over six feet recorded in some cases. It's believed to be female – which are larger than male Eurasian eagle-owls.
But it is a protected species and the city had previously released a statement saying it had applied for a special exemption to rules because 'the safety of our citizens is at risk' – but these applications 'can take some time'.
The bird has earned itself a fierce reputation in Purmerend, around 12 miles north of Amsterdam – and it's not the first time that this species has been responsible for attacks on humans.
In Gloucestershire's Wotton-under-Edge, a bird named Synwell locally, broke a pensioners arm in an attack, reports The Mail Online.
But experts say that aggressive behaviour is unusual.
Gejo Wassink of the Netherlands OWN owl foundation told AFP: "Either the owl was reared in captivity and released into the wild and now associates humans with food — meaning it's not really 'attacking' people.
"Or it may have heightened hormone levels as the breeding season starts, which influences its behaviour and makes it defend its territory."
Join our new commenting forum
Join thought-provoking conversations, follow other Independent readers and see their replies