Tesco accused of selling 'dirty tuna' by top chef Hugh Fearnley-Whittingstall
Campaigner singles out supermarket for stocking cut-price brand of tuna caught using huge purse seine nets which can catch anything in their path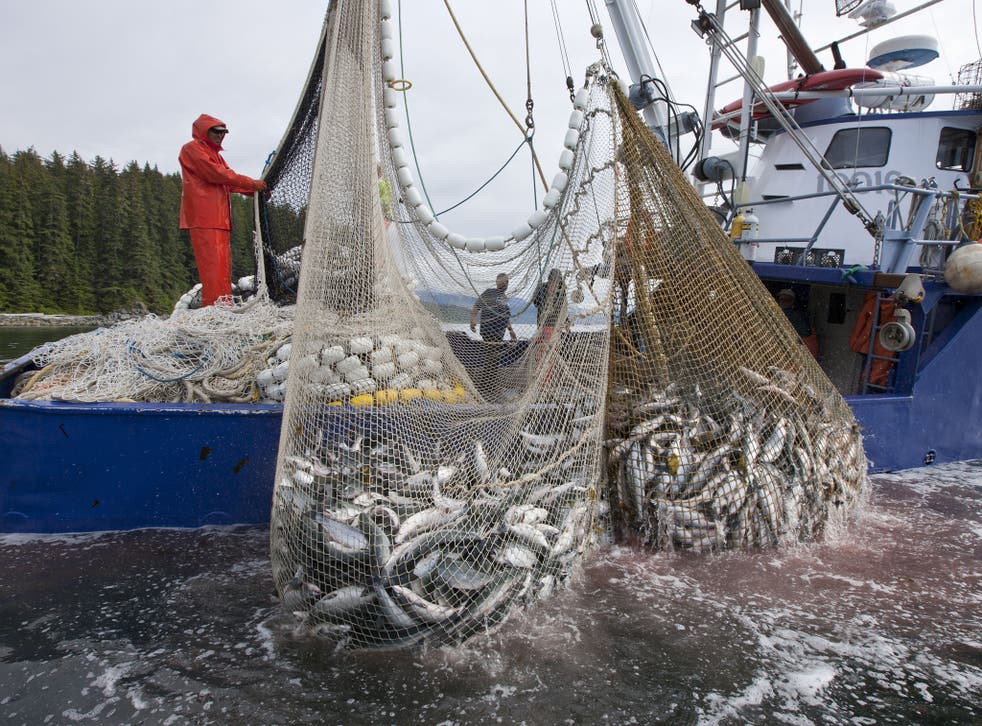 Britain's biggest supermarket, Tesco, has been accused of selling "dirty tuna" by campaigners furious that it is selling tuna fished with giant nets which trap and kill marine species such as turtles, sharks and rays.
Hugh Fearnley-Whittingstall, chef and food campaigner, and Greenpeace, have accused Tesco of "hypocrisy" in stocking a cut-price brand of tuna, Oriental & Pacific, caught using huge purse seine nets which can catch anything in their path. More selective forms of fishing, such as pole and line, result in no such collateral damage to other species.
The supermarket is singled out for criticism in a Fish Fight documentary on Channel 4 this evening, for being the first supermarket to re-introduce unsustainable tuna onto supermarket shelves after a high profile public campaign to remove 'dirty' tuna from supermarkets in the UK in 2011.
Shortly after meeting its public pledge to clean up its own-brand tinned tuna in 2012, Tesco began to stock Oriental & Pacific, which is caught unsustainably. Unsurprisingly, Tesco ranks bottom of British supermarkets in a new tuna sustainability league table released today by Greenpeace, which compares tuna brands on the shelves of all major supermarkets.
Ariana Densham, Greenpeace UK Oceans Campaigner said: "Tesco is at the bottom of the pile of supermarkets because as soon as they achieved their bold promise to use 100 per cent pole and line tuna in their own-brand tins, they immediately started refilling their shelves with 'dirty' tuna that is caught in a way that can kill turtles, sharks and rays."
She added: "This is pure hypocrisy from Tesco - the supermarket that promised to be totally up front about where the food that they sell us comes from is now rolling back their pledge to protect the oceans."
Oriental & Pacific comes last in the league table overall, and is the most unsustainable tuna consumers can buy on supermarket shelves in the UK, according to campaigners.
And Hugh Fearnley-Whittingstall commented: "Tesco made one of the biggest commitments of all to sell the most sustainable tuna, but they now stock a new brand called Oriental and Pacific, which is caught using methods that accidentally catch and kill endangered animals like turtles, rays and sharks."
He added: "There's no information on Oriental and Pacific tins to tell shoppers how the tuna was caught. If they really care about our oceans then Tesco should take this tuna off the shelves today, and other supermarkets must follow suit."
Sainsbury's is dubbed the 'Top tuna supermarket' by Greenpeace, for "having remained at the forefront of tuna sustainability for many years." And Waitrose is praised for being "a clear market leader on sustainability with its own-brand tinned tuna." Others which are recognised for their efforts include the Co-operative, Marks & Spencer, and Morissons. But Tesco, and Asda, which also sells Oriental & Pacific, rank at the bottom of the supermarkets. In the case of Asda, its own-brand tinned tuna is currently just 50% sustainable – the lowest out of all the supermarkets.
Joining Oriental & Pacific in the 'poor performers' category are Princes, and John West tuna.
A Tesco spokesperson stated: "Our own-brand tuna is 100% pole and line...Customers have a great choice of sustainable tuna at Tesco." They added: "Tesco will insist that Oriental & Pacific makes a similar commitment to other branded suppliers who are working towards a more sustainable fishing policy."
Last month Tesco finally pledged to use sustainable tuna in other products like pastas, sandwiches and salads – becoming the last supermarket to do so. Ariana Densham, Greenpeace UK Oceans Campaigner responded: "Faced with being exposed and clearly fearful of a consumer backlash, Tesco have rushed out a new policy that promises to use sustainable tuna in their salads and sandwiches at some unspecified point in the future - this is the very definition of an empty promise."
A spokesperson for LDH, which owns Oriental & Pacific Tuna, said the company "totally refutes" any claim that the brand "contains 'dirty' tuna, the implication being that there is something wrong with the product itself or that skipjack tuna is unsustainably caught." They admitted: "our O&P brand skipjack tuna is caught using the purse seine fishing method."
In a statement, a Defra spokesperson said: "We encourage retailers to source their fish responsibly and support sustainable fishing practices that help ensure global fish stocks are managed effectively."