'Tony, calm down': Construction worker hammers into new-build after 'not being paid'
Furious tradesman threatens to sue employers in the video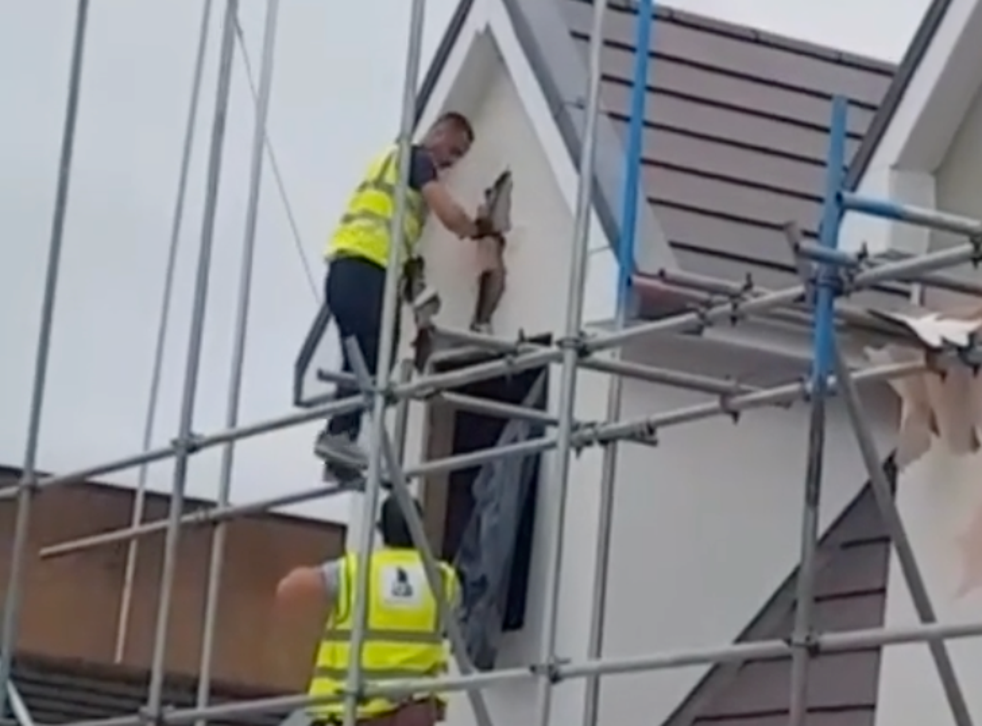 A video appearing to show an irate tradesman taking a hammer to a new-build after he apparently did not receive his pay has gone viral on TikTok. 
In the video, the tradesman can be seen smashing a hammer into a recently painted wall as his coworkers implore him to stop. 
"Excuse me, calm down please," one coworker can be heard saying to the construction worker, who appears to be named Tony.
"No," Tony quickly responds, as he continues to hammer into the wall, before adding: "I'll sue you."
The furious tradesman can then be seen ripping down parts of the wall, ignoring his coworkers' calls for him to "just relax".
Eventually, the colleague who initially asks Tony to calm down tells other workers watching the scene unfold to "get the f***ing police here".
That's when one worker sheds some light on why Tony is distressed, asserting that he "didn't get paid".
In a statement sent to The Independent, a spokesperson for One Sterling Limited said the incident during the summer at an address in Burnt Oak, a suburb in the Edgware district in northwest London.
The spokesperson said that while its contractors were on site, the builder who took a hammer to his own work was employed by a different company.
builder was a subcontractor from a different company, b
"The video shows one of our men witnessing a sub-contractor from a different company who had completed rendering works to the external aspects of the properties , tearing down his own work," the spokesperson said.
"This incident in unrelated in any way to One Sterling Limited the works or services we have supplied," they said.
Another construction company whose workers were present at the site has been contacted for comment.
Many TikTok viewers have appeared to empathise with Tony, with one user writing: "Pay the man correctly and on time. I see these kinda things a lot in construction."
"A tradesman works to feed his family. If y'all don't want to pay him his worth, then he's entitled to destroy his work," another said.
This article has been updated with a statement from One Sterling Limited.
Join our new commenting forum
Join thought-provoking conversations, follow other Independent readers and see their replies