Tony Blair urged Gaddafi to stand down and find 'a safe place to go' during Libyan uprising
The Libyan dictator ignored the former Prime Minister's warning and refused to leave as the country descended into war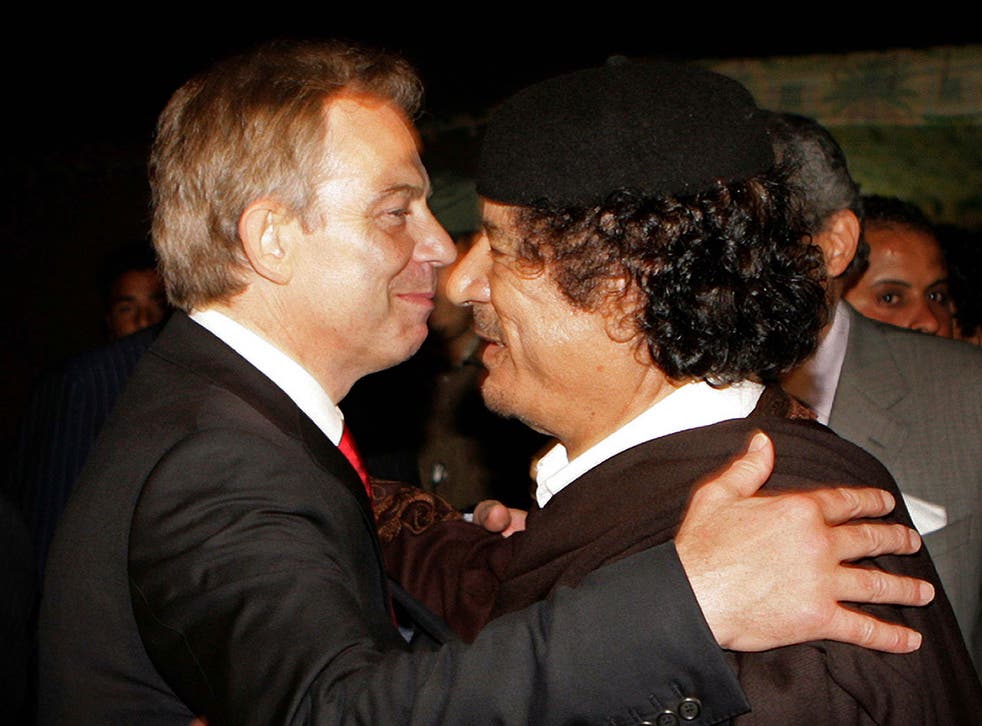 Tony Blair urged Muammar Gaddafi to stand down and find a "safe place to go" as protests erupted across Libya in the Arab Spring, it has emerged.
Emails released by the US State Department contain a transcript of the former Prime Minister's call to the Libyan dictator on 25 February 2011.
The world had condemned Colonel Gaddafi's regime after security forces fired on crowds of pro-democracy protesters and the UN was drawing up a resolution against "the gross and systematic violation of human rights".
As the situation intensified, Mr Blair made a "very private" call to his former ally, which was transcribed in an email from his head of strategy, Catherine Rimmer, to Jake Sullivan, a senior adviser to Hillary Clinton.
Ms Rimmer said Mr Blair had delivered a "very strong message" that the violence had to end and Gaddafi stand down to allow the peaceful transition to a new government.
She quoted Mr Blair as saying: "The absolute key thing is that the bloodshed and violence must stop.
"If you have a safe place to go then you should go there, because this will not end peacefully unless that happens and there has to be a process of change. That process of change can be managed and we have to find a way of managing it.
"I have talked to people and everyone wants a peaceful end to this."
Mr Blair was said to have told Gaddafi that he needed to show he was ready to engage in a process of change and order his forces not to use violence against protesters.
He appeared to indicate that he could intervene with Western governments in an attempt to secure a peaceful resolution to the crisis.
Gaddafi's fatal delay: Libya

Show all 3
"The US and the EU are in a tough position right now and I need to take something back to them which ensures this ends peacefully," the email quotes him as saying.
"If people saw the leader standing aside they would be content with that. If this goes on for another day/two days we will go past the point. I'm saying this because I believe it deeply. If we can't get a way through/out very quickly this will go past the point of no return."
The next day, the UN Security Council passed a resolution freezing Gaddafi's assets, restricting his travel and referring his government to the International Criminal Court.
By March, Britain had joined an international coalition enforcing a no-fly zone and naval blockade against the Libyan government as rebels continued fighting on the ground.
Gaddafi eventually went into hiding in August but was captured and killed two months later during the Battle of Sirte.
The latest disclosure is likely to intensify calls for Mr Blair - who ended Gaddafi's international isolation with his so-called "deal in the desert" in 2004 - to give evidence to a Commons inquiry into Britain's foreign policy towards Libya.
The chairman of the Commons Foreign Affairs Committee, Crispin Blunt, has already said he would like Mr Blair to appear before them after a new biography of David Cameron claimed he tried to intervene with Downing Street during the Libyan uprising.
According to Cameron At 10, by Sir Anthony Seldon, Mr Blair telephoned his successor's office to say that he had been contacted by "a key individual close to Gaddafi" and that the Libyan dictator wanted to "cut a deal" with Britain.
Mr Cameron - who ordered RAF air strikes against Gaddafi's forces - did not take up the offer, the book said.
Additional reporting by PA
Join our new commenting forum
Join thought-provoking conversations, follow other Independent readers and see their replies