Protests about ticket price rises hit hundreds of railway stations
The demonstrations were in response to an average price rise of 2.3 per cent
Tuesday 03 January 2017 15:36 Comments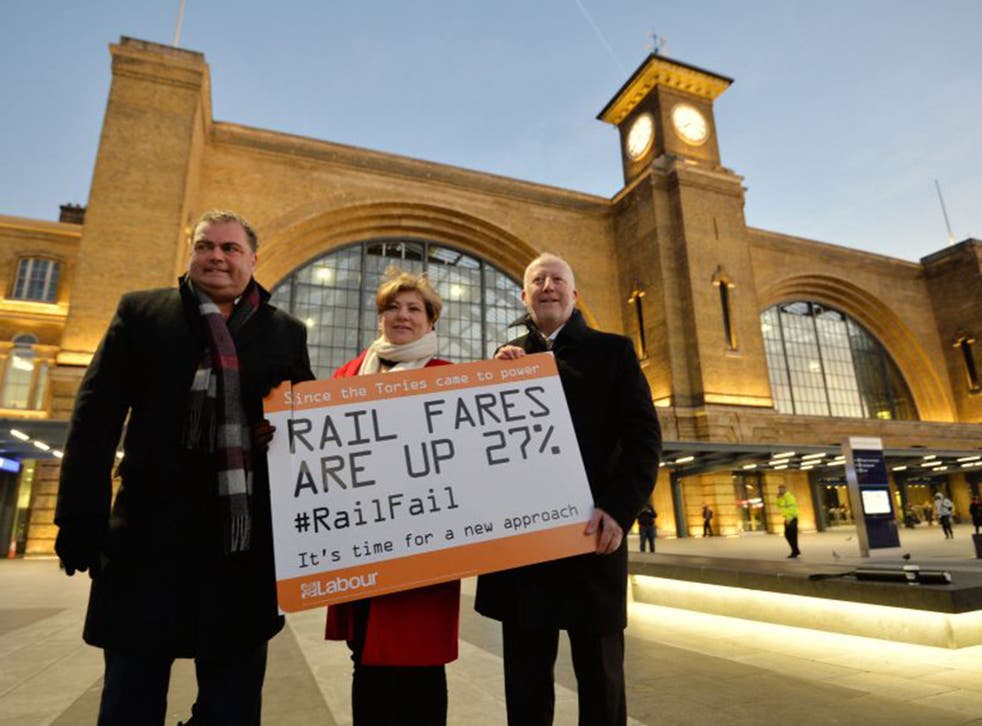 Campaigners gathered outside hundreds of railway stations across the country to protest about train fare increases.
The largest demonstrations were planned for King's Cross in London, Glasgow Central and Manchester Piccadilly, but smaller protests took place elsewhere.
Three campaign groups, Action for Rail, Bring Back British Rail and We Own It, came together to organise two days of action in response to an average price rise of 2.3 per cent for most passengers.
Analysis from Action for Rail, said passengers are spending six times more on fares than those in Europe. Those commuting to London from Luton pay on average £387 a month.
Passengers in Paris or Rome would pay £61 for a similar journey over the same period.
Samuel Tarry, the national political officer for the Transport Salaries Staff's Association (TSSA), which is part of the Action for Rail coalition, told The Independent it was time to put passengers ahead of profit.
"Rail fares here are now six times higher than the rest of Europe, with many passengers paying over a month's salary just to get to work," he said. "It's time for a rail system that puts people before profit, and instead of shareholders or the Governments of other European companies benefiting at our expense, we should take back public control of our railways for the benefit of the British commuters."
TSSA General Secretary Manuel Cortes added that any profit should be reinvested to ensure cheaper fares and upgrades for passengers.
"It's high time we stopped this annual rip-off of our passengers and take back control of our train companies for the British taxpayer," he said.
But Transport Secretary, Chris Grayling insisted "wages are growing faster than regulated fares."
The government's "commitment to cap regulated fares in line with inflation will save annual season ticket holders an average £425 in the five years to 2020," he said.
UK news in pictures

Show all 50
"To improve services, we are investing more than £40billion into our railways," he added. "This will provide passengers with better trains that are faster and more comfortable.
"We are delivering the biggest rail modernisation programme for more than a century, providing more seats and services. We have always fairly balanced the cost of this investment between the taxpayer and the passenger. On average, 97% of every £1 of a passenger's fare goes back into the railway."
Register for free to continue reading
Registration is a free and easy way to support our truly independent journalism
By registering, you will also enjoy limited access to Premium articles, exclusive newsletters, commenting, and virtual events with our leading journalists
Already have an account? sign in
Register for free to continue reading
Registration is a free and easy way to support our truly independent journalism
By registering, you will also enjoy limited access to Premium articles, exclusive newsletters, commenting, and virtual events with our leading journalists
Already have an account? sign in
Join our new commenting forum
Join thought-provoking conversations, follow other Independent readers and see their replies