Travel plans wrecked as Ethiopian Airlines Dreamliner fire closes Heathrow airport runways
Boeing shares tumble as second plane forced to return to Manchester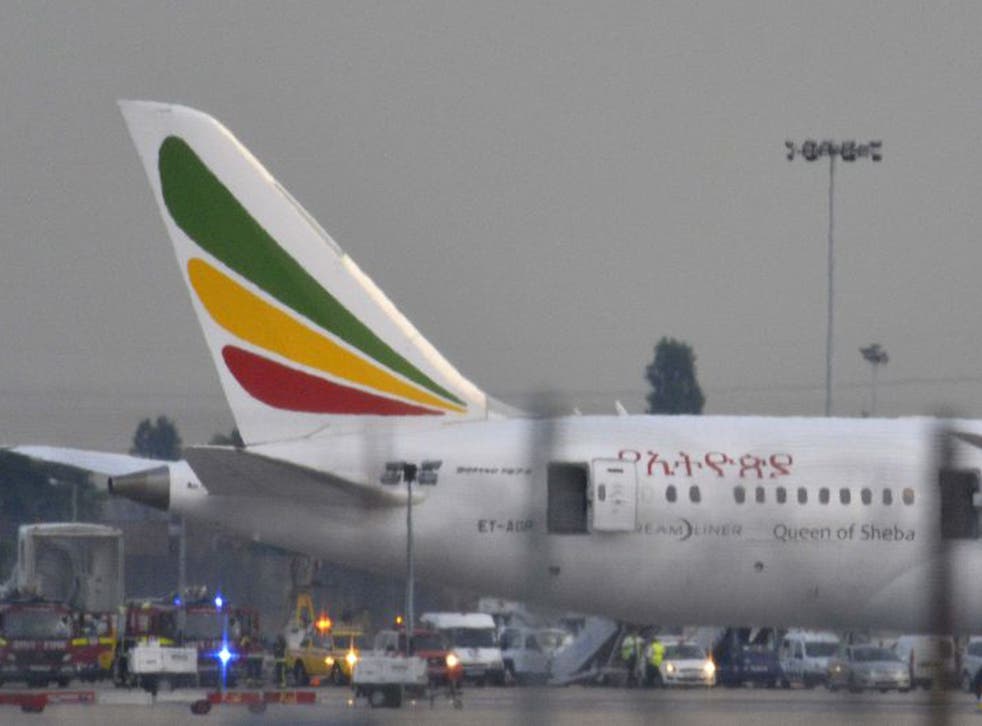 Thousands of passengers booked to fly to and from Heathrow airport have had their travel plans wrecked following a fire aboard a Boeing 787 on the ground.
The Ethiopian Airlines jet had arrived on a routine flight from Addis Ababa early in the morning, and was parked on a remote stand when fire broke out. While the blaze was extinguished, both runways were closed because of the lack of fire cover for arrivals and departures.
The closure lasted for over an hour. When the runways re-opened, Heathrow airport said: "Flights are now operating, but will be subject to delay". On Saturday morning the airport warned there would be some cancellations and delays and advised travellers to check their flight status on its website.
A second 787 travelling from England to the US had to turn back after experiencing a technical issue. Thomson said that flight 126 travelling from Manchester Airport to Sanford, Florida had returned to Manchester "as a precautionary measure".
Both incidents occurred at one of the busiest times on one of the busiest days of the year. Dozens of flights were diverted to airports as far afield as Paris, Manchester and Edinburgh. British Airways, which operates the majority of flights at Heathrow, was affected more than other airlines, with arrivals from Europe and the US diverted to a range of airports including Gatwick, Bournemouth, Luton and Stansted.
With aircraft and crews out of position, the knock-on effects began at once. As the evening wore on, British Airways cancellations rose to more than 40 – and tempers rose among passengers on diverted aircraft at other airports. Paul Clifton, the transport correspondent for BBC South, was on board one of several planes diverted to Stansted. He tweeted: "My diverted BA flight has now been on ground at Stansted more than three hours with passengers not allowed off. Stansted should be ashamed.".
Aer Lingus, Air France, KLM, Lufthansa and other airlines also cancelled flights.
Affected passengers do not automatically get booked on the next flight, but must instead hope for any spare seats on following departures; passengers holding confirmed tickets take priority.
With flights heavily booked with holidaymakers, the effects of the closure are likely to reverberate through the weekend.
Once services resumed, attention switched to the Ethiopian Airlines plane – and the crucial question of whether the fire was connected with a faulty battery.
The Boeing 787 "Dreamliner" has been lauded as the future of flying - with far better economic and environmental performance, and the ability to open new routes through a combination of fuel efficiency and ultra-long range.
Shares in Boeing fell 6.5 per cent to $99.58 following today's incidents.
Around 60 Boeing 787s are currently flying, but the aircraft has suffered a troubled gestation. The state-of-the-art aircraft was grounded for three months earlier this year because of a series of fires, including one that ignited aboard a Japan Airlines jet at Boston airport shortly after landing from Tokyo.
Investigators found that the revolutionary lithium ion batteries were prone to ignite. A replacement power source was eventually devised, manufactured, certified and installed.
The particular Boeing 787 involved in the Heathrow incident, named Queen of Sheba, was the first Dreamliner to fly commercially once the aircraft type was allowed back into the skies. Boeing executives flew to Addis Ababa for a ceremonial first flight to Nairobi in May.
Deliveries of the aircraft are running years behind schedule. The first UK airline to fly the jet, Thomson Airways, began long-haul services earlier this month – but suffered an unrelated technical problem on a 787 soon after take-off from Manchester, destination Sanford in Florida. As a precaution, the crew dumped fuel over the Irish Sea and returned to Manchester.
British Airways took delivery of its first 787s late last month. The jets are due to enter service between Heathrow and Toronto in September, and to New York's Newark airport in October. Virgin Atlantic also has 787s on order.
Join our new commenting forum
Join thought-provoking conversations, follow other Independent readers and see their replies