Tunisia hotel shooting: British death toll reaches 28 as Leeds couple Christopher and Sharon Bell named among victims
The government has warned that the death toll could reach 30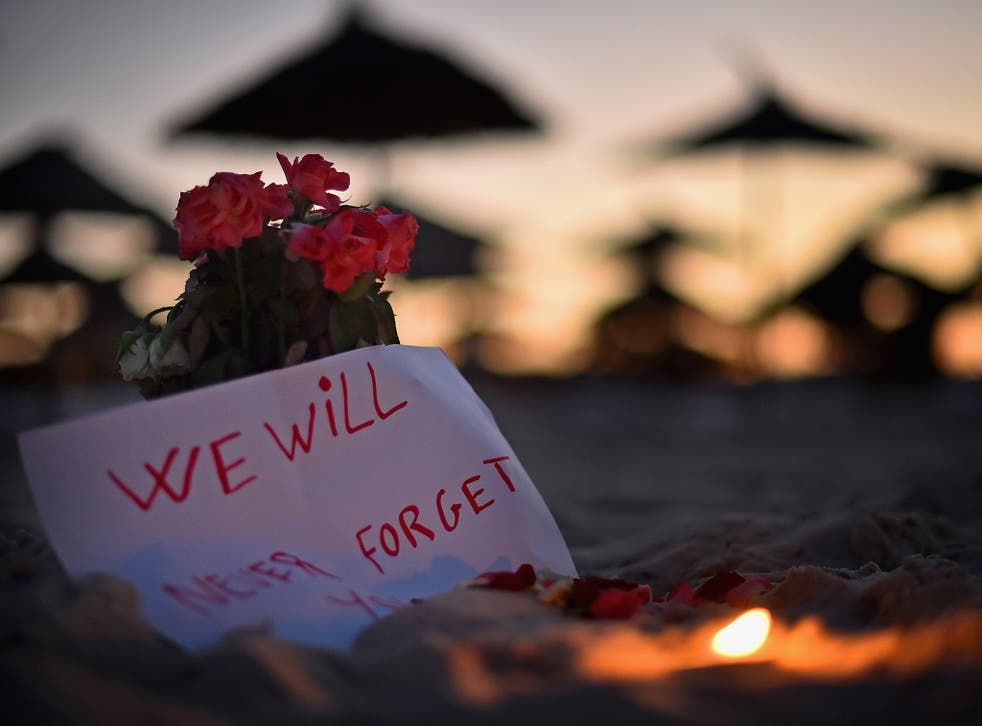 Almost 30 of the British tourists massacred at a beach and hotel in Tunisia have been named as some families continue to wait for news of their loved ones.
David Cameron has warned the toll may still rise as the 38 victims of Friday's massacre continue to be formally identified.
Britons who have died
28 British victims have been named so far. Nationalities of other victims include Irish, German, Belgian, French and Tunisian.
Christopher and Sharon Bell, from Leeds, both died in the attack. Their family issued a statement saying they were "deeply saddened" and knew little about their deaths but were "working with the authorities to gather as much information as possible".
Mrs Bell, a care manager, was described by colleagues as a "caring, loving woman" who "spent her life looking after other people", while Mr Bell was fondly remembered as a "much loved" member of staff in the ticket office at Leeds railway station.
Janet and John Stocker's deaths were announced by their family on Tuesday following days of desperate appeals for information. In a statement, their children described the couple as the "happiest, most loving" people who enjoyed simple pleasures and the strong love they shared after decades of marriage.
"They were both young at heart and enjoyed all that life could offer, and especially enjoyed travelling to new places, exploring and appreciating local cultures, and they died together doing what they enjoyed most; sunbathing side by side," the statement said.
Mr Stocker, 74, was a retired printer from Peckham and his 63-year-old wife was born in Fulham. They had five children and 10 grandchildren.
"They made a huge impact on our lives, and touched the hearts of so many people and they will both be sorely missed and never forgotten by the family and all that knew and loved them for all the reasons that made them so special as a couple, and as the two most honest and genuine people that they were," the statement said.
Chris Dyer , a 32-year-old engineer from Watford, was on holiday with his wife Gina Van Dort when they were both shot. He died at the scene and doctors said his wife had to be prised from his dead body because she "didn't want to leave him".
She has reportedly lost an eye after being shot through the chin and face but survived and is undergoing treatment.
The pair had posted pictures online of their two-week holiday, showing ruins and the Imperial Marhaba hotel's pool, with Mr Dyer tweeting that they were "relaxed" and "happy" just two hours before he was killed.
The Watford Gracie Jiu-Jitsu club, which he was a member of despite having reactive arthritis, released a montage video of Mr Dyer on Facebook page, writing: "It is with great sorrow that we announce the tragic death of our teammate Chris Dyer as a result of the Tunisia shootings. Our hearts go out to his family. May he rest in peace."
David Thompson, a retired scientist from Tadley in Hampshire, is also believed to have been killed in the attack. The 80-year-old reportedly worked for the Atomic Weapons Establishment and was described by his neighbours as a "wonderful man".
David Leeks, the chairman of Tadley Town Council, told the BBC the reaction in the town was one of "pure shock".
John Stollery, a 58-year-old children's social worker from Nottinghamshire, was described by his family as a special man "who made a difference and gave his best to others". He was on holiday with his wife and son when he was murdered. His wife, Cheryl, said: "We still had a long life to live with plans and dreams for our future together.
"We love and miss him terribly and nothing will ever be the same again. He was a super husband and my best friend and a devoted dad to our son. He will remain in our hearts and in our memory forever."
The county council's chief executive, Anthony May, said everyone at the authority was immensely saddened by the death of a much-loved and respected member of staff, adding: "As a dedicated social worker, he had a passion to help others that was apparent to everyone that he met."
Billy and Lisa Graham, a Scottish couple from Perthshire, were on holiday to celebrate Mrs Graham's 50th birthday. Mr Graham's sister, Lindsay, told the Daily Record the family received the news they feared today after an agonising wait.
St Johnstone FC, where Mr Graham worked as a turnstile operator, said the club was "shocked and saddened" to learn of his death. Chairman Steve Brown said: "Billy was part of the St Johnstone family and a great ambassador for the club who always did his job with a smile on his face."
John Welch and Eileen Swannack, a couple in their 70s from Wiltshire, "adored" the Imperial Marhaba hotel and had been going twice a year for eight years. After desperately appealing for information on social media, Ms Swannack's granddaughter wrote on Facebook that the family received news of their deaths on Monday night.
Lisa Burbidge, a grandmother from Whickham in Gateshead, was called the "most beautiful, amazing, caring and gentle person in our lives" by her family in a statement. "We have been left with a massive hole in our hearts," it said. "She leaves behind many family members including four fantastic grandchildren who were her world and will miss her tremendously."
Carly Lovett, a 24-year-old fashion blogger from Gainsborough in Lincolnshire, was the first British victim to be named. Lincolnshire Police said it had appointed a family liaison officer to support Ms Lovett's family and police officers were positioned outside her address, while her fiance was understood to be travelling back home.
Patrick Evans

, believed to be aged 78, was killed alongside his son Adrian and his 19-year-old grandson Joel Richards. Joel's 16-year-old brother, Owen, survived the attack.
Walsall FC posted a photo on Facebook showing the trio outside Wembley Stadium three months ago, saying the club was "devastated" at their deaths.
Adrian Evans, 44, worked for Sandwell Council in the West Midlands as a manager in the gas services department. Council leader Darren Cooper said he was a "very popular and long-serving employee" and his colleagues were "absolutely devastated".
Joel Richards, 19, was a student at the University of Worcester. A local football referee and keen Gaelic football player, Birmingham County FA said he had had "the world at his feet" and that he was "highly thought-of and will be sadly missed".
The University of Worcester's vice chancellor and chief executive, Professor David Green, said Mr Richards was a "highly intelligent, talented young man and an all-round outstanding person with a truly bright future ahead".
Philip Heathcote, 52, who flew to Tunisia with his wife to celebrate their wedding anniversary, has been confirmed dead by his family, while his wife Allison is in an induced coma while being treated for serious injuries after being shot.
Stephen Mellor, an engineer from Bodmin in Cornwall, was killed as he shielded his wife Cheryl on the beach. The nurse told the Mirror: "I was screaming at people to check him and someone looked and they said he had no pulse. They said he was gone."
Sue Davey, 42, from Tamworth, Staffordshire, was the subject of an appeal on Twitter for information from her son, Conor Fulford, who thought he had seen her in a Sky News TV report. He tweeted late on Saturday that he was "sorry to tell you we lost my mother Sue Davey tonight", adding: "Love you always mum, I've go my teddy bear you got me tonight, rest easy."
Scott Chalkley

, 42, was Ms Davey's partner. His son Ross Naylor, from Derby, had also launched an online plea for any information on his father but later posted saying Mr Chalkley was "no longer with us".
Severn Trent Water, where both Ms Davey and Mr Chalkley worked, paid tribute to the couple. A spokeswoman said: "We are immensely saddened by the news about Sue and Scott. They were much-loved by their colleagues."
Denis Thwaites, a former Birmingham City Football Club player, and his wife Elaine Thwaites were killed in the attack. Birmingham City FC said: "We are deeply shocked and saddened by the death of former player Denis Thwaites and his wife Elaine in the Tunisian terrorist attack."
Their daughter Lindsey, who identified their bodies in Tunisia, and son-in-law Daniel Clifford, said in a statement: "Words can't express what all the family are feeling at this difficult time...we would like to take this opportunity to thank people on the ground in this horrendous situation. It was extremely hard to find out any information beforehand but now we completely understand."
Mr Thwaites, who was born in Stockton-on-Tees, played for Birmingham City from 1962 to 1972 and later worked as a hospital porter.
"
James McQuire, 66, a retired former marine engineer from Cumbernauld in North Lanarkshire, was captain in the Boys' Brigade, a Christian youth organisation that said it was "shocked and deeply saddened" to hear of his and his wife's deaths.
"They had given a life of service to young people and to the church and community," a statement said.
Ann McQuire, 63, was Mr McQuire's wife and a former medial practice receptionist. Their son, Stuart, said: "I just don't know what to say, I can't speak." The couple's minister from Cumbernauld Abronhill Church of Scotland paid tribute to them, saying they had a close family and would be sorely missed.
Bruce Wilkinson, 72, a retired power station worker from Goole in Yorkshire, was also among the victims. His family issued a statement through local MP Andrew Percy saying they were "devastated" at the loss of a devoted husband, father and grandfather".
The statement added: "Bruce was a loving family man, and in his working life worked to support the care of others. He was a kind and compassionate man, with a dry sense of humour. He was fun-loving, and will be deeply missed by friends and family alike."
Trudy Jones, a 51-year-old mother of four from Blackwood in Gwent, South Wales, was killed. A statement from her family read: "Our mother of all people didn't deserve this, such a caring person who put everyone else before herself. She was the rock of our family and kept us all going. None of us have a clue how we're going to cope without her."
They described Ms Jones, who worked at Highfields Nursing Home, as "always willing to help others". "She'll be missed by so many people," they said in the statement.
Claire Windass, 54, has been named by her family as one of the victims. Ms Windass and her husband Jim Windass lived in Thistlewood Court in Bransholme and were in Sousse for a week's holiday. He was sat next to her as they sunbathed but escaped unharmed and has returned home.
A family statement given to the Hull Daily Mail said: "She was a warm, kind-hearted woman who made friends easily and was loved by everyone who knew her. She will be deeply missed."
Stuart Cullen, 52, from the Lowestoft area of Suffolk, is believed to have died instantly. His wife, who was with him, was injured but survived and has returned to the UK.
In pictures: Tunisia hotel attack

Show all 32
Britons still missing
Dozens of people remain unaccounted for and many of their relatives have taken to social media in the hope of obtaining information about those who are still missing.
Sara Boyle was worried about Ray and Angela Fisher from Leicester, tweeting that Angela was also "often called Angie".
Additional reporting by PA
Join our new commenting forum
Join thought-provoking conversations, follow other Independent readers and see their replies