UK athletes call for end to 'outdated' gender inequality in cross country races
Petition calling for the distances of men's and women's races to be equalised is gathering pace
Judith Vonberg
Saturday 13 January 2018 01:05 Comments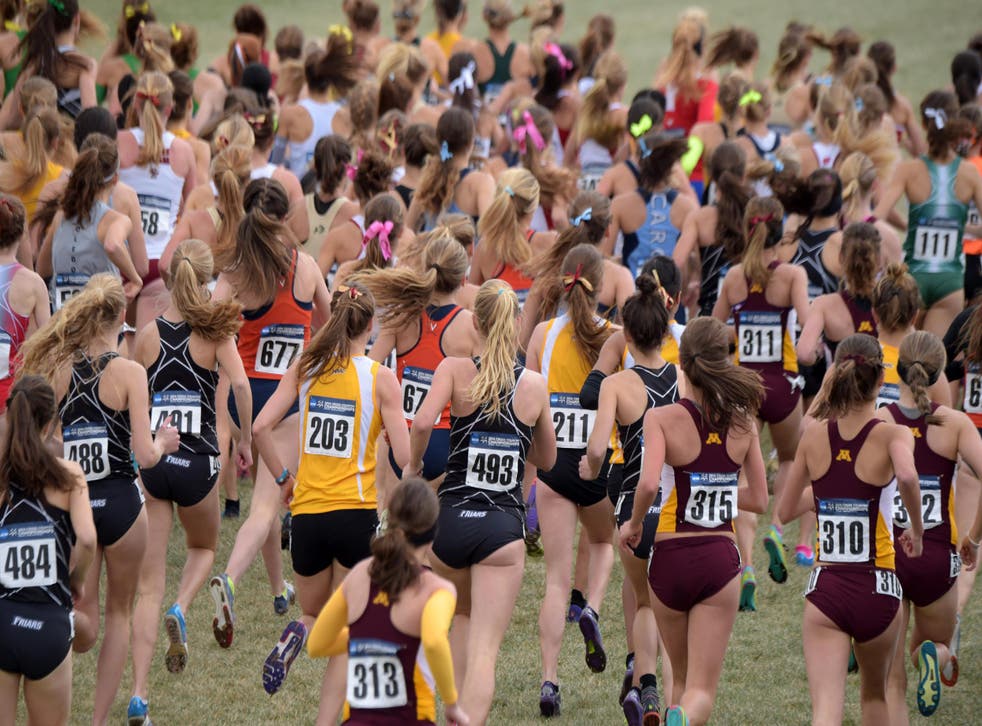 Athletes in England are coming together to tackle what they see as gender inequality in cross country running.
Although men and women usually run the same distances on the track and in road races, women's races are often much shorter at cross country events, sometimes barely more than half of the men's distance.
A petition calling for the distances to be equalised has gathered over 1,600 signatures and that number is rising rapidly.
Maud Hodson, a keen runner over distances from 60 meters to ultra-marathons, started the petition in December. The hashtag #RunEqual is now taking off on Twitter and Ms Hodson is gathering support from elite runners too.
"Cross country is the only event I've raced where men and women have different distances," Lily Partridge, marathon runner and two-time winner of the English National Cross Country Championships, told The Independent. "It's time for cross country to catch up."
Ms Hodson first became aware of the discrepancies when she joined a running club in east London a few years ago.
"Because the differences in distance were often quite big, I felt that downgraded the women's event compared to the men's," she told The Independent.
She's concerned about the message this sends to the next generation of athletes. "Girls are conditioned from an early age not to aim high, not to challenge themselves," she said, "and this is part of an insidious message that keeps girls and women in their place."
At some events, women run 8 km and the men 10 km. At others, the disparity is even bigger. Male athletes competing in the Southern Cross Country Championships in Brighton on 27 January will run 15 km – almost twice the distance of the women's 8 km course.
Ms Hodson is amazed that, more than five decades years after Kathrine Switzer defied the ban on female competitors to run the Boston Marathon, "ingrained sexism" still exists in athletics.
In the decades since, women have competed against men at distances up to 200 miles and more, sometimes beating their male rivals outright.
Just a few weeks ago, Ms Hodson herself took second place in an ultra-marathon in Essex behind another women, Karen Levison, both beating the best male competitor.
Many locally organised cross country leagues in England involve races where men and women run together, but the tradition of differing distances still prevails at the larger regional and national events.
Campaigners are looking for UK Athletics and England Athletics to take the lead on the issue. Neither organisation replied to The Independent's request for comment, but in a statement, the English Cross Country Association (a branch of England Athletics) said it would be conducting a survey with athletes at the National Cross Country Championships in London next month after receiving some recent requests for the traditional distances to be reconsidered.
"Distances for cross country races are determined by the individual competition providers rather than as a requirement of UKA Rules for Competition," the statement read. "As a result in many races male and female competitors at all levels compete over different distances at senior level.
"In championships this is usually 8 km for women and 12 km for men. These distances have evolved over the years and are at present the ones traditionally used."
That's not the case in Scotland anymore though. A rule change in 2016 meant that men and women raced over the same distance (10 km) for the first time last year.
Last year was also the first time that women raced over the same distance as men (also 10 km) at the IAAF World Cross Country Championships.
Campaigners want to see a similar change in English events - or the continuation of two different distances, but with all athletes able to choose which race to compete in.
"Cross country has always been quite a traditional sport," Ian Beattie, Chairman of Scottish Athletics, told The Independent.
He explained how some female runners in Scotland had started to question that tradition a few years ago.
Looking into the matter, the board of Scottish Athletics and the Road Running & Cross Country Commission "couldn't logically justify the differences," according to Beattie. "We could see the benefits of equality," he said, "and we've heard no complaints since the change."
UK news in pictures

Show all 50
Some people argue that increasing the distance for women's cross country events could put some women off. But that hasn't been Scotland's experience. "We had record numbers last year for both men and women," said Beattie.
Others are concerned that volunteer marshals could lose out if women's races are lengthened as they would have to stay out on the course for longer.
But, as Beattie points out, if you shorten the men's race slightly too, the differences will be negligible.
Ms Hodson has found broad support among the running and non-running communities for her campaign, despite the presence of "a few traditionalists who would like to keep things as they are."
"Hopefully the grassroots opinion will be what drives change," she said.
Denied the chance to face the same challenge as the men, she says she feels "short-changed" and is now boycotting any event where men and women race over unequal distances.
Dan Senior, a member in the same club as Ms Hodson, is one of many male runners who have thrown themselves behind the campaign.
He's baffled by the current situation. "I find it almost slightly embarrassing as a runner and a man that I'm somehow part of a sport which just seems very very behind the times," he told The Independent. "It strikes me as very outdated."
He sees no good reason why the events can't be equal distances.
"If the IAAF has done it for their big events on the international stage then we ought to be able to do that on a country and regional level as well," Mr Senior said.
Register for free to continue reading
Registration is a free and easy way to support our truly independent journalism
By registering, you will also enjoy limited access to Premium articles, exclusive newsletters, commenting, and virtual events with our leading journalists
Already have an account? sign in
Join our new commenting forum
Join thought-provoking conversations, follow other Independent readers and see their replies