funded by our supporters
'I'm so scared': They came to the UK seeking safety, only to be targeted by the far right
Seeking Refuge: Lizzie Dearden speaks to migrants who have become the targets of extremist abuse
Tuesday 06 October 2020 19:24 BST
Comments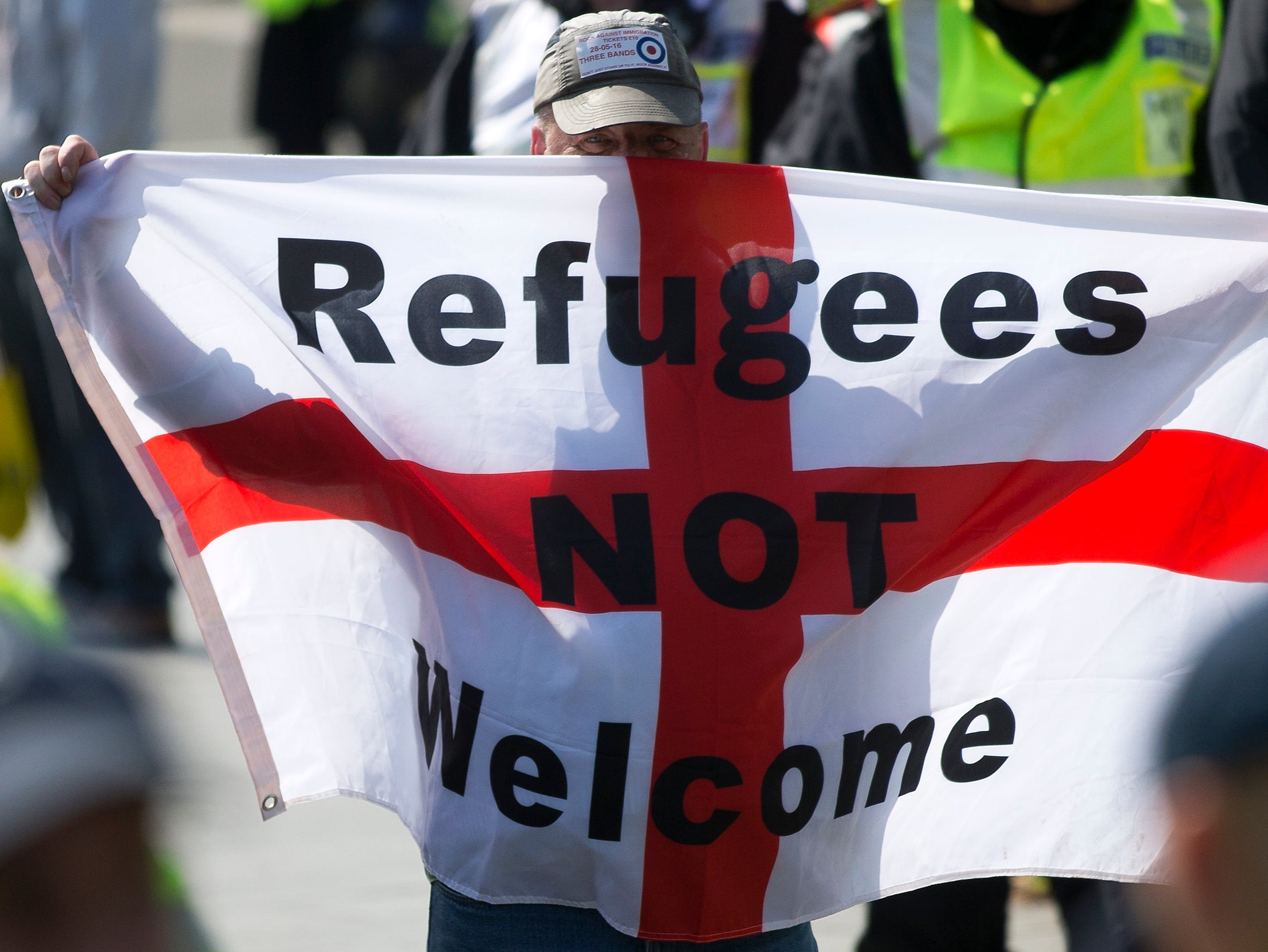 Dora has a dream. In it, she walks out of the asylum seekers' hostel where she lives in the Midlands to see three men with AK-47s. She starts to run when they open fire. Then she wakes up. Dora says she fled her home country after her father was executed by security forces who are now looking for the rest of her family in her home country. But her nightmare was not inspired by those experiences – it comes from her fears about what could happen to her in the UK.
Several weeks ago she came back from shopping to find red graffiti had been daubed on the building where she has been placed by the Home Office, including swastikas and threatening messages reading "f*** off back" and "go home".
The Independent spoke to Dora, who is in her 20s as part of our series – funded by our Supporter Programme –on asylum seekers looking for a new life in the UK as hotels housing migrants are increasingly targeted by the far-right. 
"I'm so scared, anything could happen," she told The Independent. "All it takes is just one person to cause damage, so when I saw [the graffiti] I started panicking.
"I've been here for six months, I don't know when I've be leaving - anything could happen to me. I was really scared. I was thinking 'if I go outside, I need to watch my back, if I see anything suspicious I'm running back in'.
"All of those things play on my mind constantly, I can't sleep at night sometimes."
Dora said she felt "traumatised" after watching videos of far-right extremists from Britain First raiding hotels, including one that she was placed in for two months earlier this year.
The trend, which was publicised by Nigel Farage in the summer, has seen several far-right groups attempt to enter and film hotels used as emergency accommodation during the coronavirus pandemic.
Extremists have claimed that asylum seekers, who they describe as "criminals", are being looked after in luxury but Dora said they "don't know what really goes on".
She said that where she stayed, women were given £10 a week for toiletries, and men £5, and that if they could not eat the food offered they went hungry.
"It feels like you're being controlled every second - where you're going, what you're eating," Dora added. "There's no real freedom … I felt lost in the hotel."
In June, a Sudanese asylum seeker stabbed six people at the Park Inn hotel in Glasgow before being shot dead by police.
Nigel Farage claims 'illegal' immigrants are staying at Bromsgrove Hotel & Spa
Badreddin Abadlla Adam had argued with other migrants held in the hotel and was reportedly frustrated about delays to his attempt to return to Sudan, after spending three weeks isolated in his room after suffering Covid-19 symptoms.
The mass stabbing drew national attention to the use of hotels to house asylum seekers and homeless people during the coronavirus pandemic, and fuelled far-right characterisations of migrants as dangerous and violent.
Bassam, an asylum seeker from Yemen who crossed the English Channel earlier this year, said he was afraid to leave the hotel he lives in after a visit from Britain First.
"I feel that I might be attacked," he said. "They are making people hate asylum seekers, I don't know why.
"We are here to live in peace and dignity. We escaped from war and very bad lives."
Dora said: "Nobody chooses to become a refugee. Life can change in a second, I never envisioned myself being in this position.
"Britain First make videos saying 'all these people are criminals, they just come here to live off the state' - they have no idea that a lot of people don't even want to be here."
Bassam, who is in his 30s, hopes to be granted leave to remain in the UK and complete the pharmacy degree he started in Yemen before the civil war.
Like Dora, he described a feeling or rootlessness and mounting despair while living in hotels.
"I'm not allowed to work, I'm not allowed to study, I'm not allowed to do anything," he said. "I just sit in the hotel thinking about what will happen to me."
Dora, who was moved out of a hotel into a hostel in February, said she also wants to be able to work and use her qualifications.
"I feel like I'm slowly losing myself, I've been here for six months now," she said.
"We're so helpless here, we can't work. You wake up every day and you have no purpose in life, no purpose at all."
A charity worker, who did not want to be named, said there was a "lot of frustration" among asylum seekers stuck in limbo in hotels.
Before coronavirus, such accommodation would only be used for a short period in an emergency, before people were moved into shared homes.
Social distancing measures have stopped the vast majority of educational classes, activities and social events that would normally take place.
Visits have also been restricted because of coronavirus and security measures put in place because of far-right activity.
The Home Office has been offering premises housing asylum seekers assistance with physical security, such as barriers and hoarding, if they have concerns or have been visited by protesters.
A government spokesperson said security at asylum accommodation sites was continually reviewed.
"The government takes the wellbeing of asylum seekers and the most vulnerable in society extremely seriously, and we have taken unprecedented action to support them during the pandemic," a statement added.
"Any attempts to fuel resentment towards asylum seekers and create community tension are completely unacceptable and all incidents at asylum accommodation sites are reported to the Home Office immediately. We then work with the provider to put in additional safety measures if required."
Serco, one of the largest accommodation providers, has put enhanced security in place at hotels used to house asylum seekers and given staff specialist training.
Jenni Halliday, its contract director for asylum seeker accommodation and support, said: "Serco was shocked and appalled at this action at some of the hotels we are using, which have clearly been racially motivated."
Another accommodation provider, Mears, said it was "taking all necessary and legal steps to protect the people in our care", adding: "We regularly review security, report any incidents to the Home Office and police, and put in additional measures where required."
The Home Office said the government has a legal obligation to provide destitute asylum seekers with temporary accommodation and support while their applications are being considered.
"It has been necessary to temporarily house a proportion of asylum seekers in hotels to make sure they are able to follow social distancing guidelines," a statement added.
"As well as ensuring that people could comply with the health guidance in place at the time, this avoided placing pressure on local authorities, who were also procuring hotel accommodation for UK rough sleepers."
*names have been changed to protect anonymity
This article was funded by our supporters. If you would like to see more of this important work, please make a contribution
Join our commenting forum
Join thought-provoking conversations, follow other Independent readers and see their replies