UK has become socially liberal on drugs, abortion and LGBT+ rights over past 30 years, study shows
More people disagree with capital punishment but public becoming open-minded on euthanasia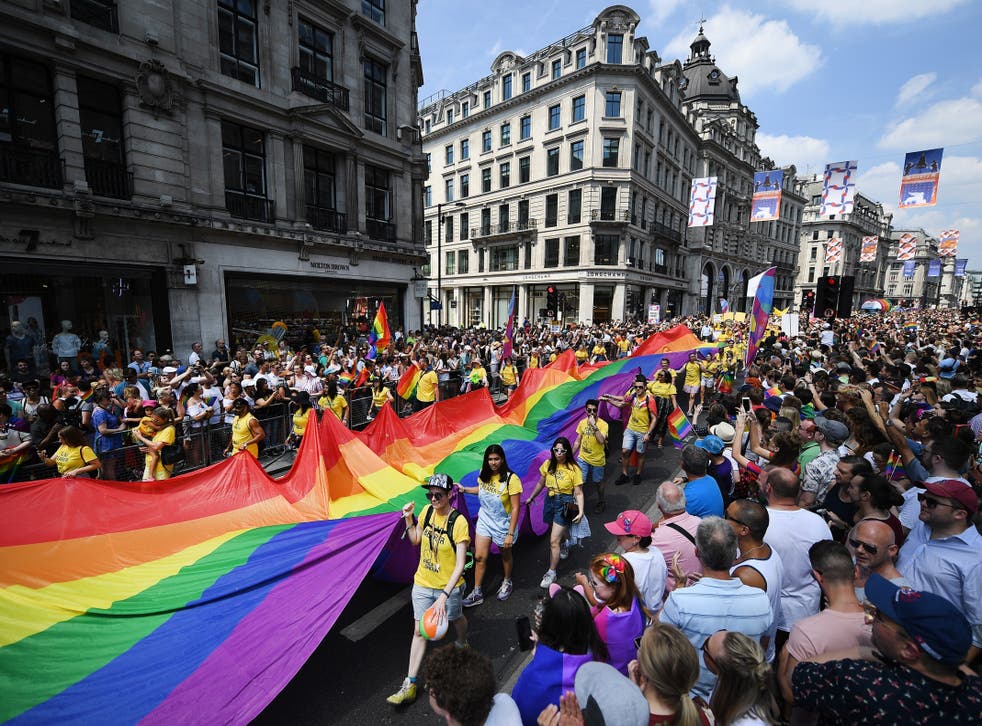 Britain has seen dramatic shifts in attitudes towards the socially liberal end of the spectrum in just 30 years on issues ranging from drugs and abortion to gay relationships, a survey suggests.
Remain backers are much more supportive of gay rights than Leavers, the findings show. But the public is much more cynical about politicians today, with only half as many people having positive views of them.
Researchers at the Policy Institute at King's College London compared a survey on moral beliefs in 1989 with results to the same questions now and found huge changes, including:
In 1989, 40 per cent of people thought gay relationships between adults were morally wrong but this is now down to 13 per cent
60 per cent three decades ago thought soft drug use was immoral; that has now more than halved to 29 per cent
35 per cent 30 years ago said abortion was morally wrong; the number has also halved, to 18 per cent
39 per cent said full-frontal male nudity on television was immoral, but only 23 per cent today agree
In 1989, more than half – 53 per cent – thought violence on television was immoral, whereas now only a third – 32 per cent – say it is
Capital punishment is the only issue to see an increase in disapproval – 22 per cent said it was morally wrong in 1989, while now 37 per cent do.
UK news in pictures

Show all 50
And the public is also becoming more open-minded on euthanasia. It is now seen as immoral by only 17 per cent of the population, down from 22 per cent.
The findings, based on Ipsos Mori's polling of Britons aged 16-75, also revealed big differences in attitudes to gay people between political factions: 76 per cent of Remain supporters strongly agreed that gay people should be treated just like other people, but only 51 per cent of Leave supporters did.
Among Brexit Party supporters 46 per cent strongly agreed; among Conservative backers, 51 per cent did; 69 per cent of Labour supporters did, and 75 per cent of Lib Dems did.
Politicians have fallen in people's esteem. The proportion agreeing that, in general, they are good people has more than halved from 36 per cent to 15 per cent.
However, extra-marital affairs gain just as much disapproval today as 30 years ago – 55 per cent now think they are immoral, compared with 52 per cent in 1989. Men have become slightly less accepting – 55 per cent today say being unfaithful is morally wrong, up from 49 per cent. This is now in line with women's views (54 per cent), the survey found.
The analysts say the changes in attitudes are largely explained by "baby boomers" – those who grew up in more permissive times – moving into older age, replacing a generation born before the war, who had more conservative views.
The population has become more tolerant of drug use, the responses suggest. In 1989, 60 per cent said the use of soft drugs such as cannabis was morally wrong; now only 29 per cent do.
Even the use of hard drugs such as heroin is now less likely to be seen as immoral, with disapproval falling from 89 per cent to 67 per cent.
Over-55s are more than twice as likely to think television violence is morally wrong as those aged 15-45.
Support free-thinking journalism and attend Independent events
Objections to soft porn magazines in shops and newsagents has fallen, from 38 to 22 per cent. Women, in particular, are now much more tolerant of such magazines, with the proportion seeing them as immoral almost halving, to 25 per cent.
Attitudes to topless page 3 girls are unchanged, with 26 per cent of women condemning the practice and 15 per cent of men.
Bobby Duffy, director of the Policy Institute at King's College London, said the findings showed that "what were once pressing moral concerns have become simple facts of life for much of the public".
Join our new commenting forum
Join thought-provoking conversations, follow other Independent readers and see their replies