UK Social Enterprise Reader's Choice Award 2015: Discovering the winners
Congratulations to the winners of this year's UK Social Enterprise Awards – partnered by The IoS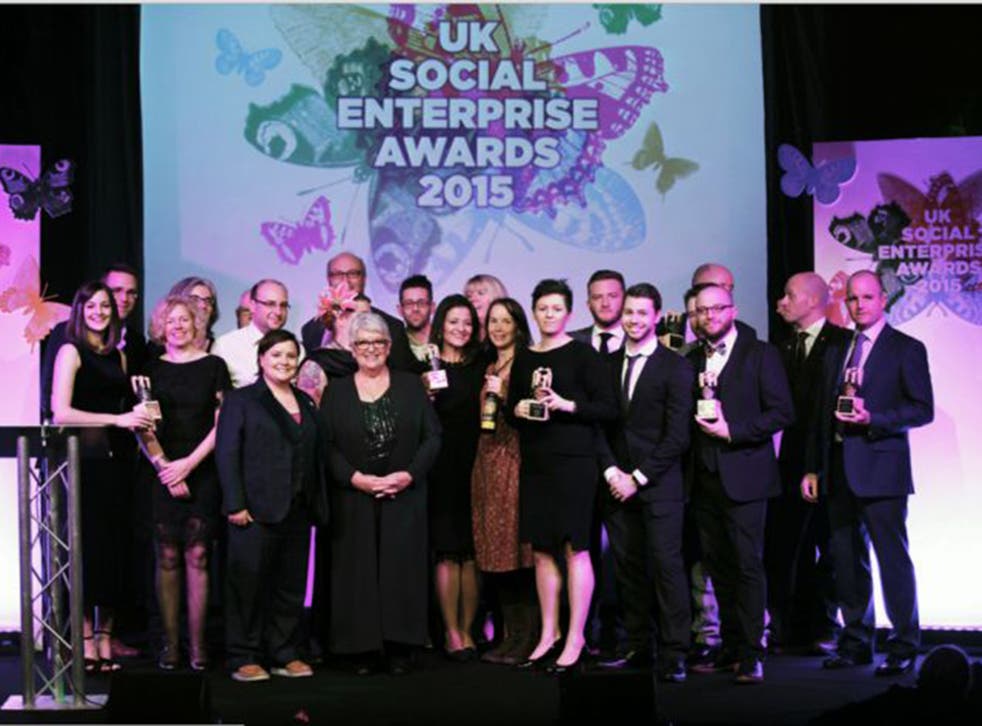 Black Friday and Cyber Monday: the bookends of a weekend during which shoppers are expected to spend more than £3bn. For those who feel guilty about such rampant displays of consumerism ahead of the festive season, "buying social" is an alternative to boosting the coffers of high-street chains.
"If Christmas is about giving and about receiving, then you can give two or three times over by choosing a product from a social enterprise," said Cathi Pawson of Zaytoun CIC, which on 26 November won the prize for International Impact at the UK Social Enterprise Awards.
The awards, whose media partner is The Independent on Sunday, celebrate businesses that use their profits to benefit the environment, communities and people or to tackle social problems.
Zaytoun, founded in 2004, imports and sells artisan products, such as dates, nuts and olive oil, from Palestinian farmers. Its profit is reinvested in the business and is also used to work with the suppliers, helping them to secure a market for their produce and set up co-operatives.
Ms Pawson said: "You're giving something beautiful and of value to a loved one [at Christmas] but you're also benefiting the producer or supplier of that product. Why would you not want to do that? For us, [the award] really belongs to all of the customers who have been with us since we started and absolutely to all the farmers who are completely dedicated to what they do."
The 13 awards presented at the Underglobe, on London's South Bank, showcased a wide range of services with a social conscience.
The Independent on Sunday Reader's Choice Award went to WildHearts in Action, which gives its profits – from selling office supplies to businesses such as Deloitte – to the WildHearts Foundation. The foundation then provides microfinance to help people in developing countries, often women, launch small businesses. The money also provides enterprise education in schools in the UK.
"Businesses buy from us as a way of fulfilling their corporate social responsibility policies. It demonstrates that they're not just operating for a profit but trying to do some social good as well," said founder Mick Jackson. "Employees want to feel that they're doing something that makes a difference and that they work for a company that shares their values. It's increasingly important for generation Y …. They're demanding increasingly that their employers do some sort of social good."
SolarAid/SunnyMoney, which sells solar lights in Africa to tackle poverty and climate change, scooped the Social Impact Award. The Environmental Social Enterprise of the Year went to Instant Neighbour, which provides recycled furniture, food and clothing for people on low incomes in Aberdeen and Aberdeenshire.
Peter Holbrook (CBE), the chief executive of the national body Social Enterprise UK, said: "Social enterprises are needed more than ever to tackle the social and environmental problems facing Britain.
"Every year the awards are a celebration of the social enterprise sector, but this year was truly remarkable. It was the largest awards we've hosted to date, with more than 400 guests and a wonderful evening for the UK's social enterprise business community."
With more than 70,000 social enterprises in the UK alone, they contribute £24bn to the economy each year.
Of the increasing popularity of launching social enterprises, Ms Pawson, of Zaytoun, said: "I think it's just a sign that people are tired of the traditional way of doing things, they're tired of being passive and they're getting out there and understanding that they can shape the world they live in as well through social enterprise."
Join our new commenting forum
Join thought-provoking conversations, follow other Independent readers and see their replies