UK weather red alert: Met Office says 'stay indoors' and issues severest storm warning as 108mph winds hit Wales
Warning comes as David Cameron admits it will be a 'depressingly long period of time' before the country can get back to normal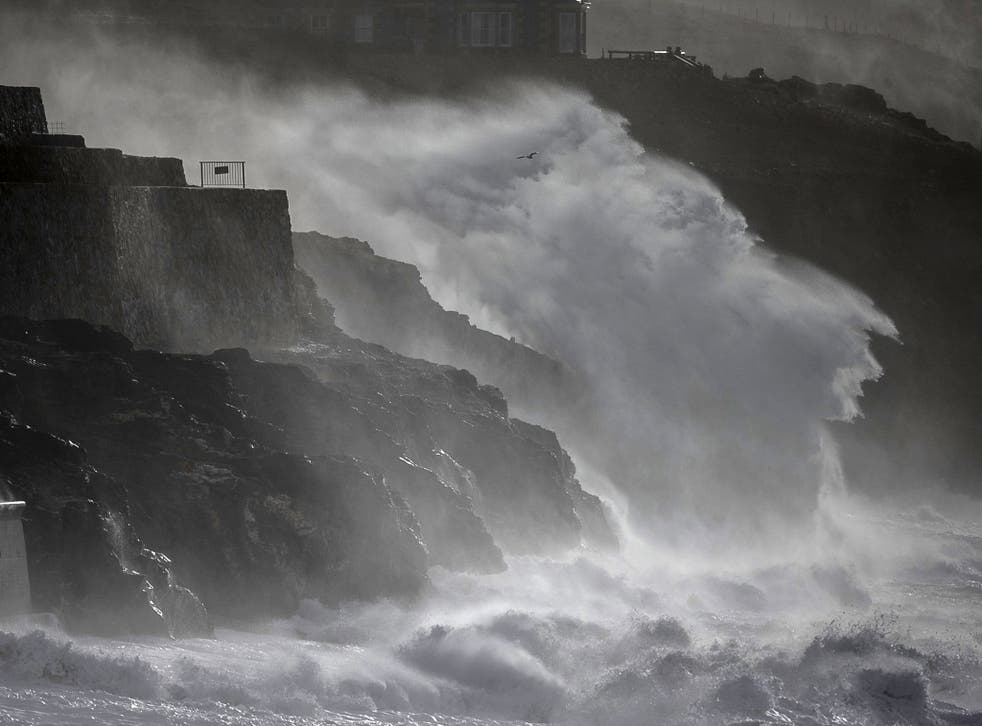 People living on Britain's west coast have been advised to take action and stay indoors after the Met Office issued a red alert for 108mph winds battering Wales.
Forecasters said a storm front was on its way that would bring heavy rain, powerful winds, blizzards and snow across the UK today, but the red severe weather warning - the highest level possible - is a rare occurrence.
It means that there is a high likelihood of power outages, fallen trees and significant damage to property across north Wales and north-west England.
Today has seen:
• Wind gusts of 108mph recorded on land in Aberdaron, north-west Wales
• Clifton Suspension Bridge in Bristol 'closed due to wind for first time in its 150-year history'
• People in north-west England advised to 'batten down the hatches' and stay indoors
• Commuters in Manchester and Lancashire asked to assess situation before driving in peak-strength winds forecast for evening rush-hour
• Heavy rainfall across south expected to match averages for whole of February by end of week
• David Cameron pledges £5,000 grants for homeowners hit by flood damage
• Environment Agency warns situation 'likely to get worse before it gets better'
As winds of over 100mph are measured in Wales, the storm front makes its way up the coast, and is soon expected to track across northern England.
The Met Office said that while coastal areas are likely to "bear the brunt" of the oncoming storm, the wind will bring widespread disruption to towns and cities inland, including Manchester during the evening rush-hour.
The warning comes as a lorry driver in Bristol was hospitalised after his vehicle blew over. Avon and Somerset Police have closed Spine Road, St Philips Causeway, Arnos Vale, in Bristol, in both directions as a "safety precaution".
Meanwhile, a man was taken to hospital after he was trapped under a fallen tree in Chivenor, Barnstaple, Devon, at around 2pm.
Dubbed "Wild Wednesday", today's storm comes as the worst in a series of low pressure systems that will see some parts of the UK experience a month's rainfall by the end of the week.
Laura Young, a spokesperson for the Met Office, told The Independent: "We're advising people to batten down the hatches. The best things people can do are to avoid the coast, not travel, tie things down in the garden, and stay indoors.
"Make sure friends and family are safe, and check that vulnerable people have got help and support at the time.
"While the warning runs from 1.30pm this afternoon, we are expecting the peak winds to hit Manchester and Lancashire between 5pm and 9pm.
"That means the storm is hitting built-up areas during rush-hour. In terms of getting home, people need to assess the situation themselves – it depends whether you are a competent driver. Some will feel safer going home earlier, some will want to take public transport."
In pictures: Storms batter the UK

Show all 35
The Met Office has other amber and yellow warnings in place for the whole of the country, with snow expected to cause disruption in the north and heavy rain to add further misery in southern England.
Forecasters had previously warned to expect gusts of 100mph hitting exposed parts of the Welsh coast, along with heavy rain and large waves. Even away from the coast, they said winds across much of the country could reach 70mph.
As the storm front made its way north, the Clifton Suspension Bridge was closed due to wind for what was believed to be the first time in its 150-year history, BBC Bristol reported.
Bridge master Dave Anderson told the broadcaster he could not remember wind ever closing the 704ft (214m) Grade 1 listed structure before, though it reopened around an hour later.
Ms Young advised that while the "incredibly strong winds" should have passed by around 9pm, gusty weather could still cause extensive damage and disruption for some time afterwards.
The Met Office rarely issues its severest red alerts - today's is the first for wind since January 2012, and is only the 10th for any type of weather since the system was introduced in April 2011.
Meanwhile, floods have been the main cause for concern in much of southern and south-western England in recent weeks, and relief efforts will not be helped by the expected substantial rainfall today.
Between 15 and 40mm (0.6-1.5 ins) of rain are forecast in the next couple of days across many southern and western areas, with as much as 70mm (2.75 ins) expected by Friday in the already sodden West Country, south Wales, western Scotland and Northern Ireland.
Watch: the Met Office's advice on what to do when faced with a red warning for wind
Some 600 troops have now been deployed to assist with flood protection and relief, with around 1,000 on standby, and the Prime Minister David Cameron said "thousands more" were available for tasks like filling and moving sandbags, getting medical assistance to the sick and helping vulnerable people.
Residents in Staines, Surrey were evacuated from their flood-hit homes during the night, Sky News said, while a primary school in Wraysbury, Berkshire, was reportedly turned into a "24/7 control centre" for residents affected by flooding.
Army personnel were on the streets during the night to help police, and worked with police to set up checkpoints to monitor who comes and goes in the area following fears of looting at the homes of flood victims.
Lucy Foster, who has been helping to co-ordinate the operation, told the BBC morale and energy had been low in Wraysbury because the village had been looking after itself for so long.
She said: "Finally we've got the boys and girls that we need - we've got the Army, the police force, the fire service and getting a lot of support from them and a lot of direction from them, which is what was needed."
The Environment Agency said rises in the level of the River Thames are among the biggest threat over coming days.
Paul Leinster, chief executive of the Environment Agency, said: "Our hearts and sincere sympathy go out to those who have already experienced flooding.
"We continue to have teams out on the ground 24/7 working to protect lives, homes, businesses, communities and farmland.
"With further rain expected in the coming days, after the wettest January on record in England, the situation is likely to get worse before it gets better.
"Further flooding is expected along the Thames, which could reach its highest levels in some places since 1947. River levels are very high across south west, central and southern England and further rain has the potential to cause significant flooding," he warned.
Windsor and Maidenhead, Berkshire, as well as parts of Surrey, are now considered at risk, on top of the 1,000 properties reported as flooded over the past week.
Since the beginning of December, a total of 5,800 premises have flooded - although the agency also stressed that 1.3 million have been protected by defences.
EA senior flood adviser Kate Marks warned it was "increasingly likely" that there would also be problems along the River Severn and River Wye.
Sixteen severe flood warnings - danger to life - remained in place in Berkshire, Surrey and Somerset this morning, with a further 120 or so flood warnings and almost 230 flood alerts.
Mr Cameron acknowledged that it would take a "depressingly long period of time" for the country to get back to normal.
Join our new commenting forum
Join thought-provoking conversations, follow other Independent readers and see their replies