UK weather: 'Warmest day of year' comes with air pollution warning as Saharan dust blows in
Temperatures could reach 22C but the sunshine will be obscured by pollution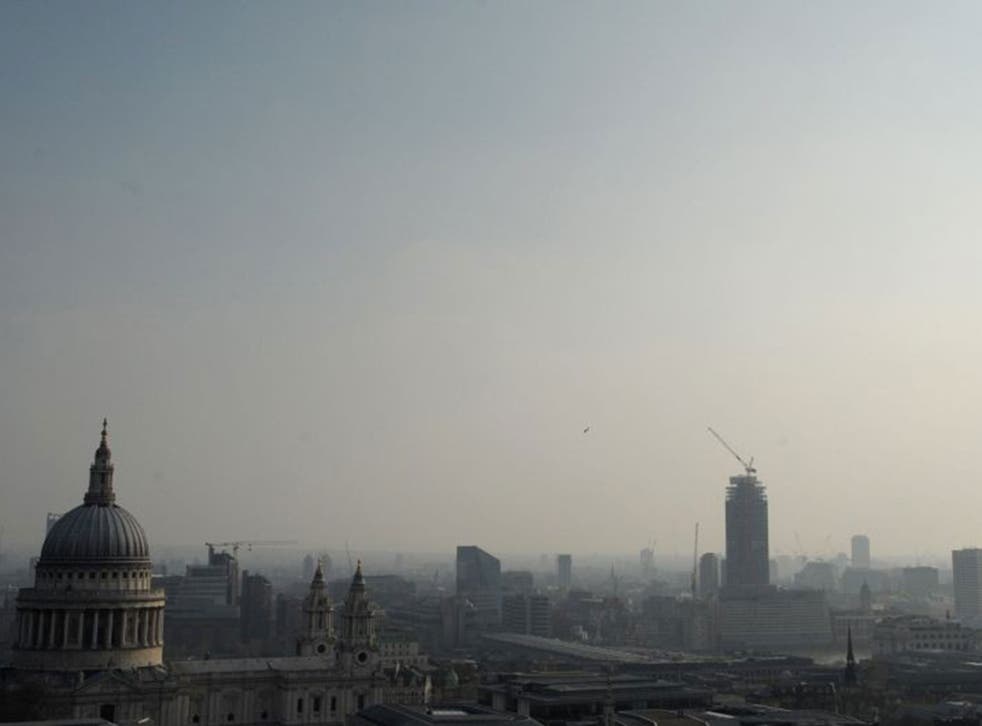 Today could be the UK's warmest day of the year so far as temperatures reach 22C but those heading outside are being warned of high pollution and dust from the Sahara.
Much of the country will enjoy summer-like conditions but the sunshine will be made hazy by clouds of pollutants sweeping in from Europe.
"Not everywhere is going to have its warmest day of the year, but there's plenty of sunshine around," he added.
"It's really where that sunshine stays the longest that we'll see the warmest temperatures.
"It's not record-breaking by any means, but it's pretty warm for this time of year - early April maximum average temperatures are around 11C to 12C, so to see 22C is well above average."
"This is due to a combination of pollutants trapped near the ground, a light south-easterly flow bringing additional pollutants from the continent and, in addition, a small amount of Saharan dust in the air," a spokesperson said.
In pictures: High air pollution levels across the UK

Show all 12
The low air quality has sparked public health warnings for older people and anyone with respiratory conditions to avoid exercising outside.
Simon Birkett, from campaign group Clean Air in London, told the Evening Standard that marathon runners should "very seriously consider" not training in the conditions.
"This is not something to take lightly and dismiss," he added.
Dr Sotiris Vardoulakis, head of the air pollution and climate change group at Public Health England, said that most people will not be affected but those with existing heart of lung conditions should be wary.
"On occasions where levels are high, adults and children with lung problems, and adults with heart problems, should reduce strenuous physical exertion, particularly outdoors, and particularly if they experience symptoms," she added.
"Older people should also reduce physical exertion. Anyone experiencing discomfort such as sore eyes, cough or sore throat should consider reducing activity, particularly outdoors."
Asthma sufferers are being urged to ensure they carry their reliever inhaler as it may be needed more.
The pollution will melt away as fresher, cleaner air from the Atlantic reaches the whole of the UK on Saturday, although levels could still reach "moderate" until falling to "low" by Tuesday.
The unseasonably warm temperatures will also plummet over the next few days as rain spreads across the country.
Charles Powell, a meteorologist with the Met Office, said: "On Friday we could see temperatures of up to 22C across parts of eastern England, particularly to the north of London and into Cambridgeshire.
"But by Saturday morning temperatures will be lower after a band of rain overnight.
"But it's not that it's going to be particularly cold, it's just returning to nearer normal after a week of temperatures being above average, so it will feel slightly colder."
Rain will be possible in many parts of the country overnight and temperatures of around 10C or 11C in the north and around 14C or 15C further south will feel chilly on Saturday.
Doctors have also cautioned hayfever sufferers of an early onslaught of pollen, which is ranging between moderate and low levels according to the Met Office.
Additional reporting by PA
Join our new commenting forum
Join thought-provoking conversations, follow other Independent readers and see their replies