Boxing Day weather: Up to 15cm of snow, gale force winds and severe cold coming overnight
The Met Office has issued weather warnings across large parts of the UK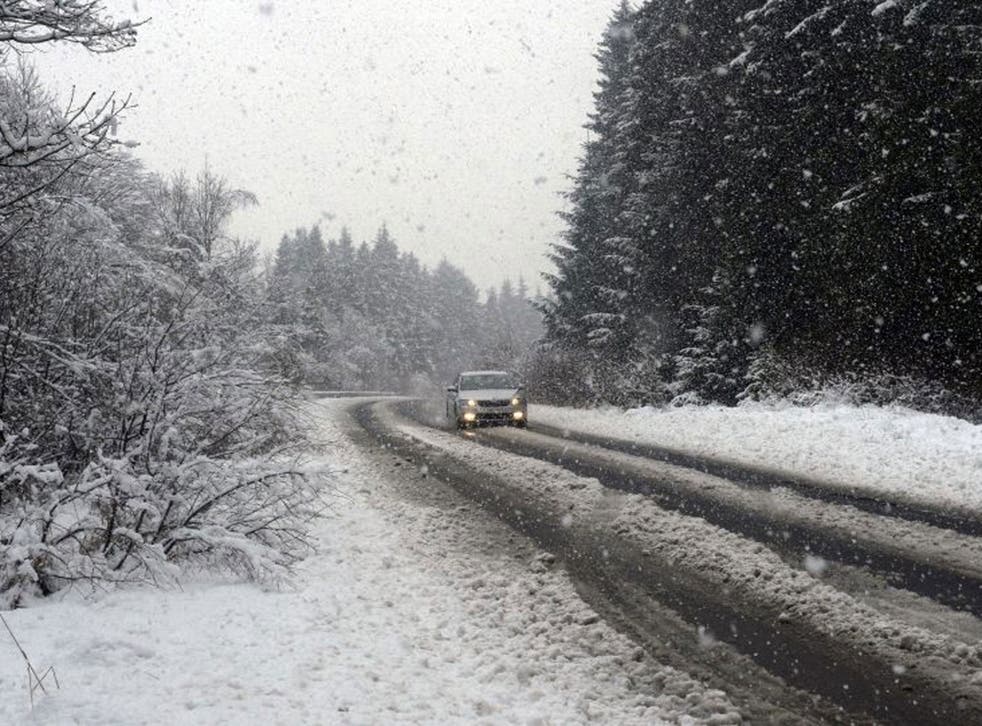 The UK was hit by wild and wintry weather tonight, forcing two airports to close at least temporarily. Gale force winds, ice, severe cold temperatures and heavy snow were expected overnight – with some areas being warned to expect up to 15 centimetres on the ground.
Four flights into Liverpool airport from Malta, Berlin and Bucharest were diverted to Manchester Airport, while a fifth from the Isle of Man returned to the island's airport as the Merseyside hub was closed for more than an hour while its runway was cleared of snow, a John Lennon Airport spokesman said.
Leeds Bradford International Airport also closed. A message on its website read: "As a result of adverse weather conditions, Leeds Bradford International Airport is presently closed.
"We recommend you contact your airline or tour operator and check the status of your flight before arriving at the airport."
Boxing Day weather around the UK

Show all 7
The Met Office has released a yellow 'be aware' warning of snow across swathes of England, Scotland and parts of Northern Ireland between Friday and six am on Saturday.
It also issued an orange 'severe weather action' warning, where it warned there was a 90 per cent chance of "severe cold weather, icy conditions and heavy snow" between 3pm on Friday and 12am on Wednesday.
It said "significant snow accumulations are possible" and warned strong winds are expected to develop, with temperatures expected to plummet to 2C and lower.
A spokesperson for the Met Office told The Independent gale force winds of between 50 and 55 mph are likely to hit across exposed coastal southern parts of England, with the strongest winds developing tonight and the early hours of the morning.
He said knock-on disruption was expected, adding: "We have had quite a deluge here."
However, the spokesperson added: "The strongest winds will really be off shore and towards northern france. Compared to previous systems, the winds are not really as big a feature as for example the snow."
Staffordshire Police tweeted: "Reports of difficult road conditions across Staffordshire due to snow, Please only travel tonight if necessary."
Rain and sleet are also expected to fall across parts of Northern Ireland, England and Wales before clearing during the evening and overnight into Saturday.
The snow made conditions difficult for some of today's football matches, including in the West Midlands as West Bromwich Albion lost 3 - 1 to Manchester City in a game played in a blizzard at The Hawthorns.
The Met Office had earlier said there was a 90 per cent chance of severe cold, ice or snow in parts of England between this afternoon and New Year's Eve.
There is still some uncertainty about which regions will see snow, but where it does fall there could be accumulations of up to 15 cm in areas on higher ground.
Parts of the UK that could be hit by snow include Northern Ireland, Scotland, Wales, north-west and south-west England, London and the south-east of England.
The Midlands and parts of Wales are the areas most at risk of snow.
Strong winds are possible in addition to snow as a depression developing over the Atlantic tracks over the UK tomorrow.
There is also a risk of flooding in some parts.
Krista Mitchell, a meteorologist at the Met Office said this could be the coldest spell the UK has experienced in 2014.
The public is being advised to watch for potential disruption caused by the weather, particularly if they are planning on travelling.
Transport Scotland said it was closely monitoring the conditions.
A spokesman said: "As ever, the public have a vital role to play in terms of helping to minimise disruption.
"We would advise people to prepare for some travel disruption as bridges could be affected by high winds and driving conditions could be challenging in some areas, so please allow extra time for your journeys.
"They should also check the relevant websites, such as Traffic Scotland, for up-to-date travel information before they set off."
Additional reporting by PA
Join our new commenting forum
Join thought-provoking conversations, follow other Independent readers and see their replies