Students criticise 'tactless' Antony Gormley statue of person standing on edge of roof
'Creepy' artwork said to look like someone about to jump, but some argue it is supposed to provoke discussion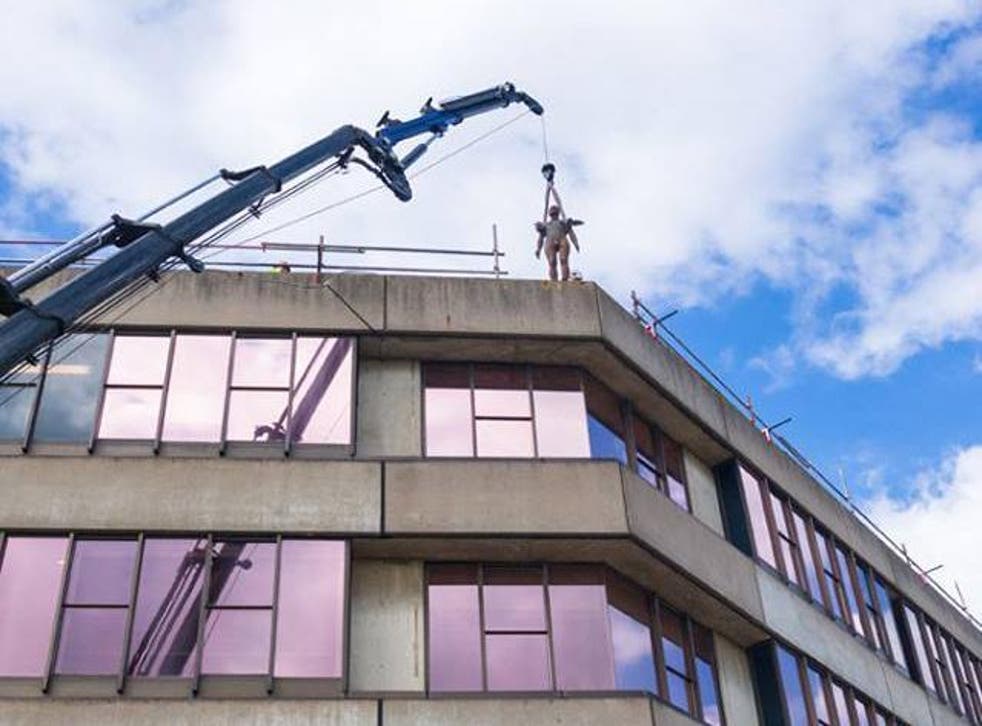 Students at the University of East Anglia (UEA) have criticised the placement of a sculpture of a man on the edge of their library roof.
Some have said the artwork, by sculptor Sir Antony Gormley, may be alarming to passers-by who mistake it for a real person – particularly if they think it is someone who may be about to jump off the building.
UEA Sociology lecturer Harry T Dyer tweeted: "Love his work, and it fits with our other sculptures, but I think it's potentially a poor choice, especially at dissertation crunch time…"
Dr Esmée Hanna, a researcher at Leeds Beckett University, agreed, tweeting: "I like Gormley's work, but not sure if the library is good taste given some universities have had students jump off said buildings."
Gormley's most famous works include the enormous Angel of the North in Gateshead and Another Place on Crosby Beach in Liverpool.
Another Place consists of 100 cast-iron figures, modelled on the artist's own naked body, all facing towards the sea. The artworks also sparked controversy when they were first installed, with the coastguard arguing they should be removed over safety concerns.
In 2014, Gormley's Event Horizon exhibition of human figures on rooftops, which was touring world cities, was cancelled in Hong Kong after the suicide of a bank worker who jumped from a skyscraper.
The statue on UEA's library roof is the first of three Gormley sculptures to be placed around the university campus by the Sainsbury Centre for Visual Arts.
They are taken from the artist's ongoing series Another Time and are part of wider plans to expand the use of sculptures at the university, which already includes works by Liliane Lijn and Henry Moore.
Antony Gormley's world tour continues: this stop, the Alps

Show all 4
But so far the project has been poorly received on campus.
English Literature student Aimee tweeted: "No offence UEA, but putting a statue of a human on top of a high building is probably not a good idea??"
Graduate Victoria Finan said: "Real talk: I had really, really terrible depression in my first year at UEA. This is gross and so offensive.."
But Daryl, from Norwich disagreed. He said: "I love new #AnthonyGormley #statues at #UEA #Norwich. Their position on #Campus has had desired effect by making people talk about them."
A spokesman for UEA said: "The Another Time series involves sculptures being placed at different focal points and sightlines, including roof level which are thought provoking and offer both spectacle and surprise.
"The locations were chosen in response to the remarkable architecture of the Sir Denys Lasdun university buildings. All staff and students have been made aware of the new art installation on campus, and where the sculptures will be located."
Join our new commenting forum
Join thought-provoking conversations, follow other Independent readers and see their replies