Vivienne Westwood joins anti-fracking protest camp as 1,000-strong crowd descends on Balcombe
'I'm anti-fracking and I'm here to protest. There has been no debate,' she says
Vivienne Westwood joins anti-fracking protest camp

Show all 8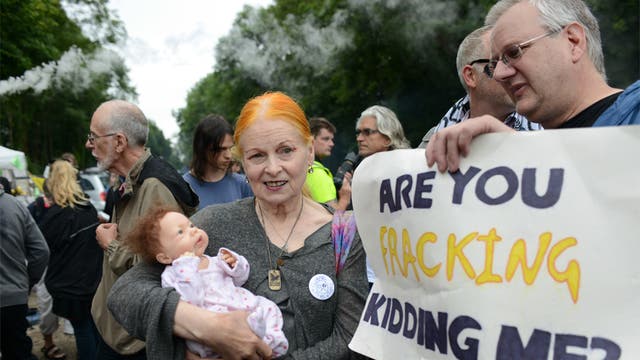 Up to 1,000 new protesters, including the fashion designer Dame Vivienne Westwood, started arriving in Balcombe today as the three-week protest against the possibility of fracking at the West Sussex village moved up a gear.
Like many of the existing protesters, the new influx of opponents plan to camp by the site for the next five days and organisers were furiously pitching tents, bringing in food and building make-shift toilets today, as dozens of extra police were drafted in.
Surrounded by activists, Dame Westwood called for a public debate on fracking, which she said could store up problems for decades to come if allowed to proceed.
"I'm anti-fracking and I'm here to protest. There has been no debate. They are trying to rush this thing through, for what?"
"I'm sure it's bad and the only people who are going to benefit from it is this energy company….They all have vested interests. It's a kind of club….Who do they [the government] think they are when I would say most of the country is really against fracking, particularly at this point in time, when we don't know what's at stake," she said.
The latest protesters, most of whom belong to a coalition called No Dash For Gas, will add to a core of about 200 protesters who started picketing the gate last month and have promised to take "direct action" rumoured to include a plan to invade the site.
Cuadrilla, the company exploring for oil on the site to assess the potential for full-scale production, potentially using fracking, stopped drilling in anticipation of the heightened protest. The company, which is chaired by former BP chief executive Lord Browne, said it will only turn the drill on when it can be confident the site won't be breached - expected to be towards the end of next week at the earliest.
Francis Egan, Cuadrilla's chief executive, sought to diffuse the situation yesterday by emphasising that the group is not fracking on the site at the moment. Furthermore, it could only do so with a permit, which the company has not so far applied for.
"Cuadrilla's exploration work at Balcombe involves drilling a conventional oil well. External groups protesting against hydraulic fracturing at Balcombe do so without any work proposal from Cuadrilla to judge," he said.
"Any hydraulic fracturing proposal would require a detailed Environmental Impact Assessment, public consultations and multi-agency reviews, all of which would be available for scrutiny," he added.
While Mr Egan stopped short of condemning the protesters actions, the fracking industry body went one step further, and strongly criticised their behaviour.
"The temporary suspension of operations in Balcombe by Cuadrilla due to the actions of certain groups of protesters is something that should concern all those who believe in the democratic process and the rule of law," said Ken Cronin, chief executive of the UK onshore operators group.
"It is not right that the onshore oil and gas industry has to deal with threats of direct action, intimidation and 'mass civil obedience' against our staff and property, which prevent us carrying out our lawful operations," he said.
Meanwhile, the RSPB issued its first objections to fracking yesterday, citing concerns that the controversial drilling technique will harm wildlife and the climate.
Harry Huyton, RSPB head of climate and energy policy, said: "Balcombe has hit the headlines as the battleground in the debate over fracking. The public there are rightly concerned about the impact this new technology will have on their countryside. These are not just nimbys worried about house prices – there is very real public disquiet about fracking."
Join our new commenting forum
Join thought-provoking conversations, follow other Independent readers and see their replies