War memorial vandalised: Anti-Tory protesters spray 'f**k Tory scum during anti-government protests
The memorial to The Women of World War II was spray-painted during anti-austerity protests yesterday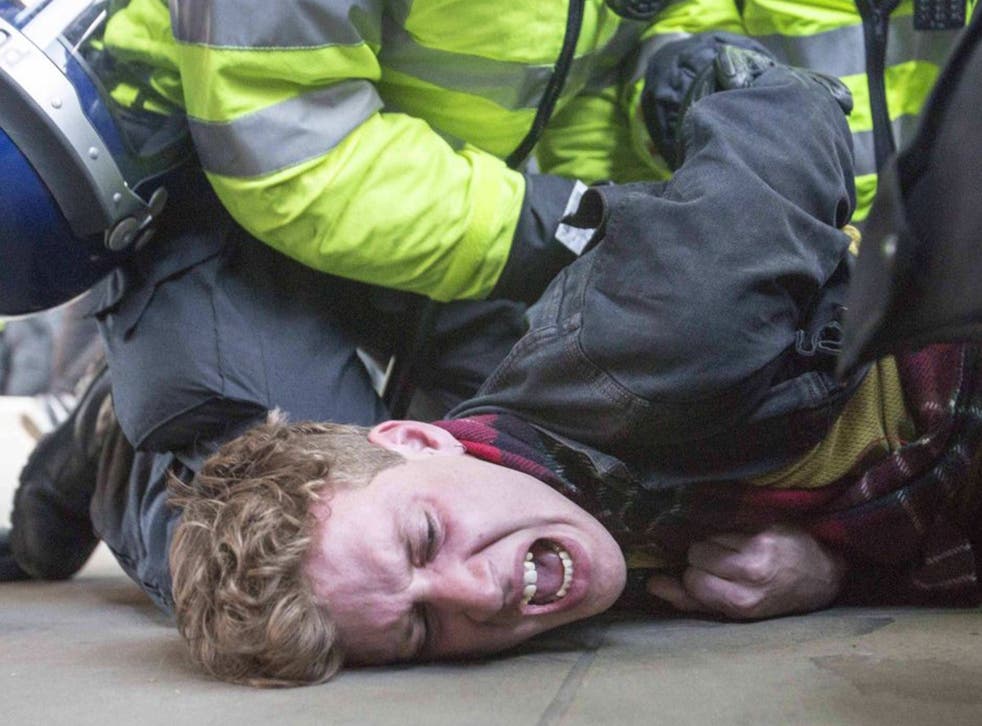 A war memorial in central London has been vandalised with spray paint during a protest against planned government cuts.
The Monument to the Women of World War II, on Whitehall in London, was spray painted with the words "f**k Tory scum" during an anti-austerity protest in London yesterday.
Seventeen people were arrested during the protests, which attracted hundreds of people who marched through Westminster.
The protest started outside Conservative Campaign Headquarters (CCHQ) on Matthew Parker Street, before moving past the Houses of Parliament and coming towards the gates of Downing Street, near to the vandalised monument.
Four police officers, a police staff member, and a number of protesters were injured during the demonstration, after a minority of protesters fought with baton-wielding police.
The memorial was unveiled on 9 July 2005, two days after the 7/7 bombings. Yesterday's vandalism took place the day after the 70th anniversary of Victory in Europe Day, the formal end of World War II.
The mostly unplanned demonstration, which was organised quickly after Thursday's Conservative election victory, was against the government's planned austerity measures, which include a pledge to cut a further £12 billion from welfare expenditure.
Many protesters also called into question the legitimacy of the Government, claiming that the Conservative party winning around 37 per cent of the popular vote in an election with a 66 per cent turnout does not make them a legitimate government.
By 9pm last night, the protest was over and the roads around Whitehall were reopened. Late last night, the graffiti was cleaned from the memorial.
The defacement of the memorial was roundly criticised on social media, with people from both ends of the political spectrum criticising the vandal's actions.
However, many left-wing activists criticised the amount of attention given to the vandalised memorial, and claimed the government's austerity programme was more worthy of criticism.
In a statement, Chief Superintendent Gerry Campbell of the Metropolitan Police said: "The vast majority of those protesting did so peacefully however a small minority were intent on causing disorder and engaged in violence."
The Met has launched an investigation into the vandalism of the memorial and has urged anyone with information to contact the Police.
Join our new commenting forum
Join thought-provoking conversations, follow other Independent readers and see their replies