US 'nuclear sniffer' plane deployed in Europe amid mysterious spike in radiation
The WC-135 Constant Phoenix landed at air base in Surrey and has reportedly taken off for Norway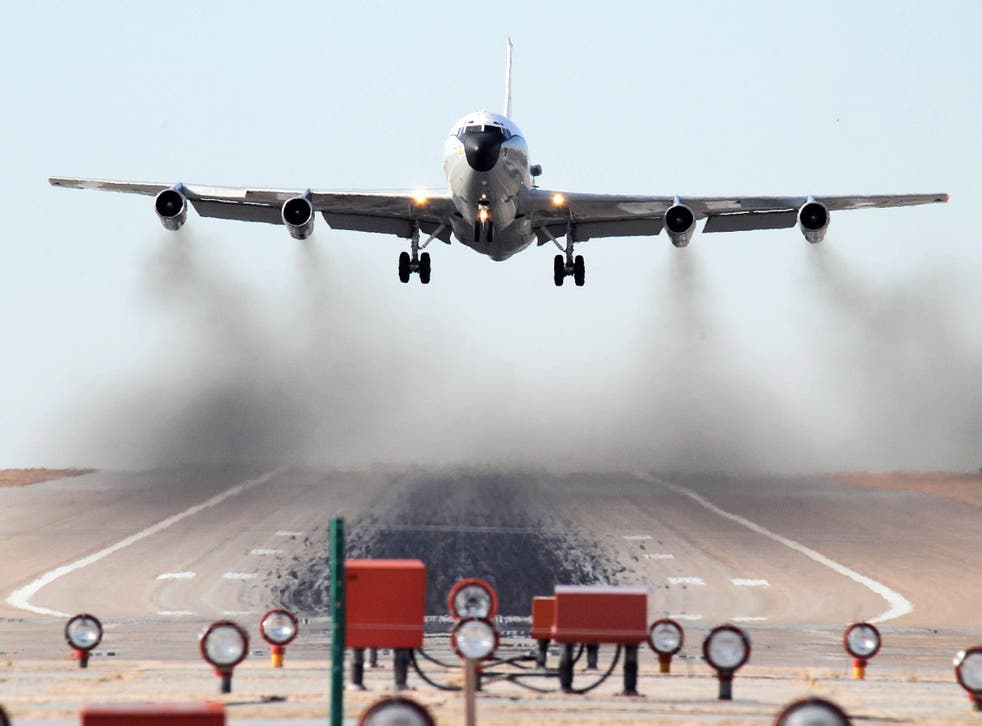 A 'nuclear sniffer' plane has been sent to monitor radioactivity levels in Europe following the detection of mysterious spikes of radiation across the continent.
The US military plane, called the WC-135 Constant Phoenix, landed at an air base in Surrey, a spokesperson at RAF Mildenhall confirmed to The Independent.
It is now on its way towards Norway and the Barents Sea north of Russia in the arctic circle, according to The Aviationist.
The WC-135 can detect and identify nuclear explosions from the air and is also used to track radioactivity after nuclear incidents such as the 1986 Chernobyl disaster.
A US air force spokesperson said the aircraft is in Europe "on a preplanned rotational deployment scheduled far in advance," adding: "anything contrary is completely baseless."
"The WC-135 routinely conducts worldwide missions and we are not going to get into further details," they said.
Man-made radioactive material Iodine-131 was found in Norway in early January and has since been detected in small amounts across Europe, officials have said.
It isn't clear where Iodine-131 would ever have been released from, but conspiracy theorists have pointed to the fact that the spread appeared to emanate from northern Norway, where Russia may have run a secret nuclear test.
The tragic recent history of Russian aviation

Show all 10
Iodine-131 is perhaps most closely associated with atomic bombs, and was found throughout the world after those were tested. It is usually found alongside other radioactive materials, but in this case it wasn't.
And it has a short half-life – the time required for one half of the atoms of a radioactive substance to disintegrate – but a significant amount of it was found, meaning that it is likely that it was introduced very recently.
The material is also being used to treat some cancers and other illnesses. The fact that the material was found on its own likely suggests that it had been isolated, and so makes it more likely that the leak came from a pharmaceutical company that hasn't reported it to authorities.
The WC-135, sometimes known as the "sniffer", can carry up to 33 personnel, but often carries fewer in an attempt to lessen the risk of exposure to radioactive materials.
Two devices on either side of the aircraft collect atmospheric gases, filtering them to detect particles from nuclear fallout.
There is no imminent threat from the amount of material that is currently being found in Europe, according to the French IRSN, or nuclear security body.
The IRSN said that it had shared the findings with the "Ring of Five" – a group of similar bodies across Europe – so that they can be further investigated.