'We'll freeze for another month': Icy weather gripping UK could last until end of April, say forecasters
Many transport routes across the UK remain impassable because of deep snow drifts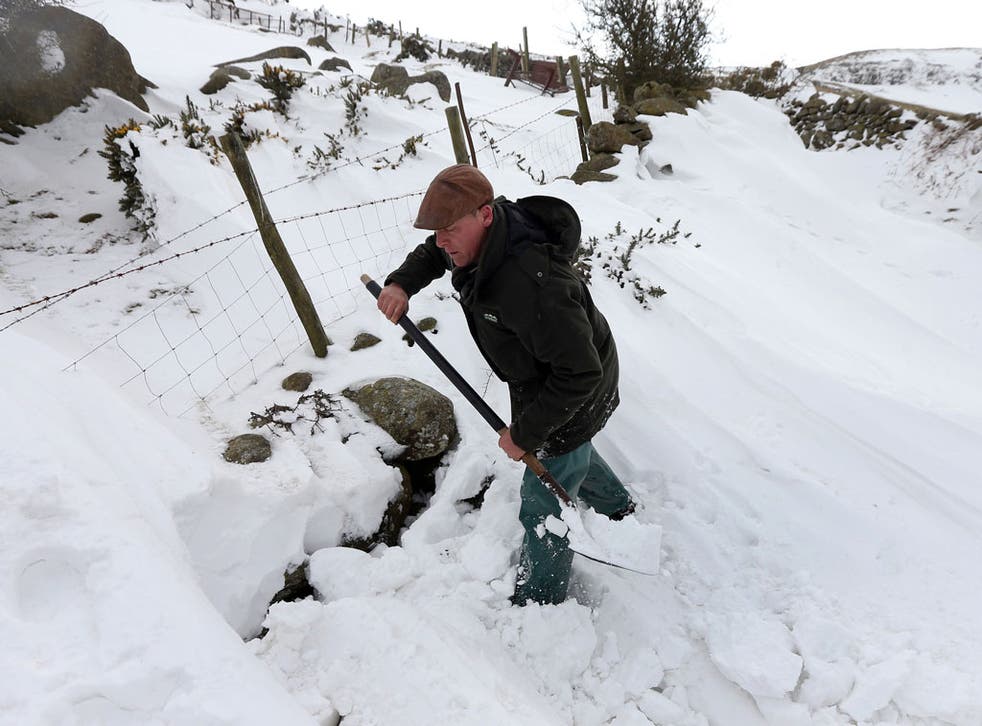 Britain is set to remain in the grip of freezing temperatures until the end of next month, forecasters have predicted.
The unseasonable weather has seen the country deluged by snow, blizzards and plummeting temperatures.
Forecasters are predicting that temperatures are unlikely to recover to normal averages for the time of year until the latter part of April.
Sub-zero temperatures look set to bring misery to thousands of people for the rest of the week and throughout Easter weekend as the dangerous wintry weather shows no immediate signs of abating.
Britain has been deluged with snow that has left thousands of people in western Scotland facing a sixth day without power.
Many transport routes across the UK remain impassable because of deep snow drifts.
More than 3,000 people in Argyll in Scotland and the Isle of Arran were without power after ice and snow damaged pylons, damaging the electricity network.
Farmers have been left counting the cost of the blizzard conditions, with many having to rescue stranded livestock at the height of the lambing season.
An RAF Chinook helicopter was called in yesterday to help as part of an emergency operation in Northern Ireland as farms and families were cut off by huge snow drifts.
The Met Office has issued a cold weather alert for much of England, with a 100% probability of severe cold weather and icy conditions until Friday.
Its outlook for Sunday to April 9 predicts cold, dry weather, with a few light snow flurries and widespread frost and icy patches overnight.
And the Met Office predicts temperatures are unlikely to recover to nearer normal values until the latter part of April.
Gemma Plumb, a forecaster with MeteoGroup, the weather division of the Press Association, said that while there was no forecast for more big snow falls, it would remain very cold for the rest of the week, with temperatures as low as minus 6C (21.2F) overnight and ranging from 4C to 8C (39F to 46.4F) in the day time.
"By the time we get to April some places could be 4C or 5C below the average for the month. The South East is likely to see temperatures of 6C to 8C (43F 46.4F), but the average for April is 12C or 13C (53.6F to 55.4F)," she said.
"There will be some sunny spells around at times, and a few light snow flurries around at times, especially in the east.
"High pressure will start to build across the UK, so there will be fewer snow flurries and more in the way of dry weather over Easter weekend, but it will remain very cold.
"Sunny spells might begin to thaw the snow, but winds from the East could cause more drifts. There are no real signs of warmer weather moving in at this time."
Join our new commenting forum
Join thought-provoking conversations, follow other Independent readers and see their replies