Sperm whale 'explodes' on Skegness beach as coastguard investigate fifth sighting
They were using a probe when there was a 'huge blast of air'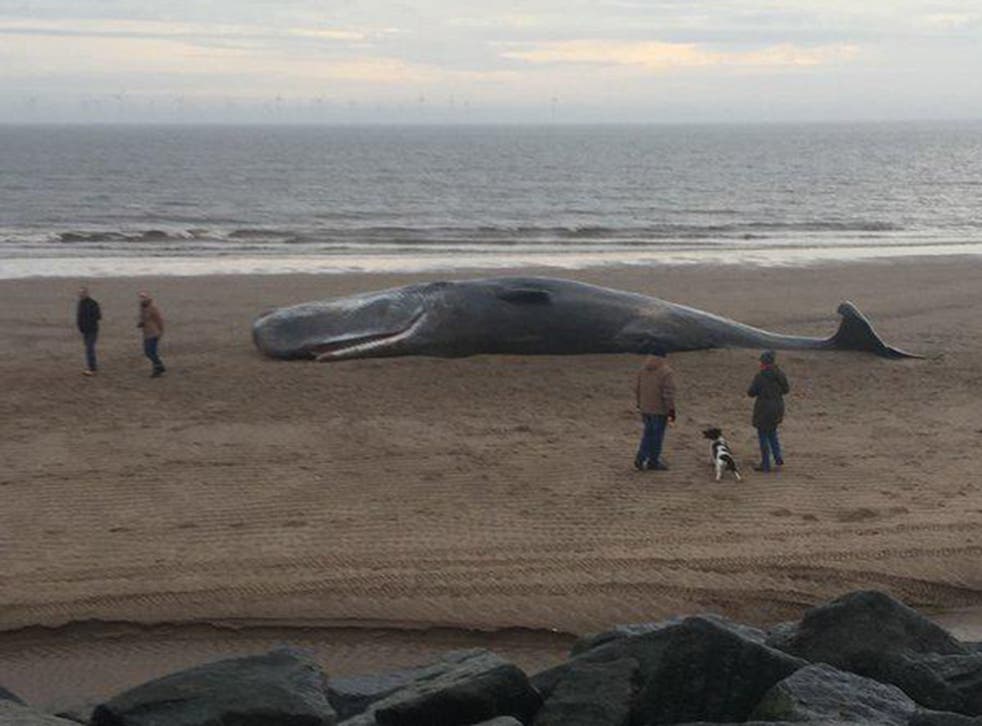 One of three sperm whales which washed up on a beach near Skegness has "exploded", while the coastguard agency is investigating a possible sighting of a fifth stranded whale.
Marine biologists used a chainsaw to cut up the 30-ton mammal as they began the autopsy.
They were using a probe when there was a "huge blast of air", the BBC reports.
Dead sperm whales wash up on beach
It isn't uncommon for whales to explode once they begin to decompose due to a build of gas in their stomachs.
Earlier, the letters "CND" (Campaign for Nuclear Disarmament), along with the organisation's logo - which wasn't quite right - were spray-painted on the whale's tail. "Fukushima RIP - man killed me" was also written on the side of the whale's body.
One of the whales was found dead on Skegness beach around 6.30am on Sunday, while the two others were discovered a few miles south around 8.30 on Saturday.
Dead whales beached on the North Sea coast

Show all 8
The Maritime and Coastguard Agency is investigating a possible sighting of a fifth stranded whale in Wainfleet, Lincolnshire.
Adam Holmes, an RNLI press officer, told The Guardian: "It is under investigation by the coastguard at the moment. They've had reports, they've dispatched the crews that work along the coast to check it out and they've just arrived."
Another sperm whale, estimated to be 45ft long and weighing 30 tonnes, died on Friday after becomming stranded in shallow waters off the coast of west Norfolk.
Whales often get into trouble in the North Sea, where the shallow sandy seanbed confuses their sonar abilities, causing them to become disoriented, according to the BBC.
Experts are investigating whether the deaths are linked to 12 sperm whales which have washed up on the Dutch island of Texel and the German islands of Wangerooge and Hegoland since 11 January.
Join our new commenting forum
Join thought-provoking conversations, follow other Independent readers and see their replies