What is 420? The meaning and origins behind 'Weed Day'
420 is not the penal code section for marijuana use in California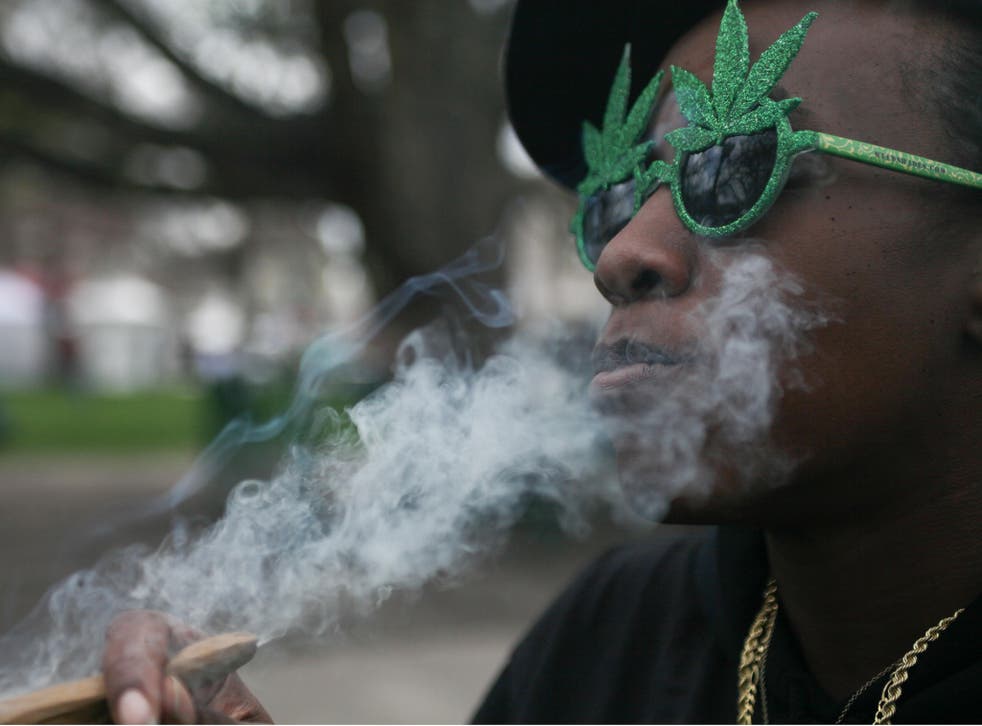 Each year on 20 April marijuana advocates around the world, from Amsterdam to California, celebrate cannabis culture – whether it's legal or not.
Last year more than 1,000 people gathered in London's Hyde Park to mark 4/20, smoking joints together at the designated time while calling for cannabis to be legalised.
But why are the numbers 420 synonymous with cannabis culture?
Donald Trump is not considering to legalise weed
One urban myth suggested 420 was the penal code in the state of California used by police officers for marijuana use. But according to Snopes.com, the 420 penal code actually refers to "obstructing entry on public land," and does not refer to marijuana use in any other US state, either.
The Huffington Post suggested the term 420 originated with a group of high school students in California in the 70s, and was later amplified through the subculture attached to Californian band the Grateful Dead and the publication High Times.
The term was allegedly coined in 1971 when a group of five students from the San Rafael High School went on a hunt for a plot of cannabis plants that were supposedly growing near the Point Reyes Peninsula Coast Guard Station. They say they met at 4:20pm outside their school to drive to the area and carry out the search many times.
They never found the patch, but the numbers 420 did become a useful code for them to communicate with each other.
Where cannabis is and isn't legal

Show all 10
"I could say to one of my friends, I'd go, '420,' and it was telepathic. He would know if I was saying, 'Hey, do you wanna go smoke some?' Or, 'Do you have any?' Or, 'Are you stoned right now?' It was kind of telepathic just from the way you said it," Steve Capper, one of the five, told The Huffington Post.
"Our teachers didn't know what we were talking about. Our parents didn't know what we were talking about."
The five friends – nicknamed the Waldos – hung out with the band the Grateful Dead, and the use of 420 as a code for cannabis began to spread through the band's fans and its attached subculture. Journalist Steve Bloom writes on Celebstoner.com that in 1990, he attended one of band's shows in Oakland, California, and was handed a flyer that allegedly told the story of 420.
4/20 London - Should marijuana be legal?
The flyer stated that 420 "started somewhere in San Rafael, CA in the late 70s," but included the incorrect information that "it started as the police code for Marijuana Smoking in Progress". It did, however, include a call for people to gather together at 4:20pm on 4/20 – the American style for writing 20 April, and smoke a joint as part of a "day of celebration".
Mr Bloom writes that 420 was "a bit of stoner slang I'd never heard of," and published the flyer in the May 1991 issue of High Times.
Steve Hager, then editor of the publication, told the Huffington Post that he "started incorporating it into everything we were doing," and built a number of events around 420, from the World Hemp Expo Extravaganza to the Cannabis Cup.
As for the origin of 420, Mr Hager told the news site that no one has been able to come up with a use of 420 that pre-dates the Waldos' 1971 story. "So unless somebody can come up with something that pre-dates them, then I don't think anybody's going to get credit for it other than them," he said.
Join our new commenting forum
Join thought-provoking conversations, follow other Independent readers and see their replies