William Hague and Angelina Jolie attend sexual violence in war summit in London
Foreign secretary described sexual violence in conflict zones as "one of the great mass crimes of the 20th century and the 21st century"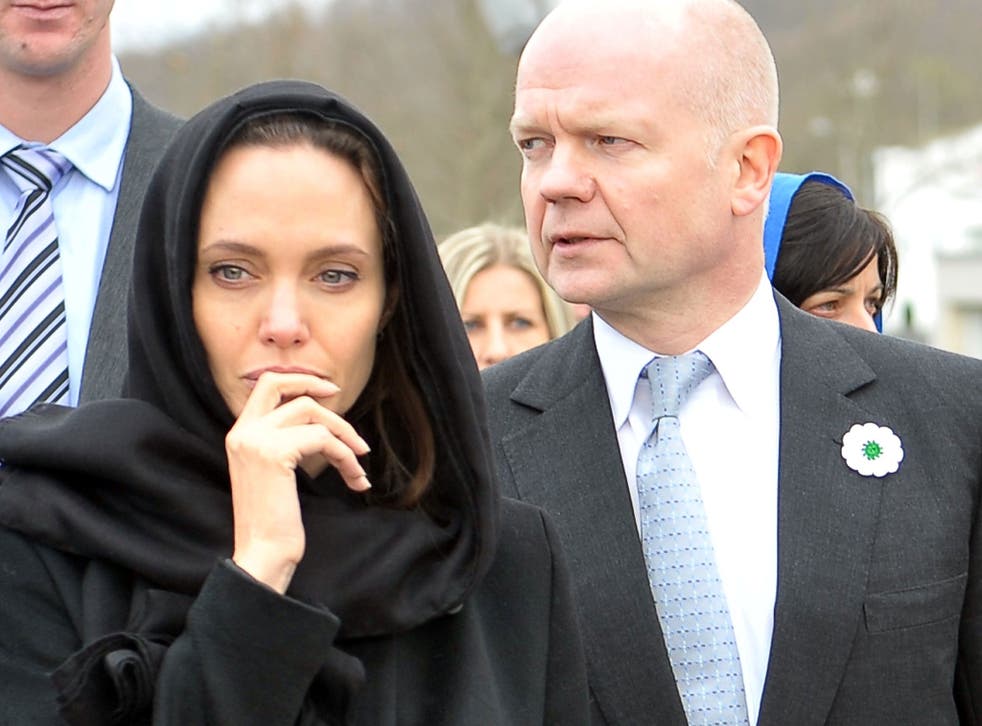 Foreign Secretary William Hague and UN Special Envoy Angelina Jolie are today attending the opening of a four-day summit on sexual violence in war being held in London.
The event, which is the biggest of its kind ever held, will take place over four days, and includes film screenings, theatre and art as well as the attendance of high-level foreign delegates.
The foreign secretary, who has worked closely with Hollywood star Angelina Jolie for over two years, today described sexual violence in conflict zones as "one of the great mass crimes of the 20th century and the 21st century".
Speaking on BBC Breakfast this morning Mr Hague said the crime has affected most continents in the world and in particular countries such as Syria, Rwanda, Congo and Colombia.
"If anything, this is getting worse - war zone rape as a weapon of war, used systematically and deliberately against civilian populations," he said.
Mr Hague praised Jolie, who is a special envoy for the UN Commissioner for Refugees, saying she had made an "enormous transformative" difference to the campaign.
"What this campaign needs is big powerful governments of the world, like us, with a big diplomatic network and a big development budget to really get involved and take action, as we are," he said.
In pictures: Launch of international anti-rape summit

Show all 8
"But it also needs people who will be listened to in a different way from governments and speak with their own personal authority and Angelina Jolie brings that.
"She is very committed to this, very knowledgeable about the issues, she has come up with many of the ideas for the campaign.
"She and I have been working closely on this for the last two years and we will keep doing so."
The event, which is taking place at the ExCel conference centre in London Docklands, is being attended by representatives from 140 nations.
Mr Hague has called on the nations involved to write action against sexual violence into their army training.
Organisers have expressed their wish that the conference will mark the moment the subject comes to wider public attention.
Mr Hague and Ms Jolie joined forces to launch the Prevention of Sexual Violence Initiative (PSVI) in 2012, with a UN Declaration of Commitment to Ending Sexual Violence in Conflict.
The foreign secretary became committed to the agenda after seeing Jolie's film 'The land of Blood and Honey' about the horrors of sexual violence that militias and armies perpetrated during the Bosnian conflict of the 1990s.
In Bosnia, as many as 50,000 women were raped — many in special rape camps. Virtually none of them have received any form of justice. In Rwanda the figure is thought to be upwards of 500,000.
Nations taking part in the summit also included the Democratic Republic of Congo and Somalia - countries where sexual violence had happened "on a vast scale", Mr Hague told the BBC.
The aim is now to take concrete steps to improve lives of victims and to establish best practice for obtaining witness testimony of crimes of sexual violence in conflict.
Hague and Jolie are today opening the Global Summit Fringe, which aims to increase awareness of sexual violence in conflict. They are also taking part in meetings with youth delegates.
Tomorrow they will attend an event to launch the international protocol to help strengthen prosecutions for rape in conflict.
On Thursday, delegations from more than 100 countries will attend and Mr Hague will chair a ministerial meeting on security in northern Nigeria.
On Friday, Mr Hague, Jolie, UN Secretary General Ban Ki Moon (by video message) and US Secretary of State John Kerry will speak in a closing plenary session.
From today until Thursday there will be some 140 free events open to the public.
Events and performances include the Royal Court Theatre presenting the world premiere of award-winning Liberian Girl.
There will be an exclusive screening of In The Land Of Blood And Honey, with the opportunity to hear its director Jolie and Mr Hague discuss the film and how it inspired the initiative that led to the summit.
As part of the £TimetoAct campaign, a short animation has been produced to portray the horror of rape and sexual violence through the eyes of a child.
Join our new commenting forum
Join thought-provoking conversations, follow other Independent readers and see their replies