Williams tries to defuse row over sharia law but refuses to apologise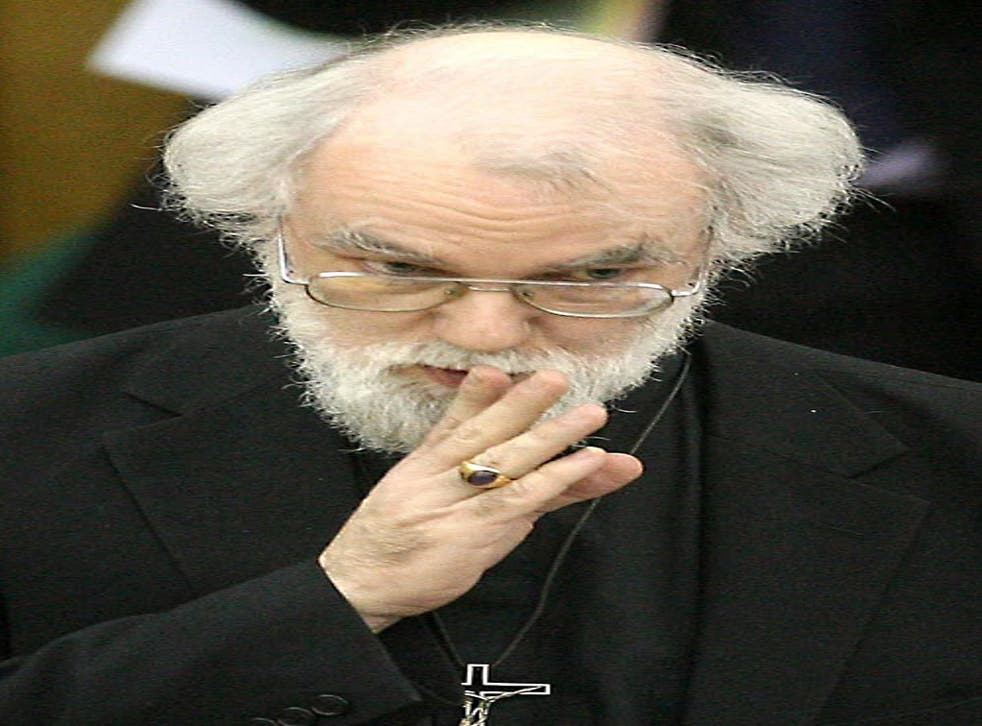 The Archbishop of Canterbury has sought to defuse the bitter row over what he appeared to claim was the unavoidable adoption of sharia law in the UK by conceding that his controversial comments may have been unclear and "clumsily deployed".
Whilst taking full responsibility for his part in the highly damaging episode, which resulted in calls for him to resign and sparked a disagreement with Downing Street, Dr Rowan Williams fell short of offering a full-blown apology and refused to back down.
Instead he insisted that the Church of England had a "considerable" responsibility to other faith groups and asserted that it was not "inappropriate" to raise issues surrounding Islam or other religions – comments that were immediately welcomed by Muslim leaders.
Departing from his intended remarks at the opening of the General Synod in London yesterday, Dr Williams said: "I must of course take responsibility for any unclarity either in that text or in the radio interview and for any misleading use of words that has helped to cause distress or misunderstanding among the public at large or especially my fellow Christians."
Dr Williams said some of what had been reported was a "very long way indeed" from what had been said in his lecture at the Royal Courts of Justice last week and in a BBC radio interview. He thanked bishops for their "support and challenges" and restated points which he said had been "distorted" in media reporting.
He said: "I believe quite strongly that it is not inappropriate for a pastor of the Church of England to address issues around the perceived concerns of other religious communities and to try and bring them into better public focus."
The Archbishop added: "We are not talking about parallel jurisdictions – and I tried to make clear that there could be no 'blank cheques' in this regard, in particular as regards to some of the sensitive questions about the status and liberties of women."
Dr Williams said the question remained whether certain additional choices could and should be made available under the law of the United Kingdom for resolving disputes and regulating transactions. "It would be analogous to what is already possible in terms of the legal recognition of certain kinds of financial transactions under Islamic regulation, including special provision around mortgage arrangements," he said.
Dr Williams was speaking after it emerged that he had been in "close touch" with Gordon Brown after the story broke – prompting speculation over possible political pressure to persuade the Archbishop to further "clarify" his position. The Prime Minister's spokesman said Mr Brown held Dr Williams in high regard, praising his "great integrity", but reiterated No 10's view that "British law must be based on British values".
"The Archbishop has been clarifying and setting in a wider context the comments he has made and I'm sure he will continue to do so in the future," he added.
The Justice minister, Michael Wills, told BBC Radio 4's The World At One: "I don't think there is any serious debate, by anybody, about the fact that there's one system of law in this country which everyone is subject to. I think people will always react strongly when they feel questions of national identity are at stake."
But there was further criticism from some leading Church figures.
The Synod member Alison Ruoff, who called on Dr Williams to resign, said: "I think what the Archbishop has said has led an enormous number of people to be very worried, to be upset. As a Christian leader, people simply don't understand where he is coming from. There are Christians overseas in Islamic countries who cannot believe that their Archbishop, who is not only head of the Church of England but of the Anglican Communion, has said such a thing when they are suffering from massive persecution in Islamic countries."
The Rev Harry Lau, from the Free Pentecostal church in Brighton and not a Synod member, added: "He should go back to being an Oxford don because he doesn't know his Bible. Why is he calling for sharia law? He is supposed to be a Christian. I wish that he would represent us Christians instead of putting into question the strength of the faith."
Others rallied behind the Archbishop. The Bishop of Lichfield, the Rt Rev Jonathan Gledhill, said Dr Williams' remarks have been "largely misunderstood". He said: "I think it is clear that the Archbishop is raising an important issue and not deciding it."
Caroline Spencer, 54, of the Canterbury Diocese, said: "I wish people would read what he said and not all the words that journalists have put into his mouth."
However, Alastair McBay, of the National Secular Society said: "He is entitled to say anything that he wants, but we totally disagree that religious belief should be more special than any other kind of belief."
'We need confidence that the law is the law'
Dr Daud Abdullah, Muslim Council of Britain
"Dr Williams sees himself as the conscience of the nation and he speaks to bring people of Britain together and not apart. He is the spiritual leader and he should be respected. "
R David Muir, Evangelical Alliance
"The Archbishop raised an important question about the role of faith and law in the public sphere. That was his intention to an audience of lawyers, not in a Sunday sermon. I don't doubt that he fully supports this is a Christian country."
Shami Chakrabarti, director of Liberty
"Archbishops are better at sermons than soundbites and sometimes this can become confused in the translation. Dr Williams has clarified his position with dignity and humility. There must be equality under one single law of the land, but if the law continues in the best democratic tradition, there can be reasonable room for individual conscience and expression."
Catherine Pepinster, editor, The Tablet
"It's noticeable that today's remarks by Dr Williams seem more slanted towards the general issue of the place of faith in an increasingly secular society. We certainly need a 'big tent' where there is room for believers, but we also need confidence that the law is the law. Whatever he has said today, the fact remains that he told the BBC that adoption of certain aspects of sharia law is unavoidable. It's the use of 'unavoidable' that is the problem. But Dr Williams is braver than politicians, who are so afraid to tackle these issues in depth that we hear only soundbites."
Register for free to continue reading
Registration is a free and easy way to support our truly independent journalism
By registering, you will also enjoy limited access to Premium articles, exclusive newsletters, commenting, and virtual events with our leading journalists
Already have an account? sign in
Register for free to continue reading
Registration is a free and easy way to support our truly independent journalism
By registering, you will also enjoy limited access to Premium articles, exclusive newsletters, commenting, and virtual events with our leading journalists
Already have an account? sign in
Join our new commenting forum
Join thought-provoking conversations, follow other Independent readers and see their replies